Get a Google Fi Free Trial Securely With a Virtual Credit Card

, you will be very excited to learn more about Google Fi. Well, not everything, of course, but the basics. This is a mobile virtual network operator run by Google. It was launched back in 2015 as Project Fi and is still currently operational only in the US.
While wireless services can help you save a lot of money, there is definitely a lot to wrap your head around before figuring out if it is what you need. This is why signing up for Google Fi's free trial is important. can help you enjoy the Google Fi free trial without getting charged.
Does Google Fi Offer a Free Trial?
Google Fi does not offer new users a free trial
The Google Fi Unlimited Plus plan has a 3-month promotion.
How Can I Get a Google Fi Free Trial?
To become eligible for the Google Fi Unlimited Plus promotion, you must meet the following criteria:
You must be a new Fi customer
You must log in to store.google.com to buy a new pixel 5a with 5G
You must be a citizen of the United States or a legal alien
You must be 18 years or older
You must have Google Fi and Google Play accounts
Following your purchase, you will get an email with your promo code and instructions to redeem your offer. You must redeem your offer not more than 30 days after receiving your email. It is worth noting that this offer will only work for your approved Pixel 5a with 5G. After signing up, you will be required to activate your Fi service on your device within 30 days. To receive the whole 3-month credit, your account must remain active on the Fi Unlimited Plus plan for the three months.
It is also important to note that this offer is only available while supplies last. Furthermore, you cannot exchange your promotional codes for cash. You must also use your promotional code within the specified time, or the value will expire on the expiration date. If you use the code for fraud, abuse, or misuse it in any other way, furthermore, your Fi credit will be canceled, and you will be charged for any redeemed credit on your Google Play account.
Who is a new Fi Customer?
This is an individual who has never used Fi service or someone who lastly used Fi service 180 days before their current purchase.
Does the Google Fi Promotion Automatically Renew Into a Paid Subscription?
Yes, after the end of three months, you will start being billed for the full amount of your preferred plan. Upon signing up for Google Fi, you can choose from 3 different plans to establish which one works best for you.
Plan
Pros
Monthly Prices
Flexible Plan
The plan adapts to your data use.

You can make free calls from the US to Mexico and Canada and at affordable rates to other destinations.

$20 for one person

$17.50 per line for 2 people

$16.67 per line for 3 people

$16.25 per line for 4 people

$16.00 per line for 5 people

$15.84 per line for 6 people

Data charges

$10 per GB until your data level is reached. All data is free once you reach your data level.

Simply Unlimited Plan
The prices are fixed

You will enjoy unlimited texts and data in the US, Mexico, and Canada.

You will get up to 200Gb of free data.

$60 for one person

$45 per line for 2 people

$30 per line for 3 people

$30 per line for 4 people

$30 per line for 5 people

$30 per line for 6 people

Unlimited Plan
Fixed charges

Unlimited texts in the US plus more than 200 international regions

Up to 22GB of free data

$70 for one person

$60 per line for 2 people

$50 per line for 3 people

$45 per line for 4 people

$45 per line for 5 people

$45per line for 6 people
Avoid Automatic Renewal With DoNotPay Virtual Credit Card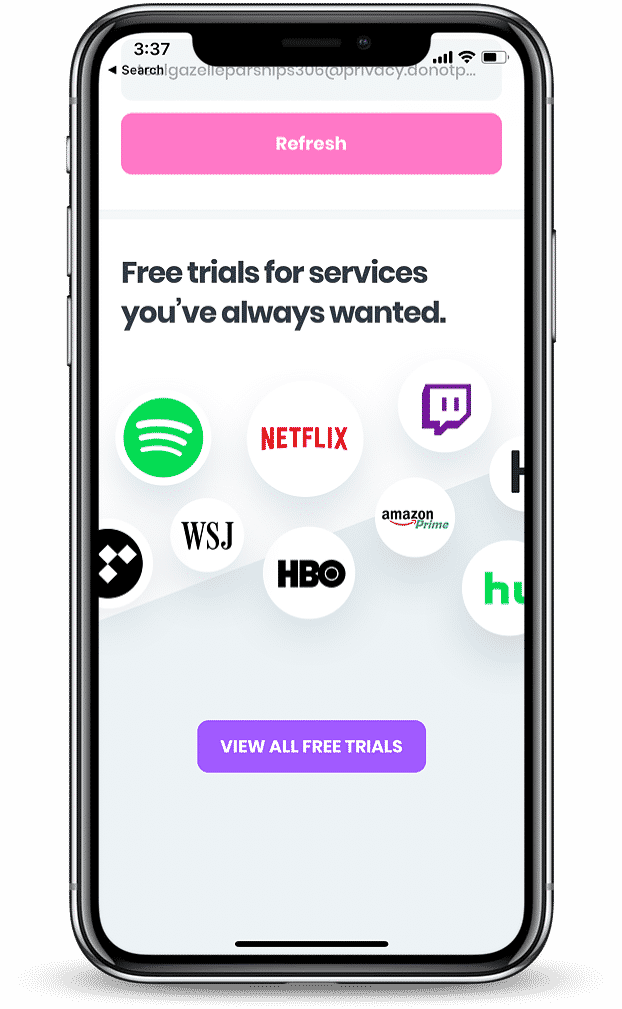 Using DoNotPay's Virtual Credit Card can help you sign up for free trials risk-free. All you have to do is follow these three easy steps:
Search free trial card on DoNotPay and enter the company you want a free trial for.
We'll automatically generate a virtual credit card that you can use for that merchant. Copy the card details shown on your screen.
Use the card to sign up for your free trial and sit back to relax and enjoy!
*The card will be deactivated and not usable once it's been used once
DoNotPay can also help you cancel your Google Fi subscription at any time.
What Else can DoNotPay Do?

In addition to helping you sign up for free trials risk-free using DoNotPay's free Virtual Credit Card, DoNotPay can offer you many other services, which include, but are not limited to:
And so much more! with DoNotPay today if you want help solving your social and legal issues.