How to Get a Free Trial from Acorn TV With a Virtual Credit Card

Acorn TV brings you the best British shows and television royalty from across the pond. Murdoch Mysteries, MidSomer Murders, and Queens of Mystery are just a few choices out of the hundreds of possibilities. Check out the many available series and collection of added movies. With a is accessible to everyone.
Use DoNotPay to make sure you don't get charged after the free trial ends. We'll help you sign up for a trial period and ensure you can cancel the account before any money comes off your card or out of your bank. That is, as long as you don't want to keep the service.
Does Acorn TV Have a Free Trial Option?
Yes! Acorn TV offers a option that allows you to check out the shows that pique your interest. You can get a feel for the app and determine if it's one you want to continue using in the future. The trial period is only for 7 days, so be sure to start it during a time you know you'll have the ability to watch.
Where is Acorn TV Available?
You can open Acorn TV on the web, download the app on your Android device, find it with Roku, download it on iPhone, and more. Acorn TV is widely available. It's easy to start a free trial right from your:
Does the Acorn TV Free Trial Renew Into a Paid Membership?
After your trial period ends, your service will automatically renew into a monthly membership. You can choose to deactivate, continue this monthly plan, or opt for the annual version. The choice is up to you.
Steps for Signing Up for an Acorn TV Free Trial
The easiest option is to visit Acorn TV on your computer's web browser. You'll be able to easily sign up for a new account and get your free trial started.
Click the green "Start Your Free Trial" button.
Enter your email address.
Create a password with a minimum of 6 characters.
Confirm that you are over 18 years old.
Leave the box checked if you wish to receive promotional emails, or uncheck it if you don't.
Click the blue "Create Account" button.
Your trial cannot begin without selecting a plan that will apply after the end date. You'll also need to enter your credit card details.
Membership
Fee
Annual Membership
$59.99 per year

(This saves you 2 months' worth of payments.)

Monthly Membership
$5.99 per month
Enter the name on the card, the card details, and any promo code you may have found. Be sure to take note of the date listed on the Summary. It will inform you of the exact date your card will be charged once this trial period completes.
You can cancel at any time during that trial week. Once you do, you will still maintain access to the service until the end date arrives. Click the "Start Your Free Trial" button once you're ready and you will be free to start watching your favorite British, Canadian, and other series from across the world.
DoNotPay's Virtual Credit Card Helps Avoid Acorn TV Automatic Renewal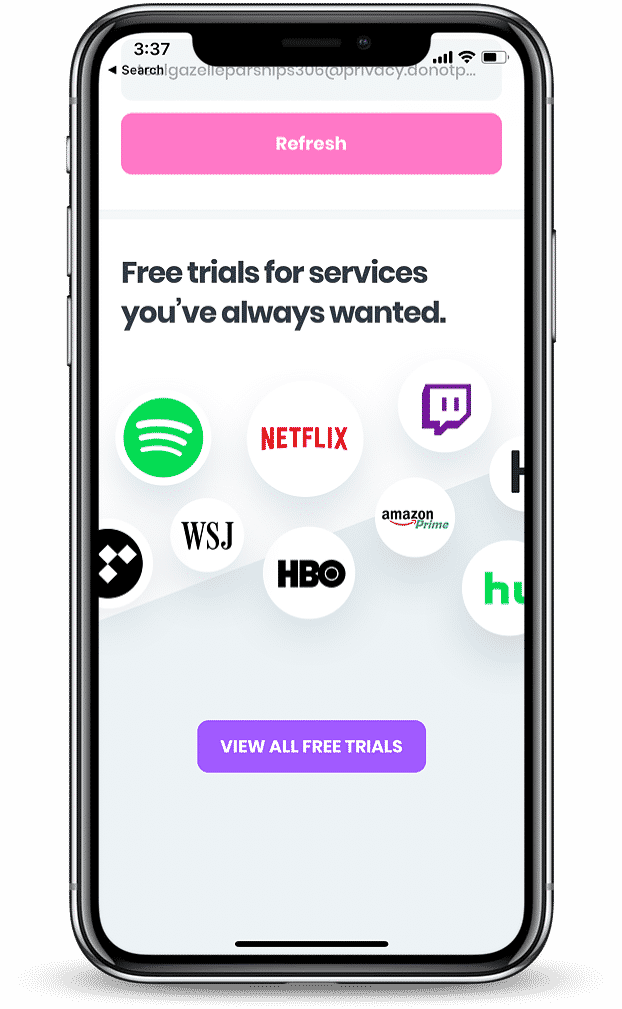 Virtual credit cards are a lifesaver when it comes to signing up for free trials and other subscriptions. You won't have to automatically get charged by Acorn TV if you utilize DoNotPay's free virtual card. It allows you to skip using your personal credit or debit card so you don't have to worry about additional charges if you don't want them.
Canceling Acorn TV is also easy with DoNotPay. We'll help you get the subscription eliminated in a few easy steps.
How Much Does an Acorn TV Subscription Cost After the Trial Period?
This streaming service only costs $5.99 per month. Once your trial ends, you can continue paying on a monthly basis or opt to join the annual plan. You'll pay a large sum at once, but it will be at a discounted price.
How Do Acorn TV Charges Look on My Bank Statement?
AcornTV is run by RLJ Entertainment. However, you may notice AcornMedia on your bank statement when you see the charges. In fact, there are various versions for how a charge from AcornTV may appear, depending on your bank and where you live. You may see:
| | | |
| --- | --- | --- |
| ACORN.TV WWW.ACORN.TV MD | Acorn TV | ACORN.TV ACORNMEDIA AT 8883702597 MD |
| ACORN.TV | ACORN.TV ACORNM | ACORN.TV ACORNMEDIA AT 888-370-2597 MD |
| Acorn TV 866-216-1072 WA | ACORN.TV ACORNMEDIA AT 888-870-8047 MD | ACORN.TV ACORNMEDIA AT |
| ACORN.TV ACORNMEDIA AT 8888708047 MD | ACORN.TV ACORNMEDIA A 888-370-2597 MD | ACORN.TV ACORNME |
Acorn TV Alternatives
If you no longer wish to keep Acorn TV, there are various other streaming services that provide you with the British TV viewing.
Netflix - Costs $8.99 per month for the basic plan. You can stream on one device, watch unlimited hours of movies and TV shows.
Hulu - Costs $6.99 per month for the basic plan. This can be bundled with Disney+ and EPSN; You have commercials with the basic plan, but not with higher plan prices.
BritBox - Costs $6.99 per month. You can add the plan to your Amazon Prime Video account or subscribe separately.
Does DoNotPay Help With More Than Free Trials?

DoNotPay does far more than help you with a . We'll also make sure you can: