How to Get a Fox Now Free Trial Securely With a Virtual Credit Card

FOX NOW is a smart TV app that plays FOX television shows and live coverage of sports and news. The app can watch live television and access on-demand episodes of published television. However, the interesting thing about FOX NOW is that to use the app, you need to unlock the content through a primary television provider. What your television provider does not provide will appear in the FOX NOW app as "locked" and only available for preview.
How can you get a ? Well, the app itself is free to download onto your smart TV, but the content is served through the providers. Therefore, to get a FOX NOW free trial, you'll need to access a provider free trial that serves FOX content. DoNotPay can help you navigate free trial deals so that you don't wind up accidentally paying for a service you don't want in the long-term.
Does FOX NOW Offer a Free Trial?
FOX NOW is an app that is free to download and only works on smart televisions. Technically, you don't need a free trial to access FOX NOW, just to unlock the content it displays. Instead, you need a free trial for one or more of the platforms that actually provides FOX content like Sling TV and Hulu. Once you have the right package from a provider, the content it offers will become unlocked in the FOX NOW app.
Here's how it really works:
Sign up with a television provider
Unlock FOX content
Access FOX content on  your FOX NOW app
To get FOX content  - live or on-demand - with a free trial, you'll need a provider free trial deal.
Platforms that Offer FOX NOW and Have a Free Trial
| | |
| --- | --- |
| Sling TV - 7-Day Free Trial | Only available in Blue Package |
| Hulu - 30 Day Free Trial | Only available on Hulu Live |
| YouTube TV - 1 Week Free Trial | Live and On-Demand FOX |
| Tubi - Always Free | Select On-Demand content, usually includes Fox products |
| Amazon Prime Video - 30-Day Free Trial | Select On-Demand content |
How Can I Get a FOX NOW Free Trial?
Accessing FOX NOW with a free trial will take a few steps to complete. The process is a little indirect, but will result in you having temporary free access to FOX content through the FOX NOW app on your smart TV.
Select a Live or On-Demand Provider
Make a New Account
Activate Your Free Trial
Open Fox NOW App on Your Smart TV
Log In Through Your Provider
Enjoy FOX NOW content for the duration of the free trial
Cancel On Time
Save Money
Does the FOX NOW Free Trial Automatically Renew Into a Paid Subscription?
Yes.
For each platform that provides content for FOX NOW, the free trials automatically renew into the first charge for a month or year's subscription.
You will be charged on the last day or the day after your free trial is scheduled to end.
If you don't plan to upgrade to a paid account, be prepared to cancel your account ahead of time or protect your finances from an unwanted charge.
Avoid Automatic Renewal With DoNotPay Virtual Credit Card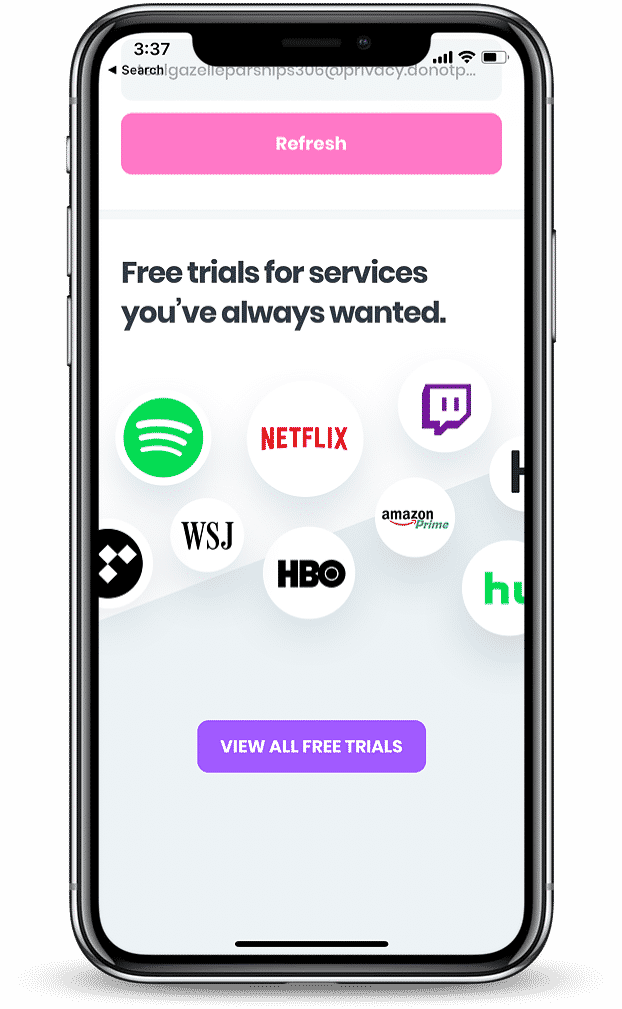 Defend your finances and right to choose a subscription with the help of DoNotPay. You can enjoy free trials that are truly free with one simple tool: Virtual credit cards. A virtual credit card is a randomly generated number that can be entered instead of your payment information when you sign up for a free trial. The number is then deactivated so when your free trial ends, no account can be billed to start a paid subscription.
This gives you the ultimate freedom of choice to decide whether to upgrade your account or simply enjoy a free period of service without commitment. You can get a free virtual credit card from DoNotPay at any time so that trying out free trials is actually a fun and risk-free experience.
How Much Does FOX NOW Cost After the Free Trial?
If you don't cancel your account or use a virtual credit card, how much could you be charged for a ? It depends on the provider you signed up with. Here's a quick breakdown of the costs for each of the services that hosts FOX content for the FOX NOW app.
Service:
Price:
Sling TV
Blue - $35/mo

Orange & Blue - $50/mo

Hulu Live
$6.99/mo

$69.99/yr

YouTube TV
$64.99/mo
Tubi
Free
Amazon Prime Video
$12.99/mo
What Else Can DoNotPay Do?
What else can we do for you? Explore our dozens of available services, products, and tools to find other ways we can make your life easier, more enjoyable, and more affordable this year. Try some DoNotPay services today.