Ways To Use FOIAonline With Different Agencies
FOIAonline is a tool that allows users to access records for certain agencies on the web. You cannot use this platform to send a FOIA request online for every agency, but you can choose to do so with a more convenient option called DoNotPay!
What Agencies Does FOIAonline Work With?
You can find a specific number of agencies that have the option of sharing data with people, and you may use FOIAonline to look for those records. The table below will show you the available choices:
Agencies
Options for Guest Users
Options for Registered Users

Chemical Safety and Hazard Investigation Board

Department of Defense

Defense Logistics Agency

DOJ - U.S. Parole Commission

U.S. Department of the Interior

DOJ - Executive Office of U.S. Attorneys

Environmental Protection Agency

Nuclear Regulatory Commission

Office of Inspector General

U.S. Department of Commerce

General Services Administration

Merit Systems Protection Board

National Archives and Records Administration

Federal Labor Relations Authority

National Labor Relations Board

Pension Benefit Guaranty Corporation

Social Security Administration

Small Business Administration

Look for previously released records

Get access to records electronically if they provide an email address

Generate reports

Monitor all their requests sent via FOIAonline

Have your contact information pre-populated in future requests

Get notified in cases when the status of your request has changed

Be in contact with the agency directly at all times while the process is ongoing
How To Submit a FOIA Online Request
If the agency you are dealing with allows making online requests, you will have the option of sending them this way:
Go to and open the

FOIAonline Request

form

Select the agency you need info from

Choose the type of request you want to send

Enter the required contact info

Type in the amount of money you are willing to spend on the

fees

Write a description of desired records in detail

Say if you want to have expedited processing

Indicate if you want a fee waiver

Attach supporting files if you have any
Tips To Help You Get Better Search Results
If you want to get access to the information you are looking for, try some of these tips:
Make sure to check whether the info you need is already published on the agency's website

See if the records fall under the

Freedom of Information Act

exemptions

Search for

FOIA templates

to get an idea of what the request should look like

Bear in mind that there isn't a single

FOIA request form

that applied to all cases

If you need help, contact the agency before sending in the request and avoid it getting denied
Nothing from the list can bring you a magical solution, but DoNotPay is close to that.
Even with these tips, the best thing to do is to choose DoNotPay because our FOIA feature is simpler and faster. We also handle all the difficult parts of the process after you complete the short questionnaire.
How To Check Your FOIA Request Status Online
If you find the agency you need information from on the FOIAonline list and send a request successfully, you can check its status when you access your account on the website. It will be one of the following options:
Submitted

Evaluation

Assignment

Processing

Closed
The time you need to wait for the request to be processed will depend on how many other requests the agency has to go through. It also depends on the complexity of your process.
Want To Send a FOIA Request to Any Agency? Use DoNotPay!
Unlike the FOIAonline option, with DoNotPay, you may request access to information from any agency. We have an unlimited list of options—find records about yourself or another person, whatever you need! You'll be able to handle everything in a few clicks. To start the straightforward process with our app, perform these steps:
Open DoNotPay in a

Find and select the

FOIA

feature

Let us know if you wish to send a request to a state or federal agency

Type in the agency's name

Inform us if you need a fee waiver
The moment you finish the quick questionnaire, we will send the request letter to the agency of your choice. DoNotPay is connected to state, federal, and local agencies, so you don't have to worry about whether the option is available.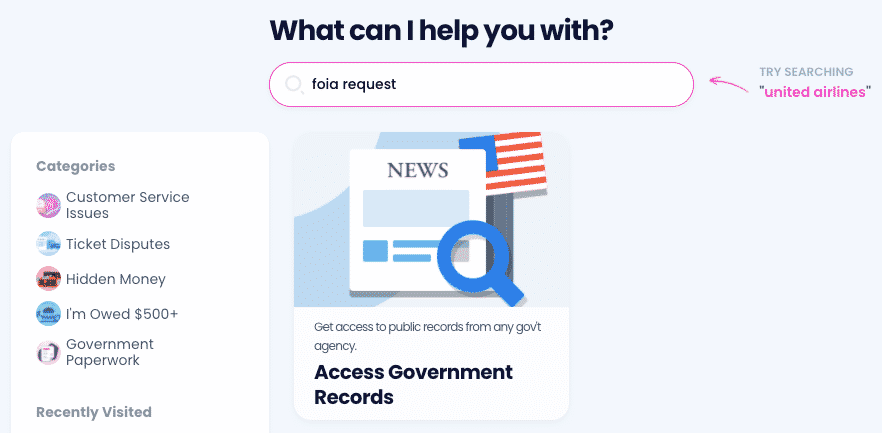 Some of the Agencies DoNotPay Works With
You can pick from a plethora of agencies to search for information with help. Here are some examples:
Internal Revenue Service (IRS)
What If Your FOIA Request Gets Denied?
In case you send a FOIA request to an agency, and they reject it, the best solution is to file an appeal. It is your right to complain if you feel like you've completed all the required steps and that the agency wronged you.
The steps for filing an appeal are agency-specific, so you'll need to check the rules for each separately.
DoNotPay Is the Champion of Customer Advocacy
If you've never experienced an issue with a purchased item, you should consider yourself extremely lucky. When shopping goes wrong, you usually have to brace yourself for unpleasant and annoying exchanges with customer support centers.
DoNotPay is here to make exercising your consumer rights easy. Long holds when calling customer service reps and incessant marketing spam emails can stay in the past. We will help you avoid irritating text messages from online retailers by teaching you how to bypass phone verification when signing up.
Ask for refunds, claim warranties, fix credit card issues, or sue retailers in small claims court—these are just some of the services our platform provides.
With DoNotPay, you can start free trials for new services risk-free. If you want to get out existing subscriptions, canceling them has never been easier!
Wait, There's More!
Our full portfolio includes features as diverse as contacting inmates and requesting college application fee waivers for students from low-income families.
If you have a problem with bureaucracy, the chances are DoNotPay knows how to fix it with your minimal involvement.
Leave the grunt work and unnecessary expenses behind. We will help you pass various government tests with flying colors, find unclaimed money in all states, or get out of parking tickets before you know it!