Make a State Department FOIA Request With No Sweat!
If you need access to the U.S. Department of State records, you can file a request under the Freedom of Information Act (FOIA).
DoNotPay helps you file a State Department FOIA request by providing information on how you can do it via our app or personally.
Should you be interested in the basics first, you can find out what FOIA is, when and why it was introduced, or what the Act stands for.
Our app explains whether there's a FOIA request form and whether you can file a request online or check the records on yourself.
What Records Does the Department of State Maintain?
The Department of State (DOS) has records related to the following:
U.S. Foreign Policy formulation and execution
Former and current Department of State employees
The DOS and U.S. missions abroad operations and administration

Non-citizens visa requests to enter the USA

Consular assistance provided to U.S. citizens abroad

U.S. citizens applications for U.S. passports
You can file a FOIA request to the Department of State if you'd like to receive the above-listed records, and .
Can You File a Department of State FOIA Request for All Records?
Some records are available without having to submit a FOIA request. You should first search the FOIA DOS website and use the provided Document Search tool.
The National Archives and Records Administration contains permanent records that are 25+ years old, passport records dating before 1925, and visa records made prior to 1940.
The table below shows common records that are available to the public and don't require FOIA requests, as well as the exemptions to what you can request under the FOIA.
Publicly Available Records From the Websites of Department's Offices and Bureaus
FOIA Exemptions

Frequently requested documents

Declassified or released document collections

Foreign Relations of the United States (FRUS) series

Special records collections of continuing public interest

Regulations, administrative rulings and manuals, policy statements, and other reference materials

Annual FOIA reports

Major publications, including the following reports:

Human rights

Country

Human trafficking

National defense or foreign policy classified information

Information exempt under other laws

Trade secrets and confidential information

Geological and geophysical information

Internal employees practices and rules

Inter- and intra-agency correspondence protected by legal privileges

Law enforcement records

Employees and medical files

Bank supervision information
You can find a list of all Department of State offices and bureaus on their main website.
The FOIA exemptions listed in the table allow the Department of State to withhold information.
DoNotPay Helps You File a State Department FOIA Request in a Flash
We understand how burdensome the FOIA request procedure can get. You should go to each federal or state agency's website to check if there's a FOIA request template you need to fill out.
Another tiresome issue is searching for FOIA instructions, rules, and contact information that vary from agency to agency.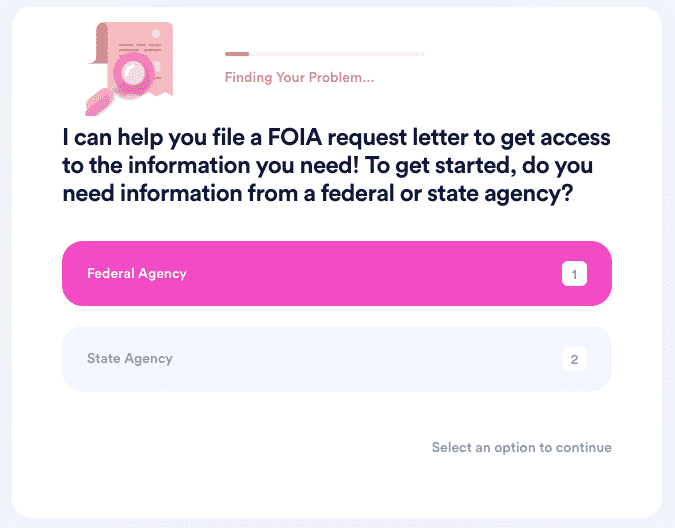 DoNotPay has designed the FOIA Request feature to make the whole process convenient. You don't have to dial any numbers, wait for a representative to pick up your call, or obsess about the procedures or information you need to provide.
DoNotPay takes care of everything for you! Here's how:
Access DoNotPay from any

Type in

freedom, FOIA, public records

, or something similar to open the FOIA request feature

Indicate you'd like to access federal agency records

State what information or documents you need and from which agency

Say if you need a fee waiver, expedited processing, and other relevant details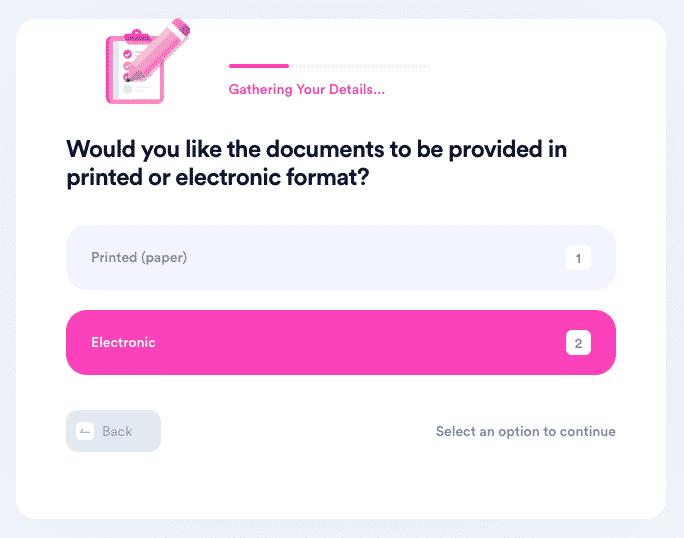 As soon as you complete our questionnaire, DoNotPay creates a FOIA request and sends it to the Department of State on your behalf.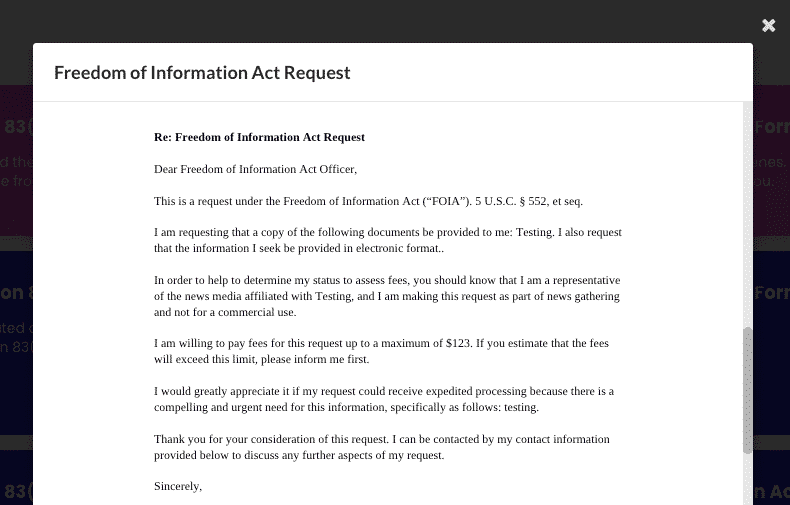 Should you need additional information from other agencies' records, DoNotPay has a solution. We will help you file a FOIA request to various federal and state agencies easily, including but not limited to EEOC, FBI, CBP, CIA, IRS, FDA, or USCIS.
How To File a State Department FOIA Request by Yourself?
You can file a FOIA State Department request only in writing using one of the following options:
An online form

Email

Fax

Mail
You may need to pay fees to the Department of State since they can charge for document search, duplication, or review. Once making a FOIA request, you agree to pay any applicable fees up to $25.
File a State Department FOIA Request Online
The Department of State has created an online submission form you can use to file your FOIA request.
Here's how it works:
Access the online

submission form

State that you're requesting Department of State records

Confirm you're not requesting the other two types of records

Click on the

Next

button

Choose your title from the drop-down menu

Enter your first and last name

Select the country in the drop-down menu

Type in your address and city

Opt for the state in the drop-down menu

Type in the ZIP code

Hit

Next

at the bottom of the page

Follow the prompts
If you'd like to receive records, including personal information or visa requests, file your FOIA request by mail only.
Send a Department of State FOIA Request by Email
You can send your U.S. Department of State FOIA request to FOIARequest@state.gov.
In case you'd like to confirm a filed FOIA request receipt, check your FOIA request status, or appeal a denial, send an email to FOIAStatus@state.gov.
Fax a State Department FOIA Request
To access the Department of State records, you can send a FOIA request via fax to (202) 485-1669.
FOIA personnel of the Department of State may not have regular access to faxes and mail in certain circumstances, e.g., during the COVID-19 pandemic.
That's why you should use DoNotPay, to get the records without unexpected complications.
Send a DOS FOIA Request by Regular Mail
Should you want to send a FOIA letter, mail it to the following address:
Office of Information Programs and Services
A/GIS/IPS/RL
2201 C Street N.W., Suite B266
Washington, D.C. 20520-0000
Make sure you enter the subject of your letter, i.e., Re: Freedom of Information Act Request.
DoNotPay Is Your Shortcut Through Bureaucracy
With our app, you don't have to spend hours figuring out how to request a refund, cancel a service, or book a DMV appointment.
We take over all the hard work! Forget about waiting in a phone queue for hours in hopes of reaching a customer service rep. Our AI-powered app will call any company for you and ping you when a human appears on the other end of the line.
DoNotPay also speeds up the process of filing insurance claims, claiming warranties, reducing property tax, and drafting various legal docs.
Keep the Communication Lines Clear With DoNotPay
Do you know how powerful DoNotPay's virtual credit card is?
This super-smart feature can not only sign you up for no-risk free trials but can provide you with an alternative email address. You can test any service without giving out your real email, which will keep your inbox clean from spam!
If you have family or friends within the U.S. prison system, our app helps you get in touch with them quickly.
We can also make sure you don't become a target of text and robocall scammers! Keep your phone number private and avoid this type of harassment by using our Burner Phone feature!
In case you need to fax a document, there is no need to search for the instruction manual on how to operate a fax machine. DoNotPay makes it simple to send online faxes anywhere!