How to Start an Express Free Trial Without Providing Your Credit Card Information

Express has been in the clothing business for more than 35 years. Focusing on the fashion trends of work and play for young adults, the specialty retailer offers men's and women's apparel and accessories for a monthly flat fee.
Taking a unique approach to providing its customers with quality garments, the company offers Express Style Trial. The clothing rental service allows shoppers access to the virtual closet, keeping the clothes for as long as they need, with free shipping and unlimited dry cleaning.
While there is no charge for the , the company still pre-authorizes a credit card for the entire amount of the monthly membership fee before sending out clothing.
can show you how to use a virtual credit card to ensure your financial information remains secure while you check out the program. That way, you can have a risk-free no-obligation experience with Express instead of being surprised by unexpected credit card transactions.
Does Express Offer a Free Trial?
Yes, Express offers a free 30-day trial, and you can cancel at any time. The cost is $59.95 plus all applicable taxes. The monthly subscription offer entitles you to the "3-garment plan."
You can try out the clothing, wear what you like, and return everything via free shipping when you have finished renting the items. When Express receives the return shipment, they will send out another box of three items to sample.
Express Style members can exchange as much as they want throughout the month. Free trial members are limited to one exchange per week, receiving three items at a time.
How To Enroll in an Express Free Trial Program
To start an Express free trial:
Go to the Express website at expstyletrial.com
Click on "Get Started"
Create an account with your email address
Enter a unique password and username
Provide shipping information
You will need to enter credit card information to activate the . The rental clothing company will not send any items without a credit card on file.
Does the Express Free Trial Automatically Renew?
Yes, the Express Free Trial offer automatically renews to the monthly subscription rate. You must cancel within the first 30 days to avoid additional charges.
When Does the Subscription Expire?
If you decide to cancel the free trial offer, your subscription will end immediately, and you will no longer be able to access Express services. All items must be returned, or you will be charged for each piece still out on loan.
Does Express Offer Refunds?
DoNotPay does not offer refunds or pro-rated credits on Express Style Trial subscriptions. If you need to request a refund for items purchased, our automated service can help with just a few clicks on your laptop.
How Do I Contact Express Customer Service?
Express customer service is available from 9 am to 5 pm Monday through Friday and can be reached at
by calling 1-888-973-8580.
How to Avoid Automatic Renewal Using a DoNotPay Virtual Credit Card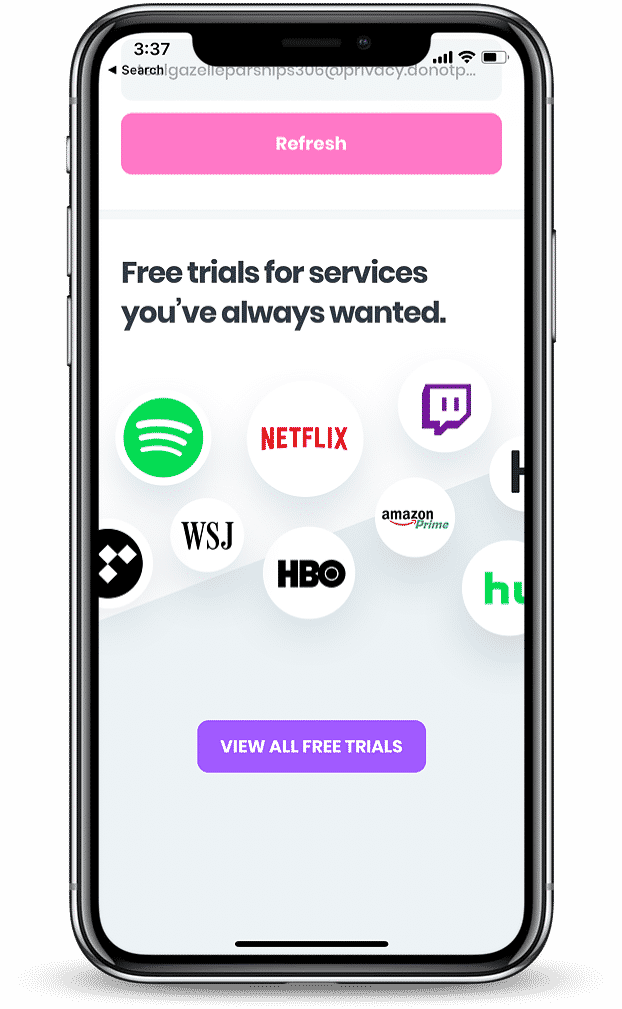 People often forget to cancel a free trial membership and continue getting charged for services they don't use or want. An offer can end up being very expensive.
In addition to being charged the monthly subscription fee, you will be charged for any clothes not returned. A sweater left in the back of your closet that you forget about could end up costing hundreds of dollars charged to your credit card without your knowledge.
Fortunately, DoNotPay offers an alternative solution that prevents unexpected credit card charges. A virtual credit card can be used to start an Express free trial. The virtual credit card is associated with your real bank account, but the financial information is never shared with the vendor.
You are provided, at no charge:
Virtual credit card number
Valid expiration date
CID number
Express pre-authorizes debit and credit cards for the cost of the monthly membership fee. A few days after signing up for the free trial, they reverse the transaction so that your credit card company does not process the charge. Using the virtual card eliminates any access to your bank account and eliminates any unforeseen future transactions, keeping you protected while trying out the .
The Cost of the Express Style Membership After the Trial Period Ends
After the 30-day trial offer ends, the monthly subscription price increases to $69.95 per month. Additional plans are available for customers that want more pieces to select from each month. Members are encouraged to fill their virtual closets with at least 20 items.
There are hundreds of style options to choose from, and every week a box of three items is sent to your home. A special Dart feature allows you to select the three items you want for the week, but there is an additional fee.
After you try out the clothes, you can keep them as a rental, purchase them at a discounted rate, or return them to receive another box of three garments. Free shipping is included on all transactions.
What Are the Most Popular Alternatives to Express Style?
Express is not the only rental clothing company in the marketplace. Other worthy competitors include:
| | | |
| --- | --- | --- |
| RENTAL COMPANY | COST | BENEFITS |
| Haverdash | $59.00 / month | (3) items at a time, discounted purchases, free shipping |
| Infinitely LOFT | $64.95 / month | (3) items at a time, free shipping, variety of sizes |
| Vince Unfold | $160.00 / month | (4) items at a time, designer clothing, discounted purchases, free shipping |
| LeTote | $69.00 / month | (5) items at a time |
There Are Many Ways DoNotPay Can Help
In addition to helping you enroll in an , DoNotPay can also help you:
Whether you want to fill your closet with new clothes from Express or get help signing up for other free trials, DoNotPay is available 24/7 to walk you through the process. The easy-to-use automated system makes tackling difficult issues easier, helping you save time and money.