The Easy Way to Get an Evernote Free Trial Without a Credit Card 

Evernote is so much more than one of the best note-taking apps. It helps people get organized and increases workplace productivity with digital notes and tasks easily integrated with Google Calendar. If you've tried out the free Evernote account, you may be considering upgrading to increase your storage space and sync across all your devices. To try out the extra features in the paid plans and help decide if it makes sense for your needs, you can start an . 
Since starting an Evernote premium free trial requires a credit card, it can risk your credit card info if the company has a data breach. Luckily, DoNotPay can help with virtual credit cards. Using a free virtual credit card allows you to sign up for a free trial without the worry of getting charged after the trial expires.
Is There an Evernote Premium Free Trial? 
While the free version of Evernote gives users a good overview of the software's capabilities, upgrading to a paid plan allows you to do even more with the cloud-based software. Luckily, you can upgrade to a premium personal Evernote account with a 7-day free trial. 
Steps to Getting a Free Evernote Personal Trial
As a first-time user of Evernote, you'll get offered a 7-day free trial upon signing up for the service. Here's how to get your Evernote free trial:
Sign up for and create a free Evernote account.
Click on the pop-up screen with the free trial offer, or click on the blue banner across the top of your dashboard.
Enter your credit card info or check out with Paypal to start your 7-day free trial of Evernote Personal.
Start getting organized and taking stellar notes with upgraded Evernote features.
Do You Need a Credit Card for the Evernote Free Trial? 
Yes, you will need to enter your credit card info to start a free premium trial of Evernote.
Once the 7-day free trial ends, your card is automatically charged the monthly or annual plan cost chosen when starting the free trial. You can cancel the paid plan at any time, so you can save yourself some cash if you are on a monthly plan and miss the deadline to cancel before your subscription is renewed. If you want to cancel Evernote without the hassle, DoNotPay can handle it for you.
Can I Get a Refund if I Miss the Free Trial Cancellation Date? 
According to Evernote's Refund Policy, users can get a refund for Evernote Personal and Professional subscriptions under the following two conditions:
You send in a refund request for any monthly plan charge within two days of the payment date.
You contact customer service with a refund request within sixty days of the payment date for annual plan subscriptions.
What Are the Evernote Plan Options and Their Costs? 
After recent changes in their plans and pricing structure, the following are the current options when upgrading to a paid Evernote account.
Evernote Plan
Price
More Information
Free
Free
A free Evernote account allows you to take notes, create tasks, and upload documents and images with a max of 25 MB note size and up to 60 MB of total monthly uploads. Also, you only have the option to sync your Evernote account to a max of 2 devices.
Personal
$7.99 per month for monthly payments or a yearly cost of $69.99
Besides increasing the max note size to 200 MB and a total of 10 GB monthly uploads, you also can:

Further customize your Home dashboards
Connect to your Google Calendar for any reminders and due dates
Easily search inside docs and images
Sync among an unlimited number of devices
Mark up images PDFs inside the app
Get offline access

Professional
$9.99 per month or a yearly payment of $99.99
Professional increases the monthly upload limit to 20 GB and also

Assign takes and easily track their progress
Use geographic search to find content by location
Export entire notebooks to PDFs
Integrate flawlessly with other apps, such as Salesforce, Slack, Microsoft Teams, and many others

Teams
$14.99 per user per month (2 user minimum)
Evernote Teams is the ideal option for businesses and those using Evernote with large teams. Your team will enjoy 20 GB plus 2 GB per user of monthly uploads, and each user also receives a complimentary Evernote Personal account to keep personal tasks separate from business work.
DoNotPay Can Help You Avoid Automatic Renewal After an Evernote Free Trial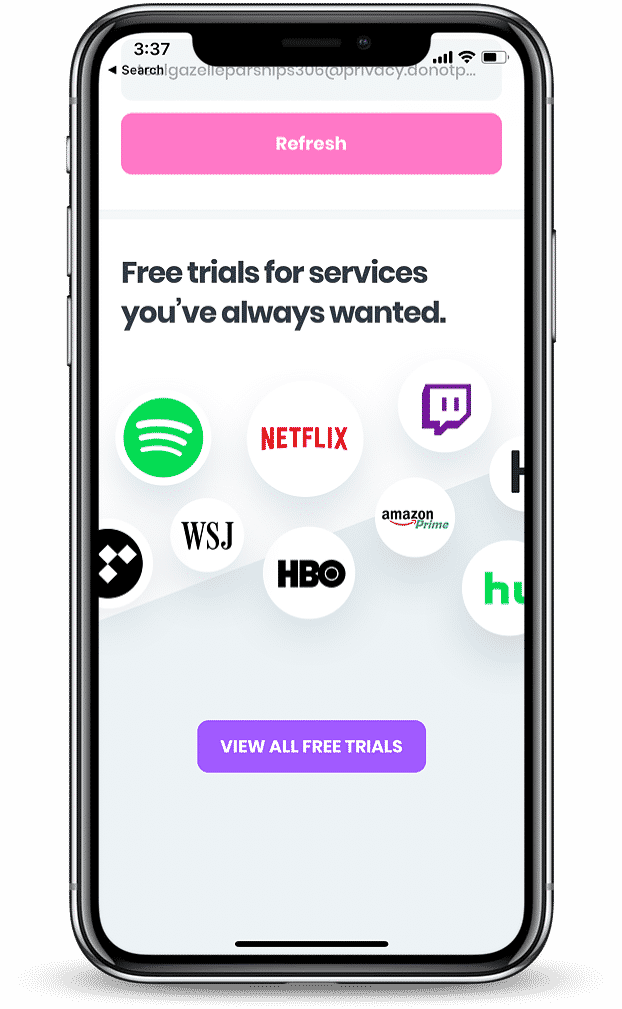 Since a free trial allows you to test services before committing to a monthly or yearly cost, having the option to cancel before the free trial ends is essential. However, oftentimes, people forget to cancel free trials and continue paying for a service they no longer use. While  offers a refund on charges if contacted within their set time periods, DoNotPay can help you avoid the charge altogether.
DoNotPay's free trial virtual credit card service allows you to start free trials without using your own credit card. The virtual credit card generates a random number and credit card info for you to use to upgrade your Evernote or any other subscription without worrying about getting charged after the free trial. The card is deactivated after the initial use, meaning that the service cannot charge once the free trial ends. Then, you'll be unsubscribed automatically without doing any work on your part. 
Here's how it works:
Search on DoNotPay for the Free Trial Card, and enter Evernote.
Receive an automatically generated virtual credit card that you can use. Copy the card details shown on your screen into Evernote.
Get your free trial using that card, without any risks or worries.
DoNotPay helps you stress less about your  and protect your personal credit card info.
How Else DoNotPay Can Help

Besides protecting you from getting charged after your free trials of services end, DoNotPay can help with a variety of issues.
 for DoNotPay for more helpful solutions.