How To Start Your Equinox Free Trial In A Flash

Equinox is a high-quality chain of fitness gyms and health clubs. If you are currently looking for a new place to sweat, Equinox is a great choice provided you like your local Equinox location and vibe well with the company culture. Of course, it is in the upper end of price ranges for a local gym. Equinox is spacious and well-equipped and you might just be thinking about becoming a member.
Not sure if Equinox is right for you? This is perfectly normal. Many people prefer a 'try out' period with a new gym and Equinox is no exception. An is exactly what you need. DoNotPay can help you get your Equinox free trial and keep it free.
Does Equinox Offer a Free Trial?
Yes, but not in the way you would think. An is not like a month of free software; it's a single day pass. Equinox offers a guest pass for visitors new to the brand to try out their location and machines. Sometimes called the free day pass, Equinix visitors can register online for a free access card to the facility without paying subscription prices.
Equinox offers:
1-Day Guest Pass
1-Day Visitor Pass
This is perfect for a wide range of people ranging from the very social to the very nervous. The guest pass makes it possible for Equinox members to bring guests to their favorite gym for a little parallel working out. The free trial makes it possible for travelers and new residents to find a gym with no strings attached in a limited amount of time.
How Can I Get an Equinox Free Trial?
You can sign up and create an Equinox free day pass online. Present it when you arrive at an Equinox for one free day of working out while you decide if your local Equinox, and its prices, are right for you.
Sign up online.
Print or save your One-Day Free Pass.
Take the Free Pass to an Equinox location.
Get your first day free.
Does the Equinox Free Trial Automatically Renew Into a Paid Subscription?
No. The subscription model for Equinox does not encompass its free trial day. This is because Equinox's membership is designed like a gym instead of like a website or software. In a gym, a one-day free pass could cater to people traveling, people touring local gyms, or a one-time guest of an existing member.
Many will try out Equinox without starting their own subscription to the location and services, and there is no risk after getting your one-day pass that you will be charged for membership or access regarding that day or immediately afterward.
Avoid Automatic Renewal With DoNotPay Virtual Credit Card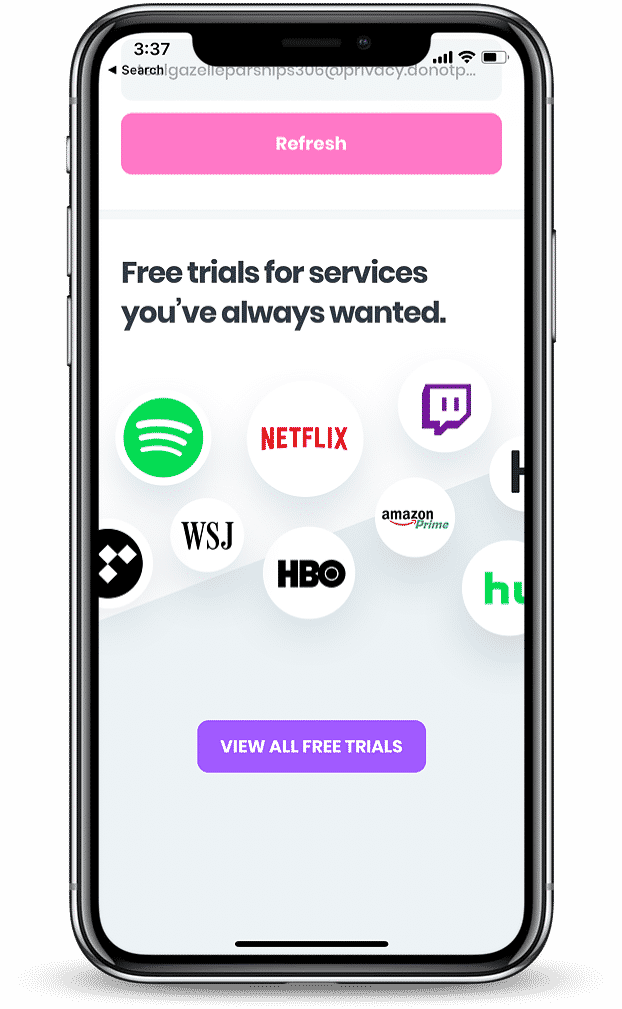 DoNotPay can help you optimize your free trial experience with exactly the right services at the right time. For example, if you need to swiftly cancel your Equinox subscription before the next amount is charged, we can make that happen.
Of course, our best solution for free trials turned out to be virtual credit cards.
A virtual credit card is a string of numbers that can be entered as if it were a payment card number.
You can use a virtual credit card to protect your identity and your finances when signing up for things like free trials - things that should be free but somehow typically aren't.
You can find infinite free virtual credit card numbers with DoNotPay for any free trial you want to safeguard.
How Much Does Equinox Cost After the Trial?
Prices vary when it comes to Equinox locations. Every gym is self-managing which means they do not have a unified brand or store standard price. However, Equinox is known to be highly priced. If you sign up for an Equinox membership, you can expect to pay somewhere between $100 and $200 per month to exercise with Equinox.
| | |
| --- | --- |
| Membership Monthly Fees | Between $100 and $200 or higher |
| Initiation Fees | Starts at $100 |
| Shop | $20 - $500 |
Is it worth it? It depends on your local Equinox branch. If they are in a large building with a lot of classes and amenities, the price might be a worthwhile investment. For smaller gyms that are more like other local gyms, you may be better off choosing a local gym with non-luxury prices.
What Else Can DoNotPay Do?
DoNotPay is dedicated to making your life both easier and more affordable. Check out some of the other ways we can help you this year and cross items off that long to-do list.