How to File a Downy Unstopables Complaint and Get Compensation
Downy, also known as Lenor in Japan and Russia, is a brand of fabric softeners under Procter & Gamble. The brand helps consumers maintain softness and freshness in their clothing. Nevertheless, if you experience a problem with the brand's products, you can file a Downy Unstopables complaint.
The common Downy Unstopables review complaints include:
Allergic products
Exaggerated prices for substandard products
Scent beads clogging washing machines
Undissolving beads
Dyeing of white clothes
If you file a complaint against a company individually, it may take years before your issue is resolved. Besides, although multiple online advertisers claim to offer solutions, it is difficult to differentiate between genuine and fake companies in the current world of false advertisements.
This makes it essential to hire a  reputable company such as DoNotPay to file a complaint on your behalf. DoNotPay will file your faster and more conveniently.
How to Contact Downy to Make a Complaint
If you are a consumer of and have experienced issues with some of the products, you can contact Downy customer care's desk through the company's phone call service, email address, website, or social media.
Phone Call Services
You can contact Downy customer care through a toll-free number: +1-800-688-7638. The phone support is available from Monday to Friday from 09:00-18:00 EST. You can also reach the customer care desk on Saturday and Sunday from 09:00-17:30 EST.
Email Address
You can email your letter to the customer relations officer at Downy through the following address:
The Procter & Gamble Company
One Procter & Gamble Plaza
Cincinnati, Ohio 45202
United States
Website
If you see it is convenient, you can reach Downy's customer service desk through the company's official website.
Social Media
You can also engage Downy's customer care service providers via the company's social media platforms, including Facebook and Twitter.
| | |
| --- | --- |
| Website: | Ways to Contact Downy Unstopables Customer Support |
| Phone Number: | +1-800-688-7638 |
| Twitter: | @Downy |
| Email: | pgcd.im@pg.com |
How to File a Complaint Against Downy Unstopables
If Downy fails to issue a satisfactory response or if you want to file more complaints against the company, the following agencies can help you:
Better Business Bureau (BBB)
Suppose your issue remains unresolved with Downy, you can launch your complaint with BBB. To successfully file a complaint against Downy Unstopables through BBB, you have to:
Provide our name, address, and email
Provide sufficient information to determine Down Unstopables location
Confirm a relationship with Downy Unstopables
Escalate a matter with Downy Unstopables that arose within 12 months
Federal Trade Commission (FTC)
The FTC protects consumers from unfair, fraudulent, and deceptive business practices and helps customers avoid such organizations. The FTC will record your complaint on the Consumer Sentinel Network, an investigative tool used by countrywide criminal and law enforcement agencies.
You can call FTC customer service to file a complaint against Downy Unstopables via phone: 1-877-FTC-HELP (1-877-382-4357); TTY: 1-866-653-4261.
You can also file your complaint against Downy Unstopables online.
Ohio Attorney General
You can consider filing unresolved complaints against Downy Unstopables with the Ohio Attorney General's Office via phone (800-282-0515) or online. To successfully file a Downy Unstopables complaint, be sure to provide:
Your contact information
Downy Unstopables location
Unresolved issue with Downy Unstopables
Propose a reasonable solution that is expected
Industry Associations (Textile Exchange)
The association will deal with your complaints against a service or a product from Downy Unstopables. You will be required to provide sufficient evidence to support your complaint.
Take Downy Unstopables to Small Claims Court if Your Issue Is Not Resolved
Suppose the above agencies and organizations' customer desk fail to resolve the matter, you can escalate the complaint to a small claim court if the value of the complaint does not exceed $10,000. To advance your claim through a small claims court, you will follow the below steps:
Sign an affidavit to prove you attempted to solve the issue outside of court.
Contact the county clerk in the small claims court district nearest to Downy Unstopables.
Fill out the Statement of Claim form and pay the filing fee at the clerk's office.
Send your Statement of Claim document to Downy Unstopables through the sheriff or a private process server.
Downy Unstopables will have 20-30 days to respond to your claim by either sending your compensation, failing to respond, or filing a counterclaim.
You and Downy Unstopables will appear before a judge for a pretrial hearing. If Downy Unstopables fails to settle your claim here, the issue may proceed to a small claims court.
Suppose the case proceeds to a small claims court trial; you and Downy Unstopables will present each side of the claim.
The judge issues a ruling.
If you win, you collect your compensation from Downy Unstopables.
The process of filing a case in a small claims court may be costly, time-consuming, and tedious. Nevertheless, never worry because has got your back.
Suing Downy Unstopables With DoNotPay Is Fast and Easy
Filing a lawsuit against a company individually is complex, tiresome, and time-consuming. But, there is no need to worry because DoNotPay is here to simplify the process for you. The following procedure helps you start a small claims court lawsuit against Downy Unstopables with DoNotPay.
1. Log in to DoNotPay and select the Sue Now product.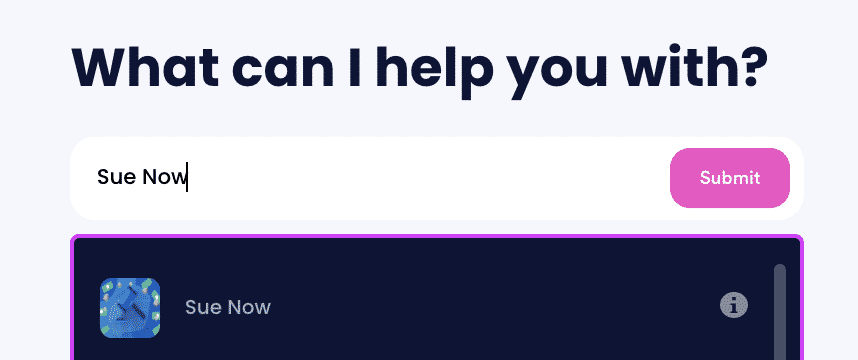 2. Tell us how much you are owed by the company, if applicable.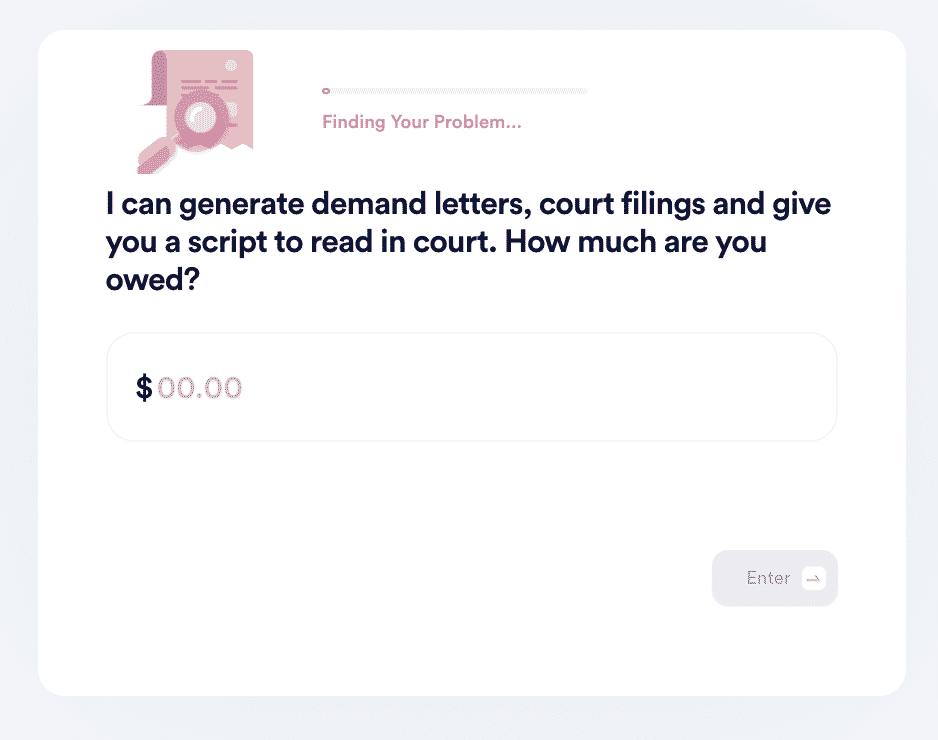 3. Select the reason for your lawsuit.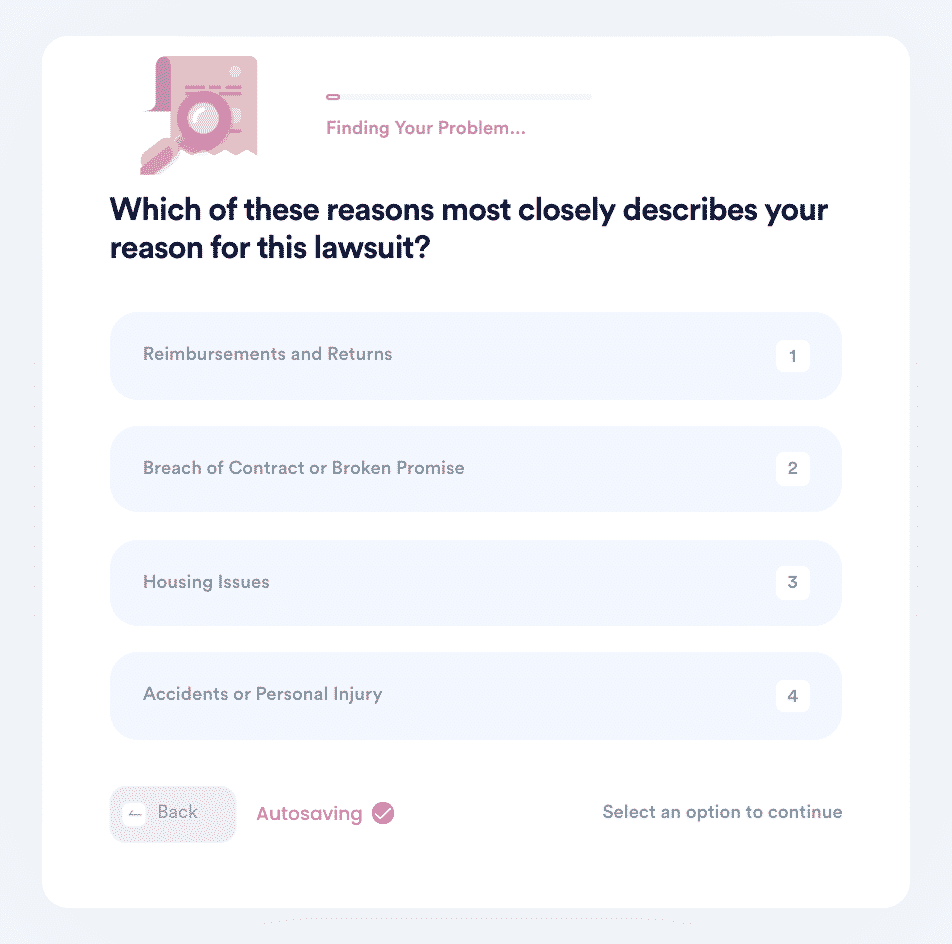 4. Provide details about why you're filing the lawsuit including photographic proof and other important information.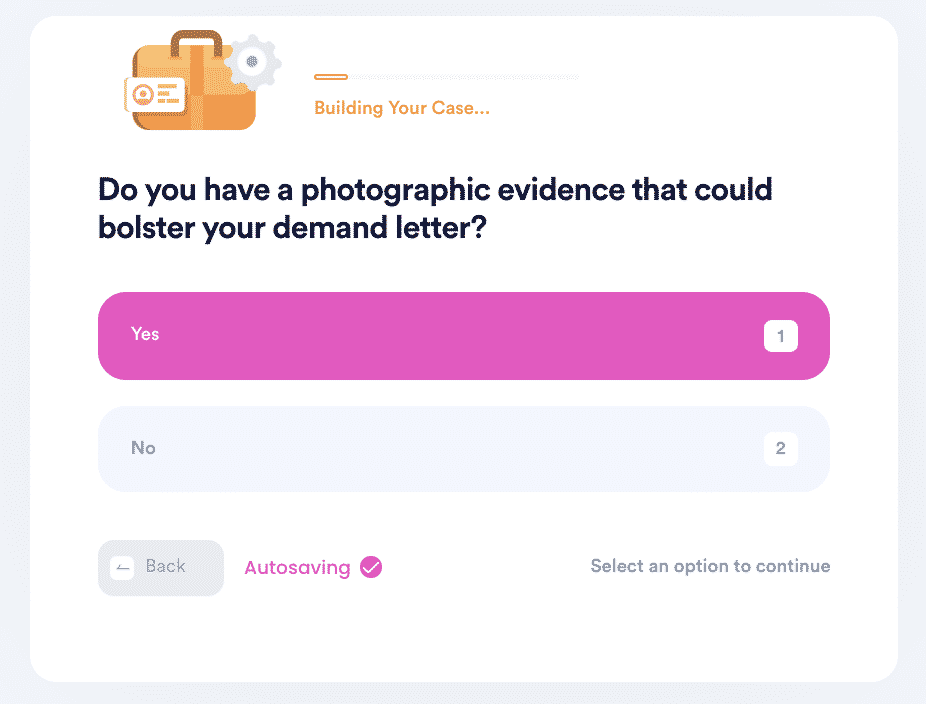 DoNotPay will generate your court filing forms and send a copy to Downy Unstopables.
Other Types of Complaints DoNotPay Can Help You With
DoNotPay can also help you file complaints against the following companies:
What Else Can DoNotPay Do?
DoNotPay can also help you with the following:
today at DoNotPay to file your complaint against Downy Unstopables in a painless, faster, and more reliable way.