How to Get a Deezer Free Trial Without Being Charged

Deezer is an online service offering radio, music, and podcast listening services. Listening for free is possible, but in doing so you have to deal with not only ads but a restricted listening experience. A preferable option is upgrading your subscription or trying a  offer.
However, with that, privacy can become an issue. If you don't want the service, how do you ensure you don't get charged? What if you forget to cancel? DoNotPay can help you avoid the risk of all free trials with a temporary virtual credit card. It is a simple and effective way to keep your credit card information private, while still being able to enjoy a Deezer free trial.
Does Deezer Offer a Free Trial?
Yes, you can receive a month-long  for three different plan types. Each Deezer plan has its own benefits and is sure to offer something for everyone.
Deezer Premium
Deezer Premium gives you the ability to have an ad-free listening experience. Some top features include:
Streaming across all devices no matter which room you are in
Download your favorite songs or podcasts for playing offline
Deezer Family
The Deezer Family plan gives all the same benefits that Deezer Premium has to offer. However, this plan will expand those features to six different accounts, giving the whole family a chance to listen. Not only that, but with this plan, several devices can be listening at once, giving flexibility and convenience to the whole family.
Deezer HiFi
With the Deezer HiFi option, you are sure to listen to music and podcast at the highest quality possible. Not only do you get all the benefits of Deezer Premium, but you will also be able to listen in high fidelity sound, ensuring an amazing listening experience.
How Can I Get a Deezer Free Trial?
It is simple to receive a free trial of the Deezer subscription options. To opt for this trial, you need to:
Visit the Deezer website.
Make an account.
Select the subscription options that say free trial.
Input your information, including credit card information.
Let it approve, and you are set!
Does the Deezer Free Trial Automatically Renew Into A Paid Membership?
If you have not canceled by the end of your free trial, your credit or debit card will be automatically charged for the monthly renewal price. This can be prevented by canceling any time during the free trial period.
There is no way to have your money refunded if you were to miss the date by which you need to cancel, though you could potentially submit a request to support or use DoNotPay's refund product to get your money back.
Avoid Automatic Subscription Renewal With a DoNotPay Free Virtual Credit Card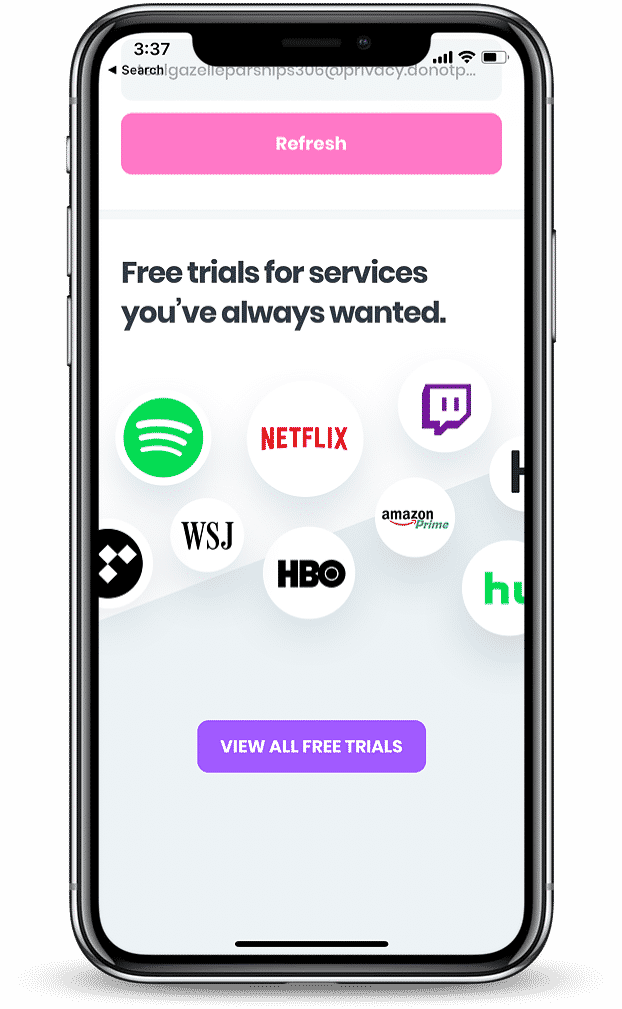 Considering how often people forget to cancel their Deezer free trials on time, it only makes sense to avoid this problem completely by using a virtual credit card. These cards can help to protect your money, giving you peace of mind in case the charge date is forgotten.
With a free virtual credit card, you're sure to never be charged when your Deezer Premium free trial ends. This is since there is no real money on the card, giving Deezer no choice but to end the subscription.
How Much Does Deezer Cost After the Trial?
Depending on which of the three services you decide to purchase, there is going to be a different price.
Deezer Premium: $9.99/month
Deezer Family: $14.99/month
Deezer HiFi: $14.99/month
What Are the Most Popular Alternatives to Deezer?
There are many other listening services out there that are just as popular, if not more popular, than Deezer. Here are some Deezer alternatives, along with pricing information:
Deezer Alternative
Free Trial?
Subscription Price
More Information
Spotify
3-month free trial
$9.99/month

Unlimited skips
Downloading music
Unlimited Streaming
Ad-supported Hulu subscription

TIDAL
Yes, TIDAl Free is the free version
At least two options:

HiFi for $9.99/month.
HiFi Plus for $19.99/month.

Family HiFi is a basic TIDAL subscription for up to six family members.

Family HiFi Plus has the clear quality of HiFi Plus, but for up to six family members.

Amazon Music Prime
Yes
Included in your Amazon Prime Account

Personalized stations
Ad-free listening
SD listening
Two million songs

Amazon Music Unlimited
Yes
$7.99/month

75 million songs
Listening experience in SD, HD, spatial audio, and Ultra HD
Play on up to 6 devices
Personalized stations
Ad-free listening

Pandora Plus
30-day free trial
$4.99/month

Ad-free listening
Unlimited skips
Offline listening
Search options

Pandora Premium
60-day free trial
$9.99/month

Make playlists
Ad-free listening
Search Function
Unlimited offline listening
What Else Can DoNotPay Do to Help Me?

DoNotPay can do so much more than help you to deal with free trials. With just the click of a button, DoNotPay can help you to:
Whether you want a virtual credit card to use during free trials or you need to use one of our other services, DoNotPay is here for you. You simply need to visit us online, and we will help you solve most problems immediately.