Sign Up For DashPass Free Trial Without Providing Your Credit Card Information

When you are stuck at the office and unable to go get lunch, food delivery services are a huge help. One of the more popular food delivery services is DoorDash, which promises better service with a subscription. If you want member benefits, you may be looking for a  to ensure it is worth signing up to receive.
However, signing up for any free trial can be tricky. If you do not want it, will you remember to cancel before it is over? What will they do with your information? Do You really trust them with your credit card information?
DoNotPay understands the need for privacy and security. We can help you learn more about the DashPass subscription and any other free trials you may want to take advantage of while enjoying the lunch that can come to you.
Does DashPass Offer a Free Trial Period?
 offer for new members. You can give it a try for the first three months of delivery services and enjoy all the benefits of its membership.
Some benefits include:
No Delivery Fees on Some Orders
5% Credits on Pickup Orders
Customer Support for All Issues or Concerns
Access to DashPass-Only Promotions
No Contract So You Can Cancel Anytime
And Services are Provided through Caviar or DoorDash
How Can I Get Started with a DashPass Free Trial?
To qualify and get access to your DashPass free trial offer, you need to visit DashPass online and click sign up. You will then also need to provide your:
Name
Email Address
Password
Address
Billing Information
The free offer only applies to new customers, and you can also sign up using your Google Account, Facebook Account, or Apple Account.
Does DashPass Automatically Transfer to a Paid Subscription at the End of Its Free Trial?
At the end of your free trial with DashPass, it will become a paid subscription plan. The only way to avoid it is to remember that you need to cancel your free trial before the final day of your trial period.
How Can DoNotPay Stop Auto-Renewal With a Virtual Credit Card?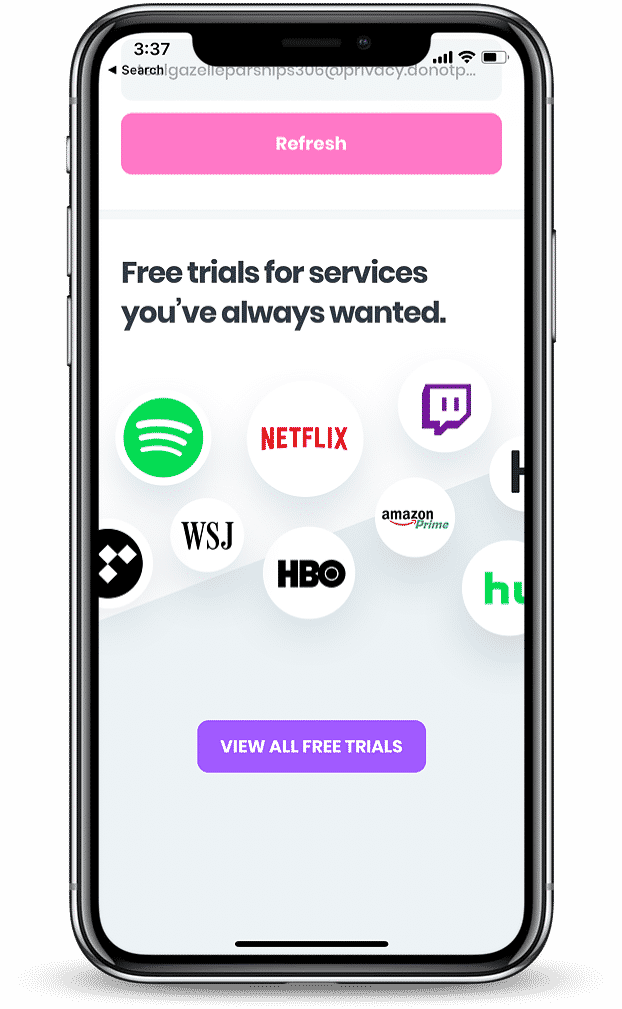 DoNotPay is the first of its kind. A robotic lawyer that is designed to protect you and assist you in anything you want to achieve. Part of that is ensuring you get access to totally risk-free free trials, even DashPass free trials.
To get started, all you have to do is:
Visit DoNotPay - Once you are on our page, search for our free virtual credit card product. This is where you want to be so that you can tell us what type of assistance you need.
Fill Out the Form Requesting a Virtual Credit Card - This is a very simple process with just a few questions for you to answer. You will need to give us permission to use your credit/debit card, but we will never use your information for anything other than this one-time use virtual card. Once we have your information, we will generate a fully functional card number, expiration date, and authorization code/CVC.
Complete the Free Trial Sign Up - Visit DashPass and input the number for your virtual credit card. The free trial will begin using the card number you received from us rather than your bank account.
Say "Good-Bye" to That Number - Moments later, the free virtual credit card will be erased from the DoNotPay system. No more money can be charged through it, either by DoNotPay, DashPass, or any other service you choose to try out with a free trial offer.
Give DashPass a Try - With our virtual credit card, you can explore many of the features of the actual DashPass membership, but they will never be able to unexpectedly charge money to your account. During your trial period, you can:
Order Food. To order food while protecting your bank account information, simply get a new virtual card.
Take Advantage of Membership Advantages. Part of what DashPass promises is free delivery, Dash-Pass promotions, and 5% credits. You can explore it all.
Drop It If You Aren't Satisfied. Since DashPass will not be able to pull money from your bank, if you choose to not use the service, simply stop ordering. The trial will expire because the card number is invalid. Nothing for you to remember, nothing for you to unsubscribe from, no headaches.
How Much Will DashPass Cost After Free Trial?
When your free trial period of DashPass ends, you will be charged a monthly subscription fee of $9.99 per month. You will also need to pay some fees based on your order, but they often average between $1.99 and $5.99.
The cost of your food will also be charged to your bank account or credit card. Orders that cost more than $12-$25.00 will have zero delivery fees, but you will still have to pay for your order.
If you are using the free trial, and it automatically becomes a paid subscription, DashPass will not refund your money. The only refunds that are available will come from messed-up orders that you receive. Subscription fees require you to cancel the service, and then it will end at the end of your billing cycle.
Best Alternatives to DashPass Memberships
If you have tried the DashPass free trial in the past and haven't enjoyed the service you received, there are other options. You may consider:
 Account
Cost
Trial Period
Membership Bonuses
Uber Eats
$9.99/monthly

$99.99/yearly

-

Priority Services
No Delivery Fees
5% of Rides, Deliveries, and Pickups
Customer Support
Invite Only Experiences

Postmates
$9.99/monthly
30 Trial Period

5% Off
Member Only Perks
No Delivery Fees for Food Orders Over $15.00 or Grocery Deliveries Over $30.00
Cancel Anytime

GrubHub+
$9.99/monthly
14 Day Free Trial

Donation Matching
Unlimited Free Delivery Over $12.00
Member Exclusive Perks
What Else Can DoNotPay Do?

DoNotPay offers many services beyond helping you get a virtual credit card. Our services are always fast, affordable, and very secure.
Some of our many services include:
DoNotPay covers all stressors in your life virtually. If this sounds like something you are interested in, you simply have to visit DoNotPay online to see how simple your complications can become with our help.