Get a Crunch Free Trial Securely Without Giving Your Credit Card Info

Finding the right gym can be a real Goldilocks situation with all the different factors to consider. From the membership costs to the distance from your home to the atmosphere in the building, it's not always easy to pick where you want to go. That's why Crunch and its no judgment policy is such a popular pick these days.
The costs, on the other hand, may not be so great if you decide you aren't feeling it. Don't sweat those extra expenses, though, and use DoNotPay to help you take advantage of a  without getting charged.
Does Crunch Offer a Free Trial?
Crunch does offer a free trial membership. It's good for a full week and entitles you to the same perks and privileges as a paying member during that time.
How Can I Get a Crunch Free Trial?
You can get a free trial pass for a Crunch location near you by:
Go to the Crunch website.
Fill out this free trial form on their website.
Keep the confirmation message in case you need it later.
Enjoy your 7-day free trial.
It's a pretty good deal overall, especially since there's no commitment involved. You don't have to input your credit card information, so you're free to walk away if you don't feel like paying after the week is up.
Does the Crunch Free Trial Automatically Renew Into a Paid Subscription?
Crunch free trials do not automatically renew into a paid membership. Your free trial membership does not require you to give payment information. Even if they wanted to, they couldn't take your money until you sign up as a full member.
Avoid Automatic Renewal With DoNotPay Virtual Credit Card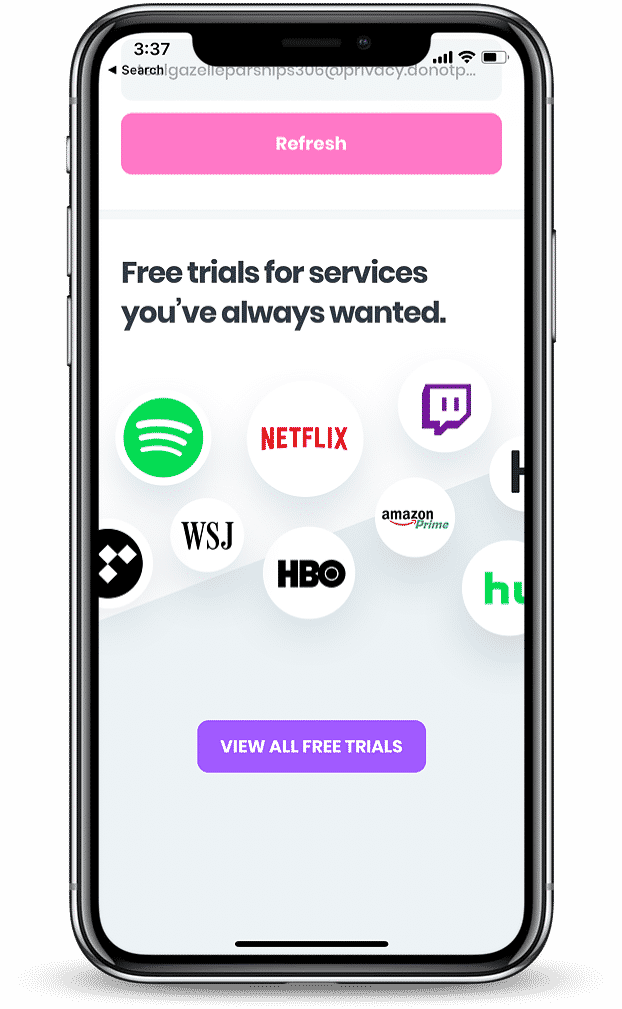 Tons of people forget to cancel their free trials every year. A few dollars here and there may not seem like much, but it amounts to millions every year, given just how many of us don't bother to cancel the things we don't need. If you want to cancel your Crunch membership easily or sign up for the free trial without risk, DoNotPay can help you out with our free virtual credit card service.
Virtual credit cards are a simple but brilliant way to dodge those accidental subscription fees after a free trial runs out. When you use our service:
We make you a randomly-generated credit card number and information.
It works exactly like a real credit card, the only difference being it only uses the money you put on it.
Once the service you subscribed to tries to renew and charge you, the payment won't go through if you haven't loaded any funds.
That means you're safe from being charged, and all without sharing your real information with the company.
How Much Does Crunch Cost After the Trial?
If you decide to sign up for a Crunch membership after your free trial week, you'll have three different monthly plans to choose from. These are:
| | | |
| --- | --- | --- |
| Crunch Membership Plan | Price | More Information |
| Base | $14.99 per month | Give you access to the specific Crunch location you signed up at. This membership plan gives you access to the machines, equipment, locker rooms, circuit training, CrunchONE Kickoff, and online nutrition service. |
| Peak | $21.99 per month | Gives you access to all Crunch locations, not just the one you signed up at. In addition to the perks offered at the Base level, you also get access to group fitness classes, live online workouts, tanning beds, HydroMassage, guest privileges, and a free shirt. |
| Peak Results | $29.99 per month | Entitles you to everything listed before, plus ride classes and advanced HIIT classes. |
What Are the Most Popular Alternatives to Crunch?
If you're not enjoying your time at Crunch, you might want to try an alternative gym or fitness center in your area. There are a number of popular alternatives to Crunch out there, so you can't go wrong by taking a look. Some of them that offer free trial memberships are:
24 Hour Fitness
Anytime Fitness
Planet Fitness
XSport Fitness
Genesis Health Club
You might also be able to find a local, non-franchise gym in your area that offers free trials. Some gyms might even allow you to use certain equipment for free without a membership. The YMCA is also a good option for this.
What Other Solutions Does DoNotPay Offer?

DoNotPay isn't just for helping you get a  that's really free; we do all sorts of other things, too. Some of our other services include:
Whether it's making sure your free trials stay free or canceling those subscription services outright, DoNotPay does all of this and more.  today to start simplifying your life.