How to Start a Cox Free WIFI Trial With a Virtual Credit Card

Cox is a home internet provider that also offers Wi-Fi hotspots for its customers. While Cox customers don't have to pay to use these hotspots, they are also available to others for a small fee. Should you ever wish to take advantage of a , now it's possible to do so the risk-free way.
Does Cox Offer a Free Trial?
Cox currently lists a free Wifi hotspot trial that is available to certain internet customers of AT&T, Verizon, or CenturyLink. The trial is limited to one code per device and email address every 30 days. It is important to note that this trial offer may come and go and may not always be in effect. It's also possible that offers for those who are not customers of these internet providers may occasionally appear.
Cox internet customers get automatic free access to Cox  hotspots using their login credentials and do not need to worry about gaining free access.
How Can I Get a Cox Free Trial?
To see whether you can obtain a free trial of Cox Wifi hotspots as a customer of one of the companies mentioned above;
You will want to navigate to the Cox access portal.
There, you will enter your name, internet provider, and email address.
If you are approved as a user of the free trial, you can proceed without entering your credit card information.
Once your trial has expired, you will no longer be able to access the hotspot using your device and credentials, at least until the start of the next 30-day period.
Does the Cox WiFi Free Trial Automatically Renew Into a Paid Subscription?
 does not automatically renew into a paid subscription.
Both of these processes can sometimes be more difficult than you would expect, but DoNotPay can help make the process of submitting your requests run much more smoothly.
Avoid Automatic Renewal With DoNotPay Virtual Credit Card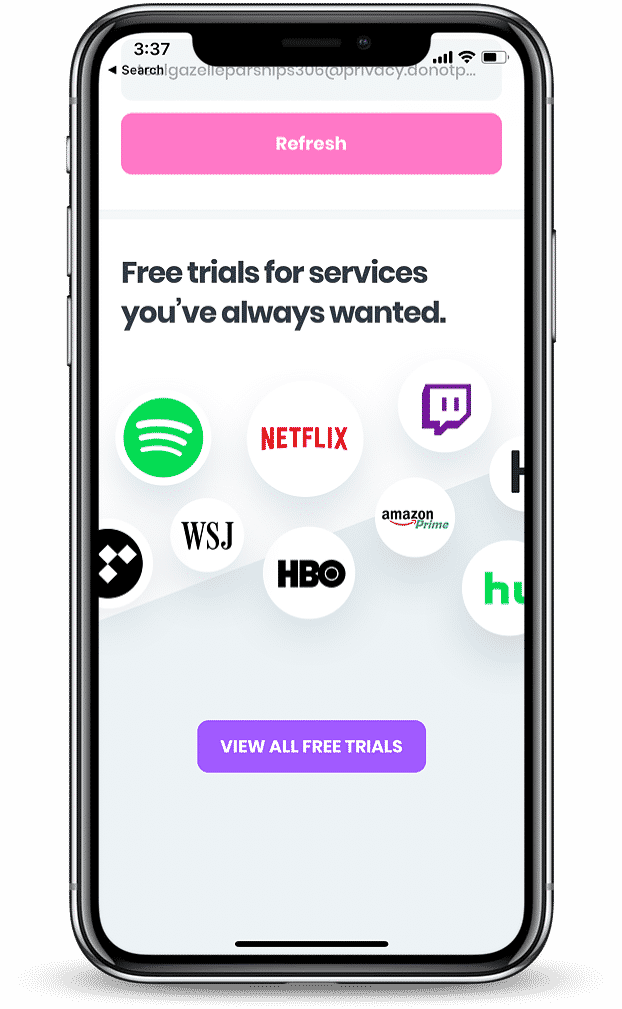 The danger of free trials is that you might forget to cancel them. At that point, you can end up spending money on a service you may not even want. Even worse, you may not even notice the charges on your credit card.
If you'd ever like to try a website without paying but don't want to risk forgetting to cancel the service before your trial ends, now you can sign up with a virtual credit card from DoNotPay. With the free virtual credit card, DoNotPay gives you a random number and credit card information that you supply to a company whose free trial you want to take advantage of.
As soon as the free trial expires, you no longer have to worry about getting charged. Since there's no money on the card, you're automatically unsubscribed. You can learn more about DoNotPay's virtual credit card system here.
How Much Does Cox WiFi Cost After the Trial?
If you are not a regular Cox internet customer and don't have a free trial for Cox WiFi hotspots, you can expect to pay the following each time you want to use the service.
| | |
| --- | --- |
| 2-hour Pass | $4 |
| 24-hour Pass | $8 |
| 1 week Pass | $20 |
How Do I Purchase Access to a Cox WiFi Hotspot if I Am Not a Cox Customer?
If you would like to purchase access to a Cox WiFi network as a StraightUp Internet Hotspot Pass user, you will need to do the following:
Enable WiFi on your wireless device and search for available networks.
Select CoxWiFi.
From the Cox Hotspots Log In pop-up window, select Not a Cox Customer.
Choose the best time limit and pricing option for your needs. (Hotspot passes are enabled for a single device.)
 Enter your email address for receipt delivery.
Read the privacy policy, WiFi terms of service, and acceptable use policy. Click the check box to agree to the terms and conditions.
Click Next.
From the StraightUp Internet Hotspot Pass Billing Information window, enter all requested information and click Submit.
What Else Can DoNotPay Do?

DoNotPay can do a lot more than just help you get a risk-free Cox trial. DoNotPay can help you with all of the following and much more:
Give DoNotPay a try today to learn more about all the ways in which it can make your life easier.