Contact Senator Blumenthal in the Easy Way
Senator Blumenthal is Connecticut's current serving senior senator at the ongoing 117th US Congress. Use DoNotPay to contact Senator Blumenthal stress-free and find out which contact details would be most suitable for you to use!
Who Is Senator Blumenthal?
Senator Richard Blumenthal (1946 - ) is Connecticut's current serving Senior Senator since 2010 at the 117th US Congress. Before becoming Governor, Senator Blumenthal had served as Connecticut's 23rd Attorney General for 20 years (1991 - 2011) and was the state's 145th district representative and 27th district senate representative at Connecticut's lower and upper house respectively.
A well-known marine corps veteran, Senator Blumenthal was also the United States Attorney for the district of Connecticut during the era of President Jimmy Carter.
Senator Blumenthal was born in New York and had his high school education at Riverdale Country School before bagging a B.Sc from Harvard and the University of Cambridge in England. Blumenthal has a law degree from Yale Law School.
Blumenthal is currently a member of the following house committees:
Veteran Affairs
US Judiciary
Science, Commerce, and Transportation
Armed Services
See Senator Blumenthal Contact Details
To help serve the people of Connecticut even better, Senator Blumenthal operates three offices. See their addresses below:
| | | | |
| --- | --- | --- | --- |
| Location | Bridgeport | Hartford | Washington, D.C. |
| Address | 915 Lafayette Boulevard, Suite 304, Bridgeport, CT 06604. | 90 State House Square, 10th Floor, Hartford, CT 06103. | 706 Hart Senate Office Building, Washington, D.C. 20510. |
| Phone Number | 203 330 0598 | 860 258 6940 | 202 224 2823 |
| Fax | 203 330 0608 | 860 258 6958 | 202 224 9673 |
Here's also Senator Blumenthal's official website and social media handle on Facebook, Twitter, Flickr, and Youtube for you to follow. You can also sign up for a periodic news blog.
 DoNotPay Also Helps People Contact
There are other senators, legislators, and government officials from Connecticut that DoNotPay also helps people contact. Here's a list of the most popular government representatives from Connecticut that you can equally contact especially if your issue would be most suitable for any of them to solve.
| | |
| --- | --- |
| Connecticut Government Representatives | Positions Currently Held |
| | Connecticut's current serving Governor |
| | Connecticut's current serving Lieutenant Governor |
| | The current junior senator for the state of Connecticut at the 117th US Congress |
| | Connecticut's current serving Secretary of State |
| | Connecticut's 25th and current serving Attorney General |
| | The dean of Connecticut's congressional delegate and the house representative of Connecticut's 3rd district at the 117th US Congress. |
| | Connecticut's 5th district congressional representative at the 117th US Congress |
What Does Senator Blumenthal Do for People?
Many residents of Connecticut contact Senator Blumenthal and Senator Chris Murphy for several reasons. Here are some of the top reasons below. You can contact Senator Blumenthal if you:
Wish to nominate yourself or a fellow Connecticut resident for entry into the US Military Academy
Want to apply for federal grants and assistance for small business, NGOs and private individuals
Have a suggestion about how you would want the Senator to allocate federal appropriations and Congressional Directed Spending
Wish to complain about issues within Connecticut that arise as a result of federally mandated resolution or laws
Wish to become an intern under Senator Blumenthal at any of the Senator's offices
Want to make a request for an authorized US flag
Would like to make reservations to visit the federal office of Senator Blumenthal when visiting Washington, D.C.
If you want to report issues with Connecticut waterways
In Case You Need Help Contacting Senator Blumenthal
Due to the volume of messages that come in daily and the level of scrutiny for mails at the Senate building, the office of the Senator usually prefers most issues be sent by email. This means would have to send a properly written formal email to stand a chance of audience and response.
If turning your issue into a well-crafted professional email is a challenge, DoNotPay can help you in a few minutes. The AI-powered contact service platform helps thousands of US residents get in contact with their lawmakers in a few easy steps. See the easy steps and how you can use DoNotPay below.
Let DoNotPay Contact Senator Blumenthal For You
DoNotPay helps you reach hundreds of public officers in the US with little effort on your part. Here's how to use DoNotPay:
1. Search "contact representative" on DoNotPay and select the Contact Your Government Representative product.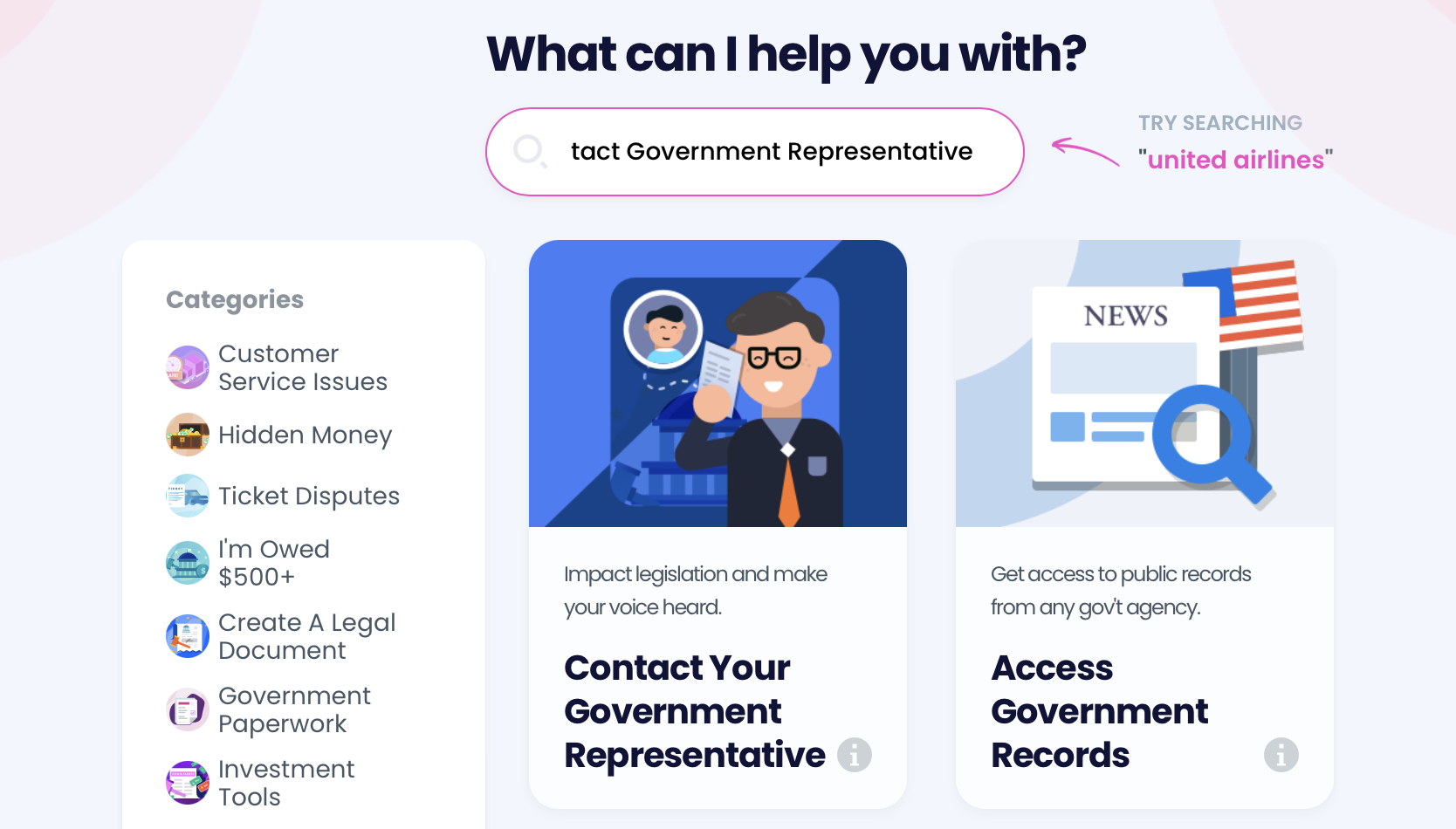 2. Choose whether you want to contact your Senator, House Representative, Governor, President, or Mayor.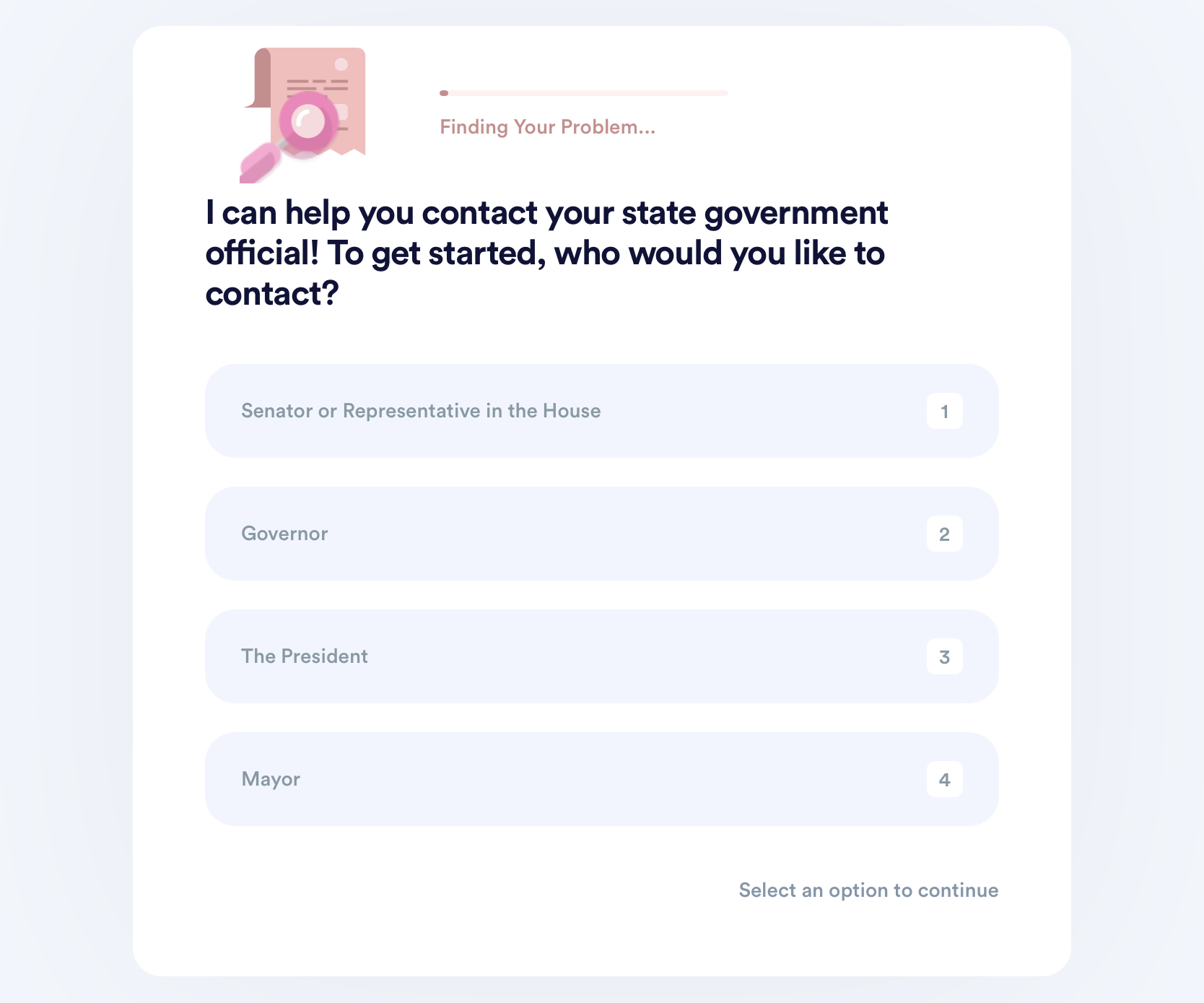 3. Tell us why you are contacting your representative, which bill or issue you're concerned about, and what you're urging the representative to do.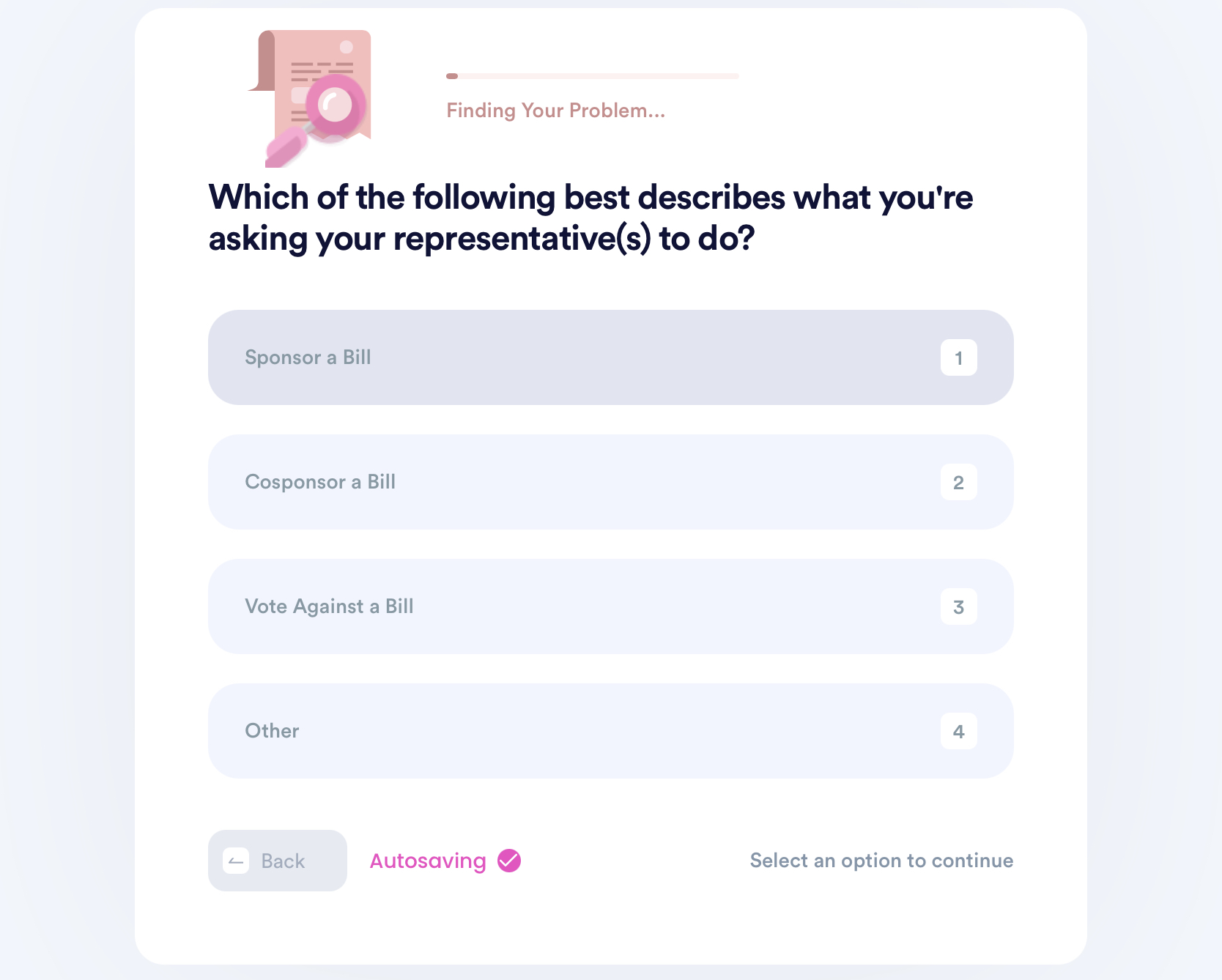 Sit back and relax! DoNotPay will deliver your message and handle the rest for you. Our bots will fill the contact forms on your legislator's website on your behalf.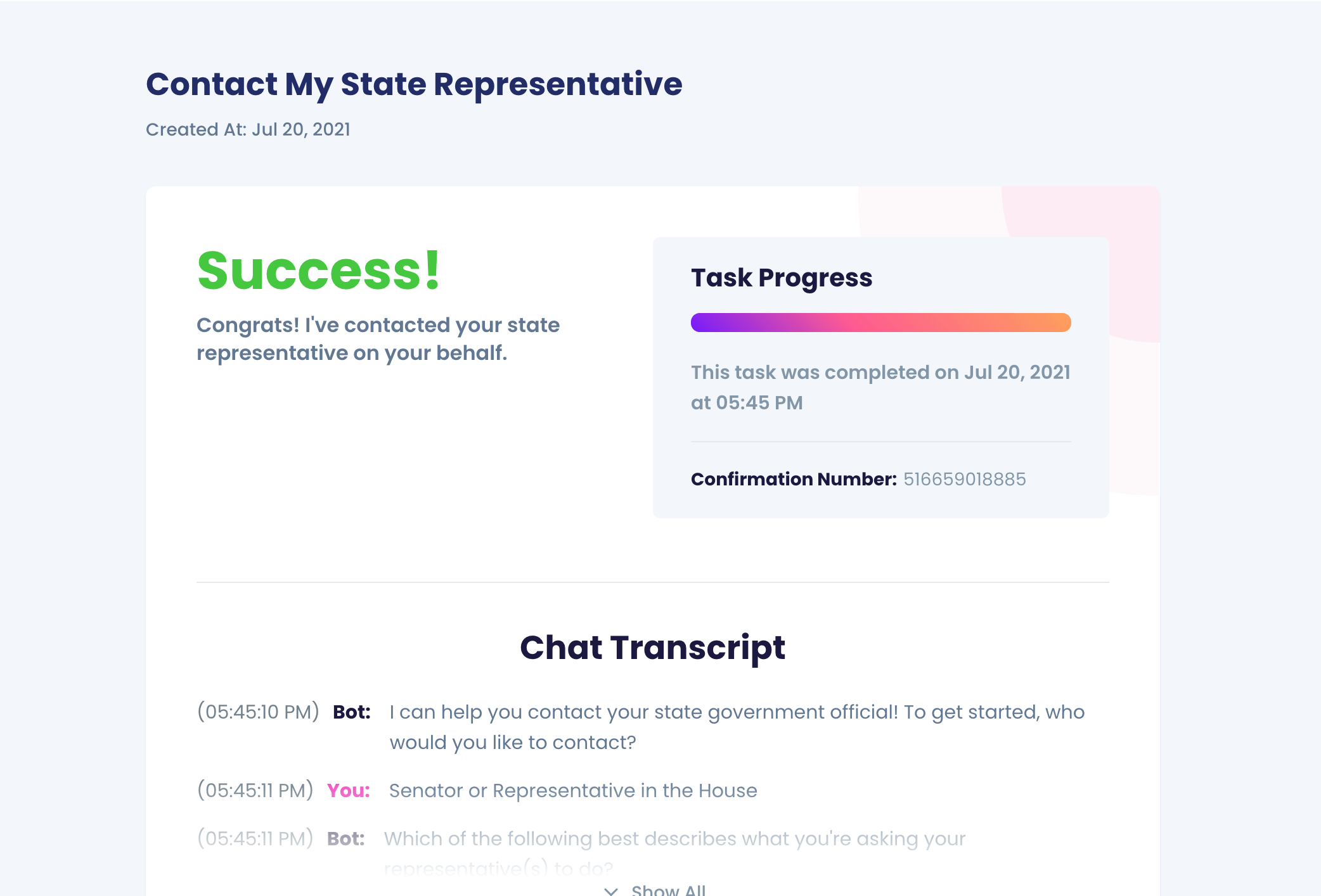 DoNotPay Can Do More!
We do not only help you with contacting a governor, but we offer a wide range of legal services! Some of them include: