What is the House of Representatives' Phone Number?
The national bicameral legislature of the United States is made up of two law-making bodies: 
The house of representatives which is the lower house 
The Senate is the upper house
The number of voting representatives in the lower house is capped at 435 and they represent the 50 states.
In this article, we will provide the contact details you need that include the House of Representatives' phone number, address, website, and more. We will also provide you with a faster and easier way to get in touch with your elected representative using the DoNotPay app.
Representative's Duties and Responsibilities
Also known as a congressman or congresswoman, a state representative is an elected official who will represent the state's districts. How many districts there will be in a state depends on the population. Representatives are tasked with advocating in the best interests of their district by passing or supporting laws. They have accountability to their constituents and have a role as their spokesperson. A representative's duties and responsibilities also include:
Setting taxes and deciding the allocation of tax money
Creating an annual budget and authorizing loans to cover budgetary shortages
Listening to constituents' concerns and manifesting their voices in Washington
Serving on Congressional committees brings advantages to their constituents
Passing or supporting bills that help their district
Getting to know the key industries within their districts
Helping the state to establish diverse economic success
How to Contact the House of Representatives?
There is a Directory of Representatives that can provide you with contact details of all 435 representatives from the 50 states. If you don't know who your representative is, you can also use the Find Your Representative tool. If you wish to get in touch with the House of Representatives, here below are the contact details:
House of Representatives Contact Details

Address
U.S. House of Representatives

Washington, DC 20515

Phone
202-224-3121
Teletype
202-225-1904

Website
However, keep in mind that contacting the House of Representatives itself may not be the best way to reach your state's representative. Instead, contact the government representative in your state. This is because there is no centralized database for House of Representatives email that can forward your email to the correct recipient. Instead, each representative has their own contact details and office policy on how best to reach them.
Why Does Contacting the House of Representatives Matter?
You may have seen social media posts and emails urging ordinary citizens to call their representatives and express their opinions. Up until that point, you may haven't thought that calling senators and congressmen or congresswomen is actually a thing. Contrary to what you may think, contacting your government representatives works. You'd be surprised to know that there are plenty of reasons why calling or emailing Congress can make a difference, and here are some:
Elected officials are concerned about re-elections. Constituents hold the key to a Congress member's chance at being re-elected. Lawmakers know that they should listen to their constituents' concerns. This signals what they need to do to win your support in the next election.
Legislators are compelled to vote based on their constituents' opinions when they are inundated with phone calls about the same issue. A strategically organized group call can stall office tasks and get the attention of your representative.
Voting on the issues you really care about after the election season ends can be challenging. Nonetheless, civic participation by communicating with your representatives is one of the best chances you can get to have your voice heard.
Calling takes only a few minutes. It's quicker than a professionally written email or waiting to attend a town hall meeting. Most legislative aides will provide you with instructions on how to get in touch with the right assistant who handles the issue you are calling about.
DoNotPay Can Help You Contact Your Representative
Finding the correct representative can be challenging. Determining your state is easy, but identifying the correct district. That is where DoNotPay can help! We are the world's first robot lawyer and we can help draft a professional message for you, fill out any online forms if necessary, and deliver your message to make sure your voice is heard. All you have to do is:
1. Search "Contact Representative," or "Legislator," on DoNotPay and select the Contact Your Government Representative product.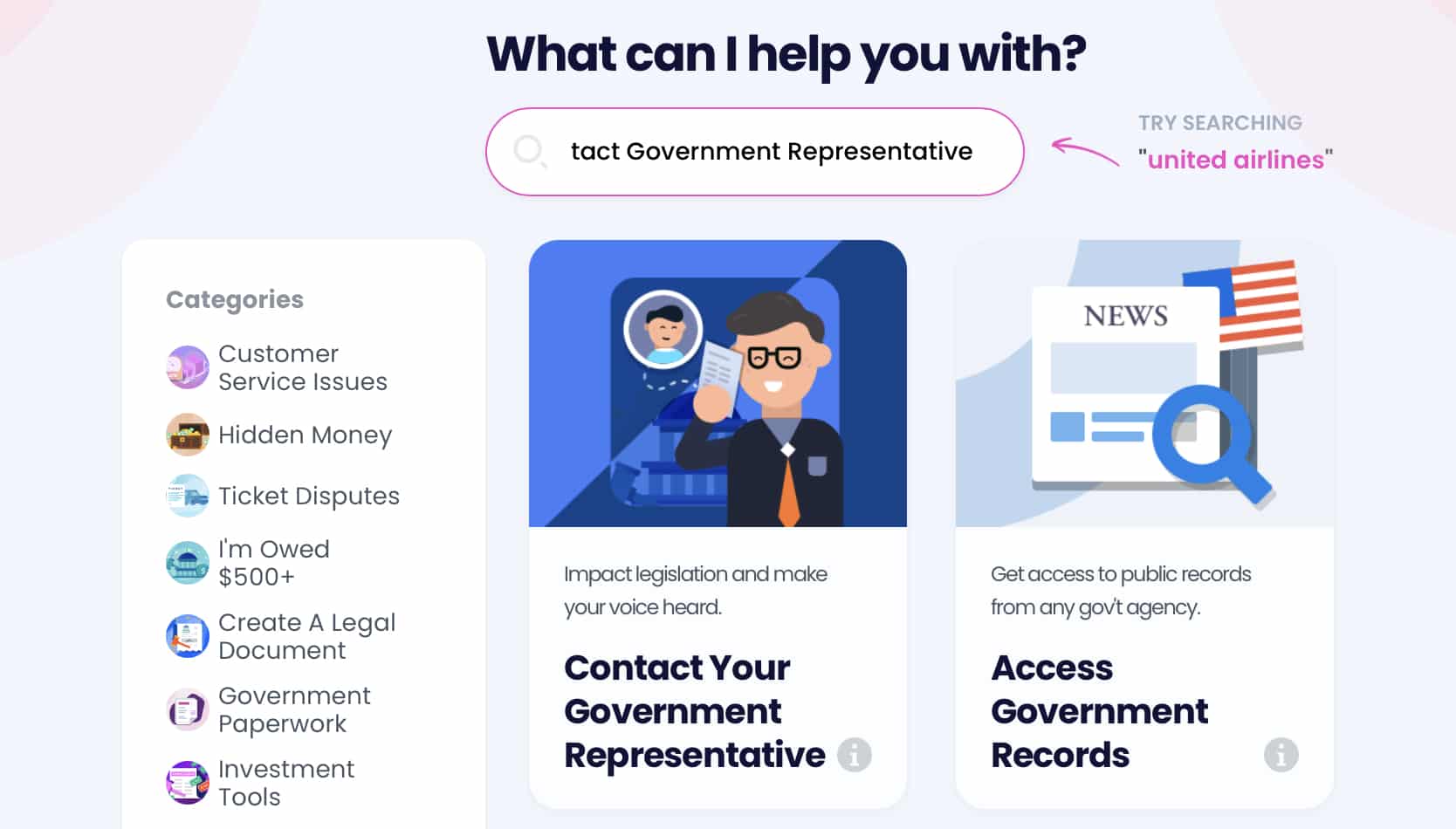 2. Select whether you want to contact your Senator, state representative, Governor, President, or Mayor.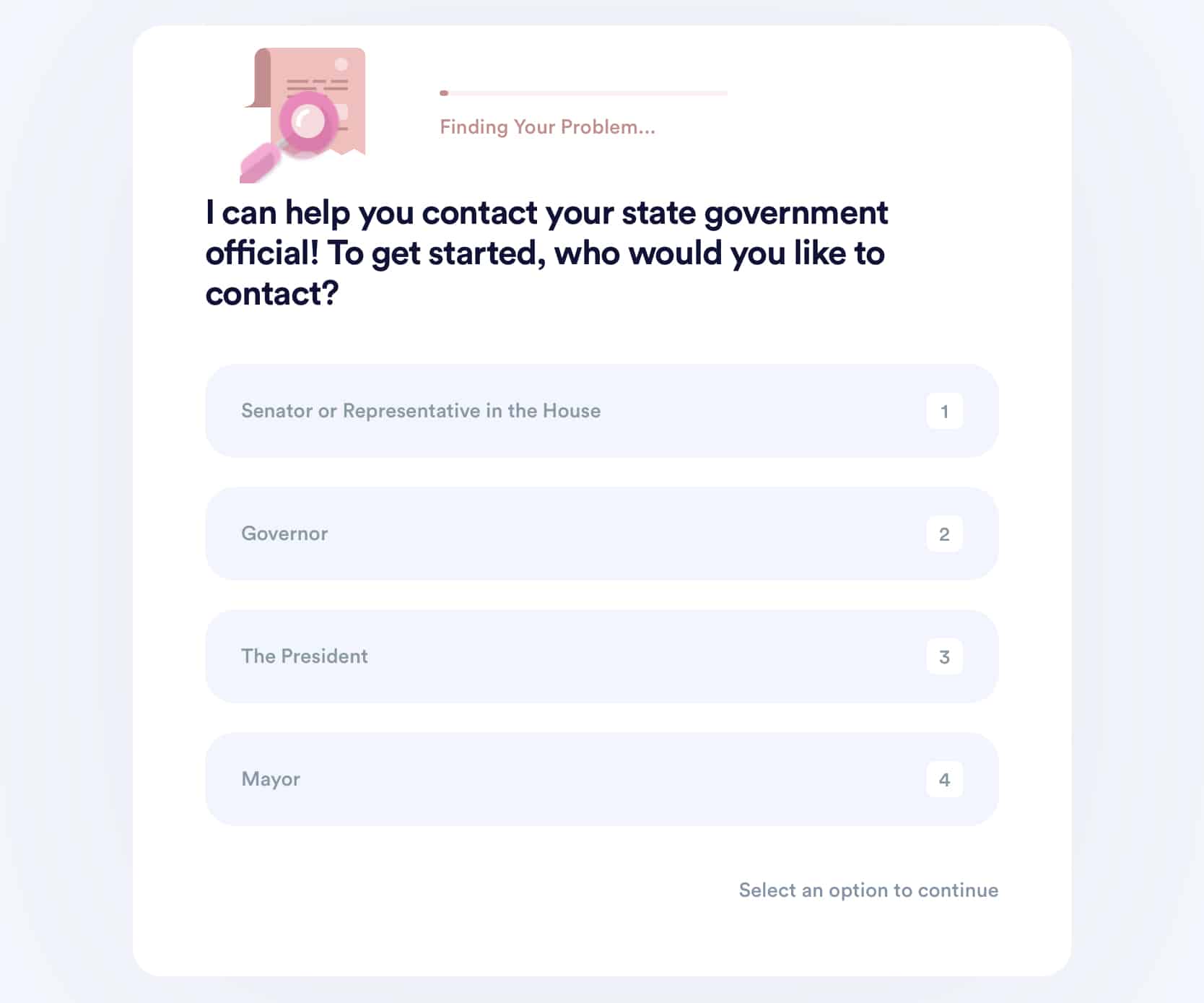 3. Explain why you're contacting your representative. Do you want them to sponsor, cosponsor, or vote against a bill? Tell us which bill or issue you're concerned about and what you're urging the representative to do.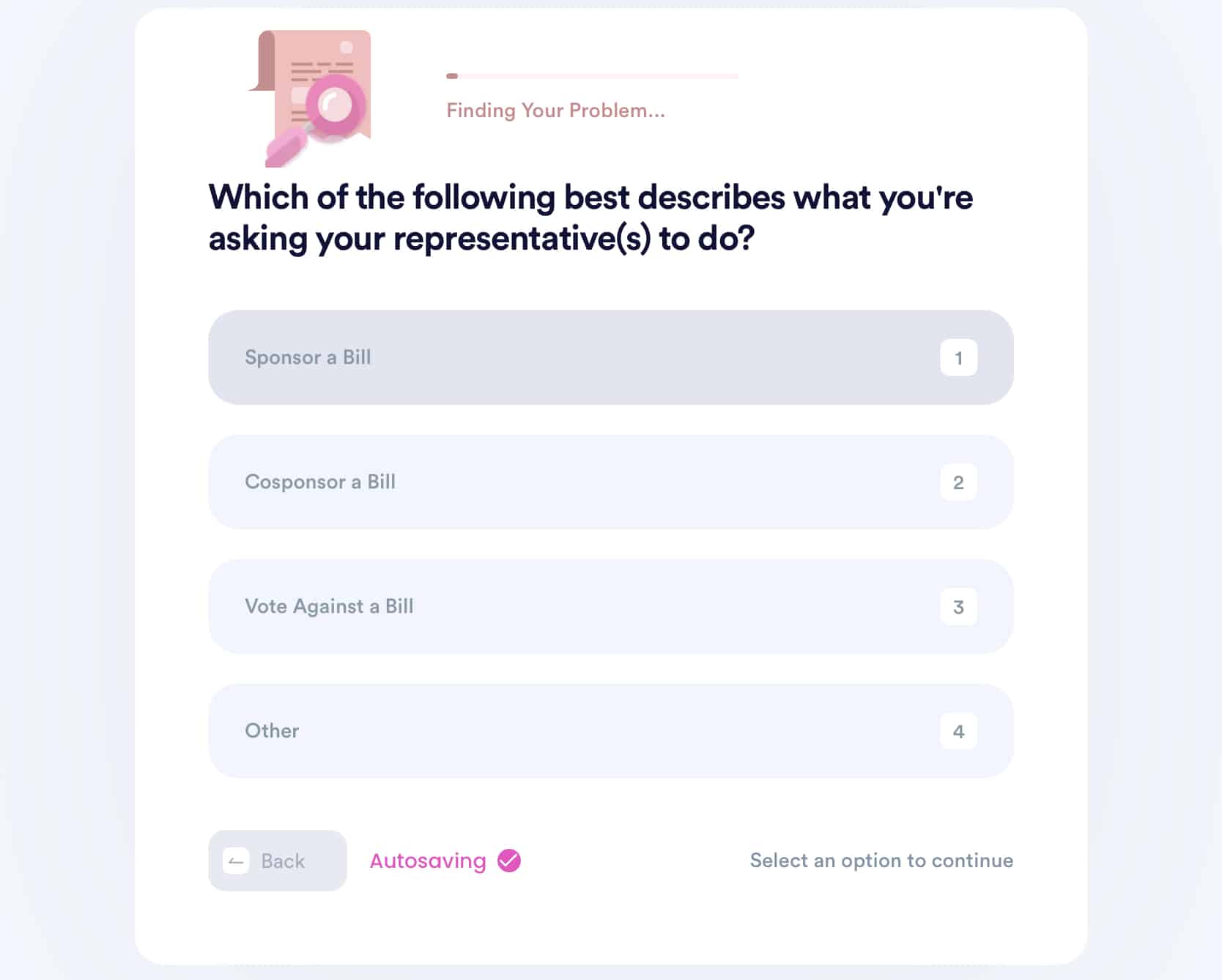 4. Sit back and relax! DoNotPay will handle the rest for you and make sure your message gets delivered. Our bots will fill the contact forms on your legislator's website on your behalf.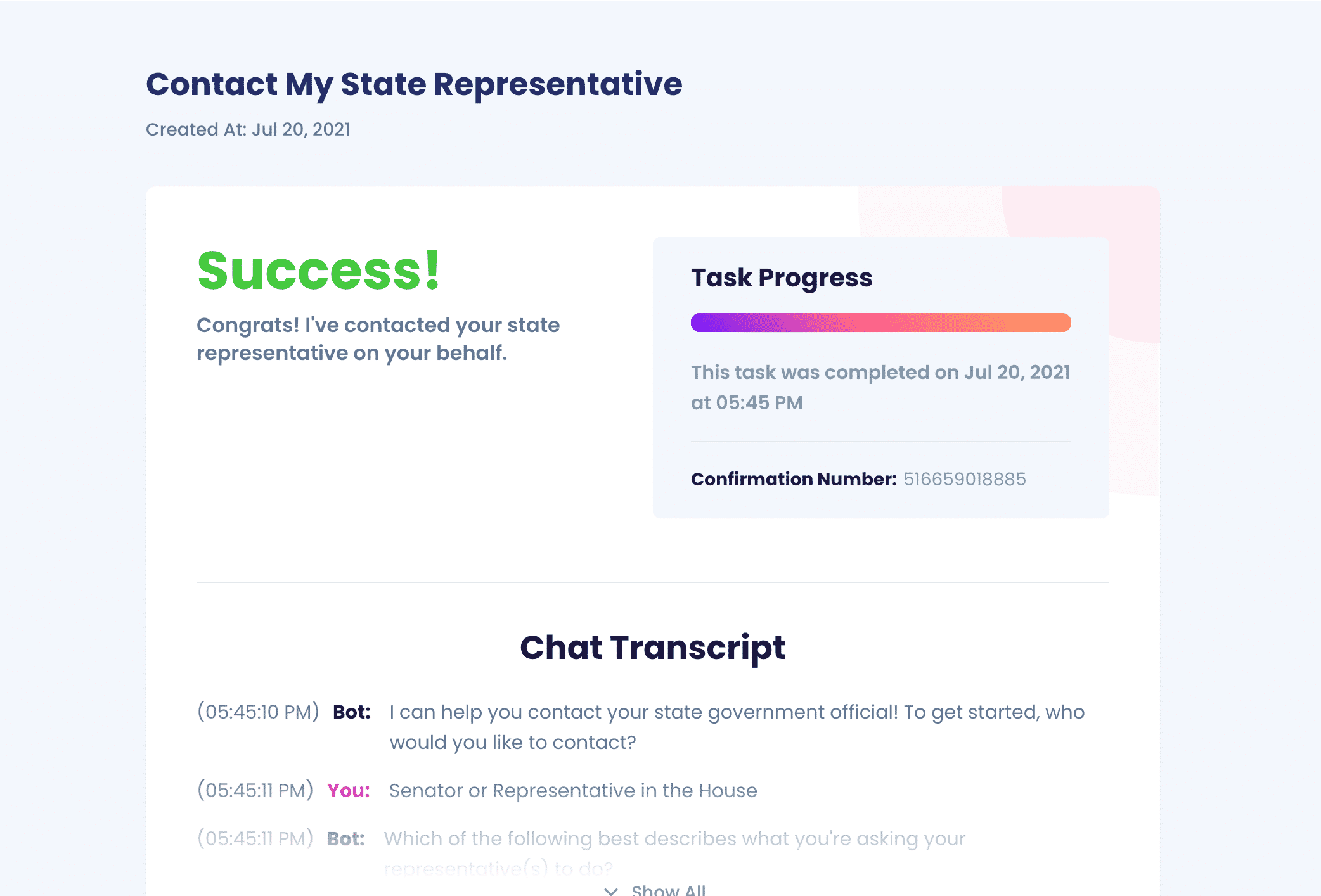 DoNotPay Does More!