What is the Best Way to Contact Your Representatives?
It is part of a legislator's duty to listen and entertain their constituents' opinions. After all, they are elected to represent your views in the bills that they vote to support or repeal. However, what is the best way to contact your representative? Our answer is to use whatever mode of communication that is convenient or you are comfortable with. Whether you visit the office, call, or write, make sure to mention your name and your address to signify that you are a constituent.
In this article, we will provide you with more tips and tricks that will optimize whatever medium you use to get in touch with your representative. We will also provide you with a tool that allows you to contact senators and representatives in seconds.
Ways to Contact Your Representatives
The first thing you need to take note of is that you need to contact your state's representative. There is no centralized system to deliver emails like how a switchboard operator does. Each congressman/woman has their own email address, phone number, and office policy on how to contact them. To find your representative, you can use this online tool where all you need to do is enter your zip code. If you intend to contact the House of Representative instead, here below are the contact information:
House of Representatives Contact Details

Address

U.S. House of Representatives

Washington, DC 20515

Phone

202-224-3121

Teletype

202-225-1904
Calling Your Representative
Making a phone call is more suitable when you have limited time and you need to take urgent action. Calling your representative is a fast and effective way to express your opinions or any concerns. Here are some things to remember when contacting your representative by phone:
If you have professional expertise on an issue, establish credibility by stating your position or professional role in a courteous way.

Identify yourself as a constituent and voter as legislators and their staff are more receptive to their own constituents' opinions.

A quick phone call is easily remembered by representatives and their staff. Support your argument with facts and figures to ensure relevance.

End your call on a graceful note to the staff in the representative's office.
Writing to Your Representative
Letter writing in email or snail mail helps you express your opinion in a more organized way. As with all written compositions, make sure to write based on your audience. And even if your senator or representative has a different political orientation, always be courteous and concise. Here are more tips that will help you when writing to your representative:
Identify yourself as a constituent because representatives are much more willing to entertain opinions from letter senders that are from their own state or district.

After introducing yourself, include a short explanation about why you personally advocate or resist a certain bill and how it affects your daily life and your community.

Provide information based on sound and scientific research. Know the issue before you draft the mail.

End the letter with a thank you note as a representative is more likely to remember you and your views.
Meeting with a Representative
An in-person meeting with a legislator is an excellent way to voice your opinion efficiently. This allows you to stand out from thousands of emails and calls that a representative's office receives every day. Here are more strategies that you can use when planning for an in-person visit:
Legislators handle multiple issues, so be specific in the issue that you would like to tackle. Offer any information or professional background that allows you to establish credibility in a certain issue.

Leave handouts, fliers, or petitions that can be tangible documents of your opinion.

Ask questions about how the representative feels about an issue.

Develop a relationship with the staff in the representative's office so when the time to make a critical call comes, you know who the right person to get in touch with.

After a meeting, send a follow-up note to thank the staff and the representative for entertaining you during your visit.
DoNotPay Can Contact Your Government Representative
Regardless of how you decide to contact your government representative, there are challenges that you need to take into account. In the case of phone calls, if you're not able to directly talk to the senator or representative, there are no guarantees that your voicemail or message will be passed on. On the other hand, emails need to be professionally written and you need to ensure that you are sending them to the correct contact detail.
This is where DoNotPay can help! Our will fill up and submit the required forms that you need to generate a professional message to your representative. All you have to do is:
Search for the Contact Your Government Representative product on

.
Choose between contacting your Senator, state representative, Governor, President, or Mayor.
Choose the option that best fits your reason for contacting the representative. We'll give you the chance to provide more details.
That's all we need from you! Just wait as we submit your response to your government official's website!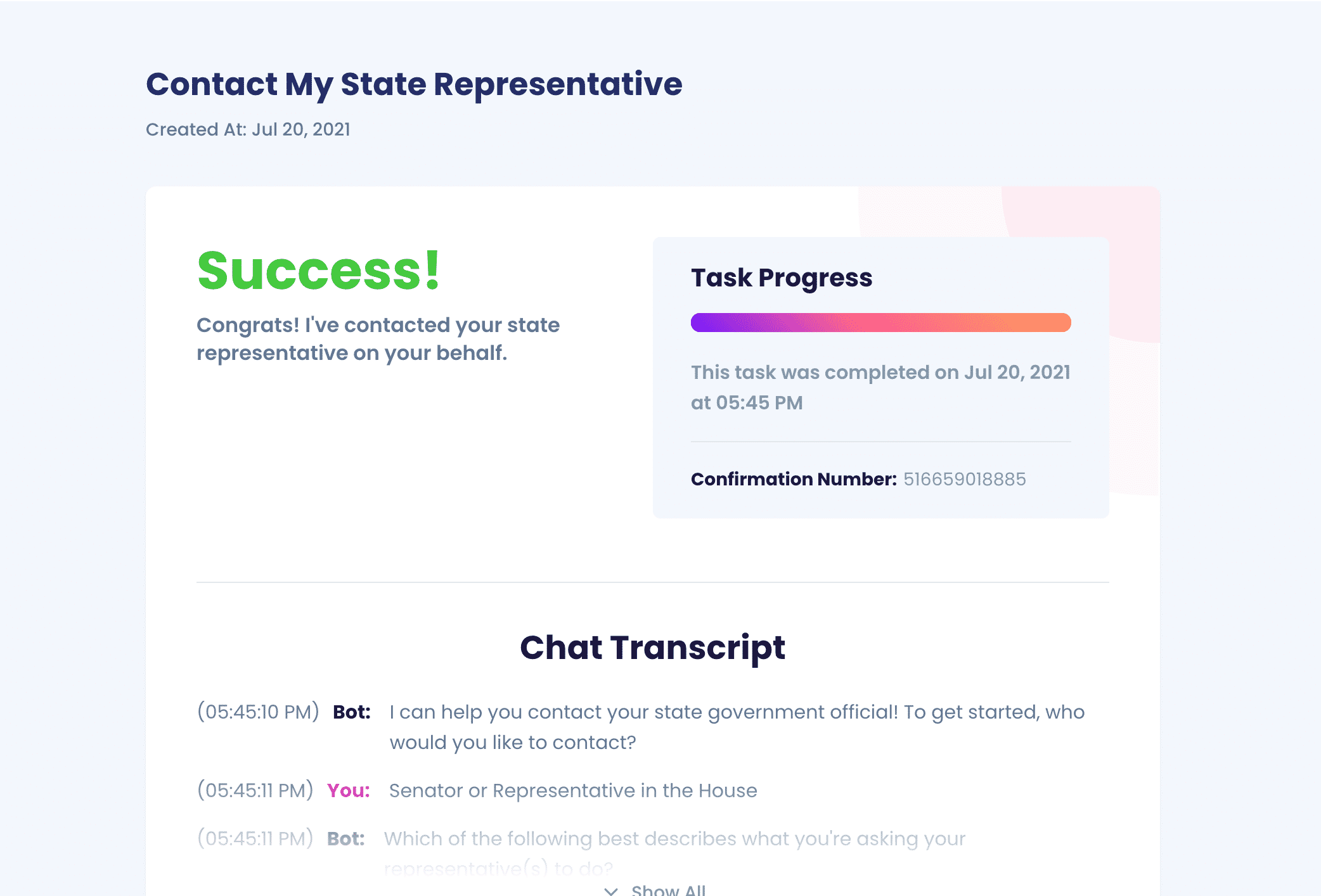 DoNotPay Does More for You