How to Contact Arizona Senators the Easy Way
Here's your compact guide to contact Senator Kyrsten Sinema and Senator Mark Kelly - the two senators representing the border state of Arizona at the 117th US Congress.
See how DoNotPay helps hundreds of US residents daily get in contact with their senators, governors, or legislative representatives without stress.
Meet Arizona Senators
About Kyrsten Sinema
Senator Kyrsten Lea Sinema (1976 - ) is the current serving senator for the state of Arizona at the 117th US Congress. Before becoming a federal senator, Sinema had served one term as a state senator. She represented Arizona's 9th district at the US House of Representatives and also dedicated six years as Arizona's 15th district state representative
Sinema, who comes after Wisconsin's Tammy Baldwin as the second openly gay elected representative member, is a native of Arizona, born in Tuscon by parents of Frisian descent. Cinema schooled at Walton High School, earned a bachelor's degree at Brigham Young University, a Master's in Social work from Arizona State University, and a law degree from Arizona Summit Law School.
About Mark Kelly
Mark Edward Kelly (1964 - ) is one of the most versatile senators currently serving at the 117th US Congress. A former US Navy campaign astronaut, author, and businessman, Senator Kelly who is a biological identical twin to Scott Kelly broke a record as the first and only siblings to take a trip to space.
Senator Kelly who is of Irish descent, was born in New Jersey, schooled in Mountain High School, earned a bachelor's degree in Marine engineering and nautical science from the US Merchant Marine Academy, and a Masters in Aeronautical engineering from U.S Naval Postgraduate School.
Senator Kelly's first and successful attempt at mainstream politics is his current position as a junior senator.
Contact Arizona Senators
Both senators in Arizona have multiple offices that you can contact, however, you may be unable to make in-person visits at this time due to COVID-19 restrictions. Here are the phone numbers and contact addresses of all offices both Arizona senators have:
Kyrsten Sinema's Contact
Mark Kelly's Contact
Office Locations
Phoenix
Prescott
Tucson
Washington, D.C.
Address
22101E. Came back Road,

Suite 115 Phoenix, AZ. 85016

107N Cortez Street,

Suite 101, Prescott, AZ

86301

Check the official website of Senator Mark Kelly
Hart Senate Office Building,

Suite 516 Washington, D.C. 20510

Phone Number
602 671 7901
928 420 7732
520 475 4177
202 234 2235
Social Media
Facebook
Twitter
Instagram
Youtube
More Arizona Representatives
Here is a list of some of the most popular government representatives in Arizona which DoNotPay helps Arizona residents contact.
| | |
| --- | --- |
| Arizonian government official | Current post held |
| | Arizona's 23rd elected governor. |
| | Arizona's appointed military leader |
| | Arizona's Attorney General since 2015. |
| | Arizona's 4th district representative at the 117th US Congress |
| | Arizona's 5th district representative at the 117th US Congress |
Arizona Senatorial Services
When you seek to contact Arizona senators, here are some typical issues senators tend to deal with on a regular basis. Senators:
Receive suggestions and nominations concerning congressionally directed spending
Offer assistance to contact federal agencies
Receive nominations for US military academy
Accept requests for internships at their offices
Help issue authorized US flags
Receive invitations and requests for in-person visits.
Help groups or individuals seeking federal assistance in the form of loans or grants
DoNotPay Helps You Contact Government Representatives
Like most senators in the US, you need to sound serious and formal to have your contact reasons considered for action when you call or send a message. If you hope to have an in-person visit with the senator, either in Washington, D. C or at your event, it is best practice to prepare your points and issues beforehand.
DoNotPay does all the hard work for you in five easy steps:
1. Search "contact representative" on and select the Contact Your Government Representative product.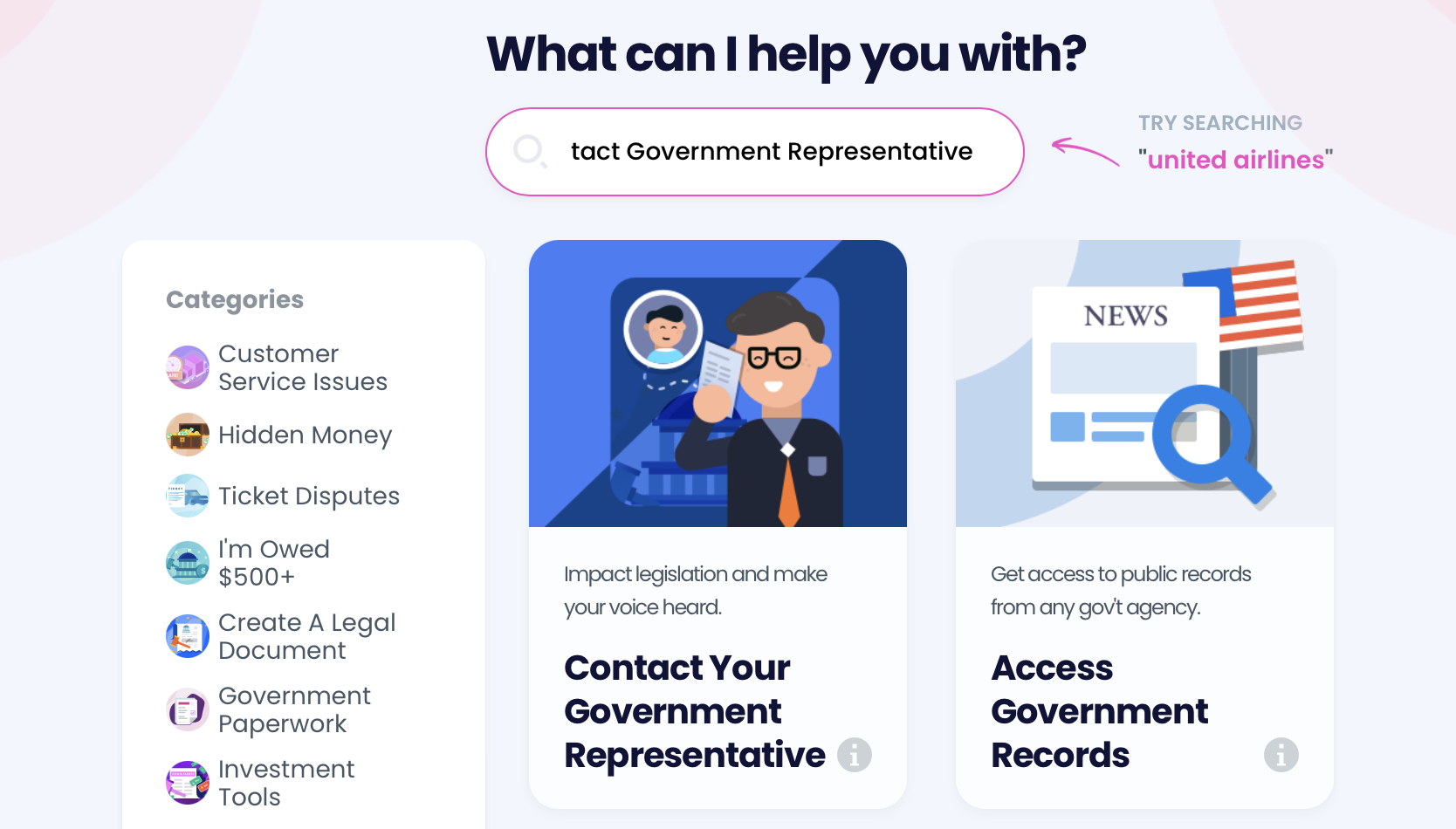 2. Choose whether you want to contact your Senator, House Representative, Governor, President, or Mayor.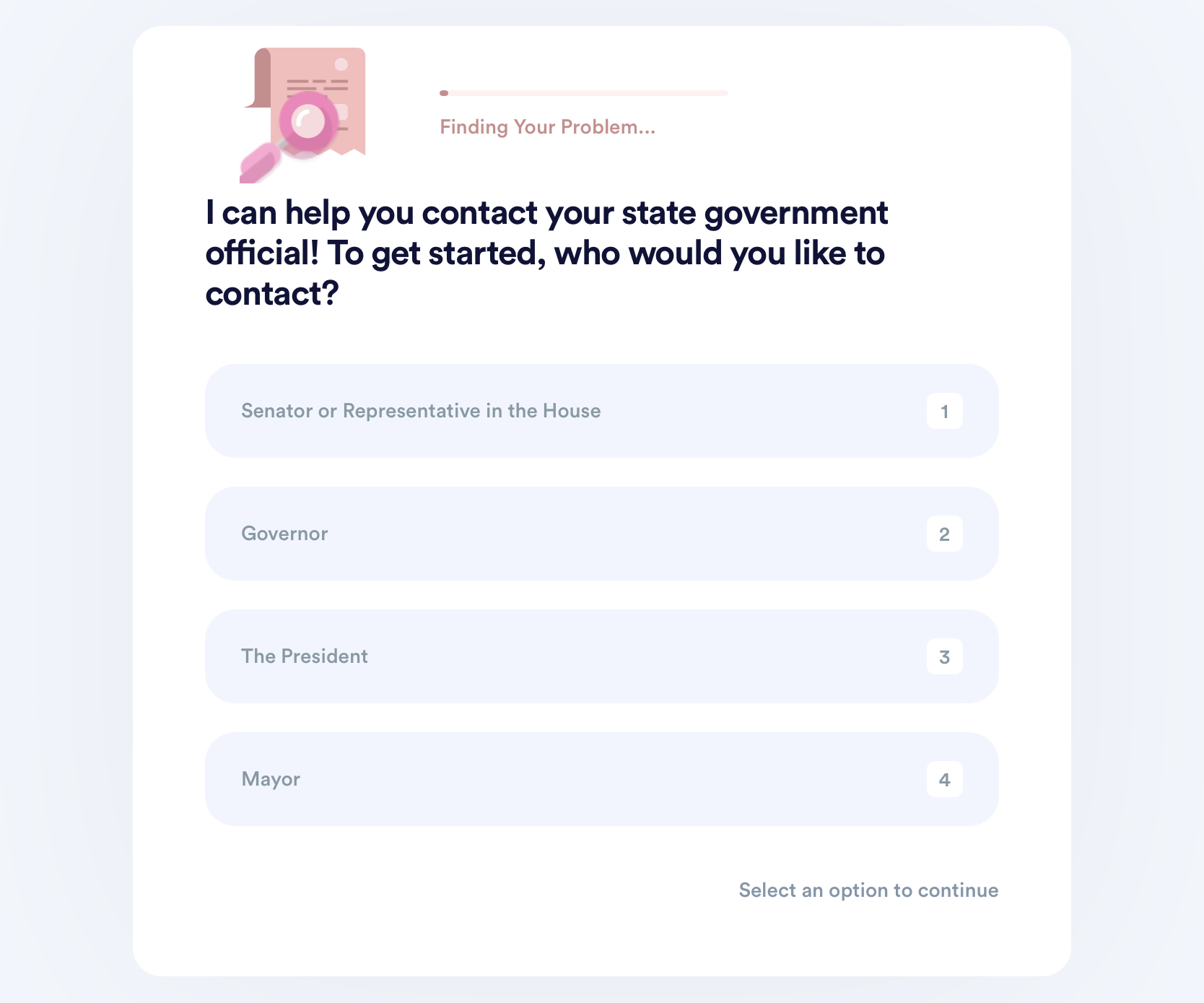 3. Tell us why you are contacting your representative, which bill or issue you're concerned about, and what you're urging the representative to do.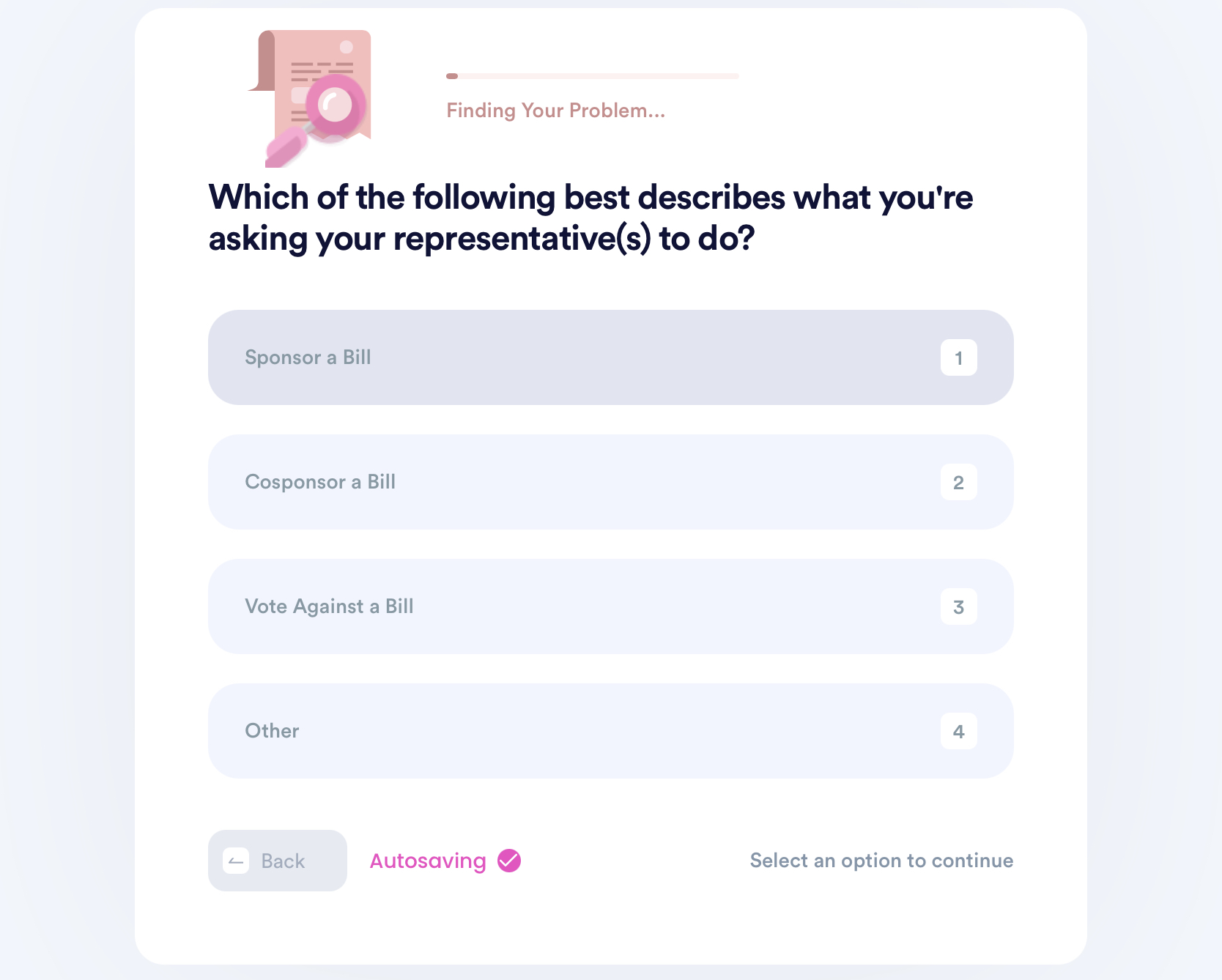 Sit back and relax! DoNotPay will deliver your message and handle the rest for you. Our bots will fill the contact forms on your legislator's website on your behalf.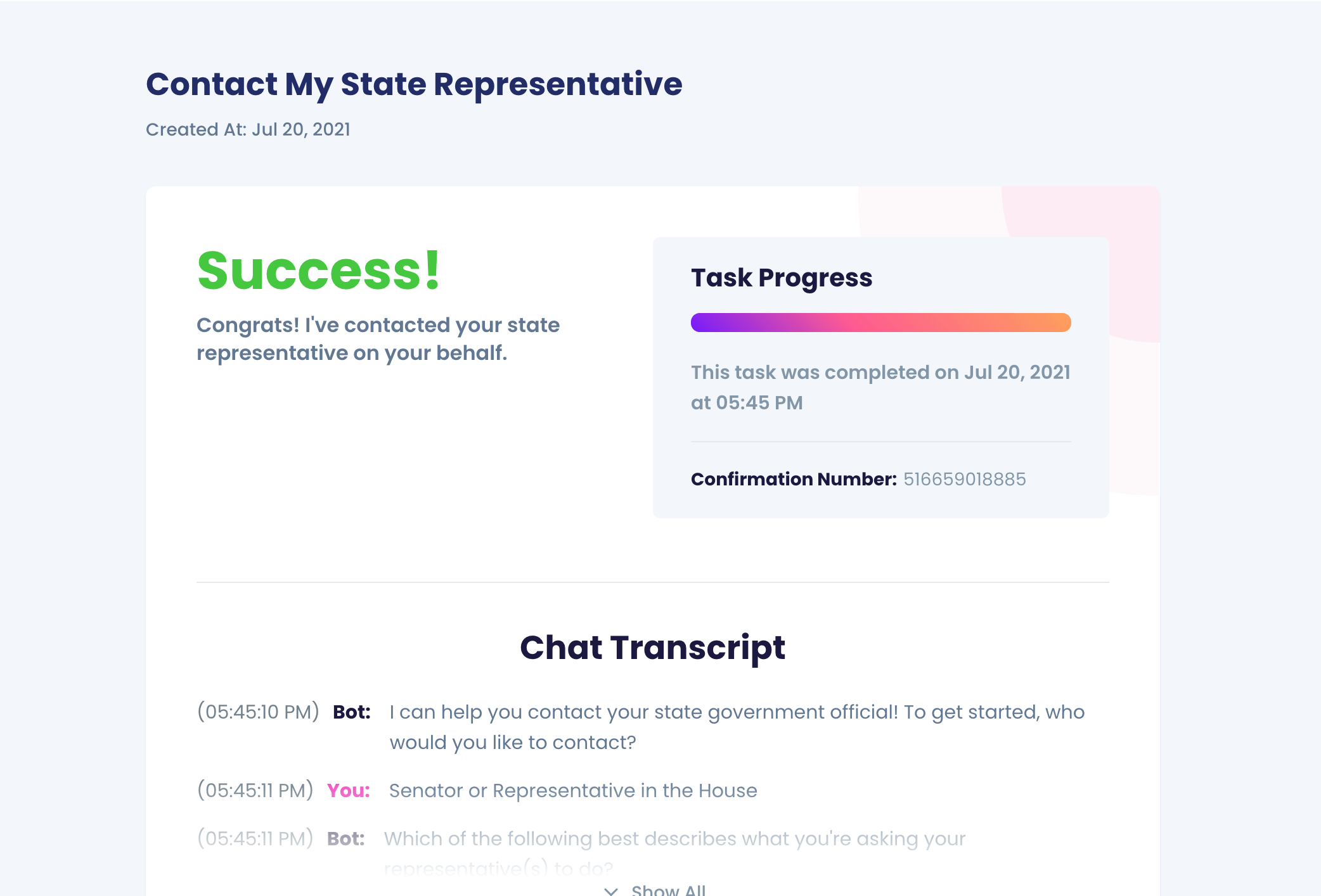 What Else Can DoNotPay Do?