Contact Senator Patty Murray
Government representatives voice their thoughts on legislative issues and matters concerning the United States of America. They represent U.S. citizens, and they always welcome their constituents to share their thoughts and opinions on various issues.
This article will inform you how you can contact United States Senator Patty Murray. It will also introduce you to DoNotPay, an that makes it much easier to contact your senator, governor, or any other government representative.
How to Contact Senator Patty Murray
You can contact Washington Senator Patty Murray, or any other government representative or senator through the phone.
United States Senator Patty Murray has seven offices that you can contact. Feel free to contact the location closest to you. Here's a list of her offices along with the address and phone number for each:
Vancouver Office: The Marshall House, 1323 Officer's Row, Vancouver, Washington 98661. Phone: (360) 696-7797.
Yakima Office: 402 E. Yakima Ave, Suite 420, Yakima, Washington 98901. Phone: (509) 453-7462.
Seattle Office: 2988 Jackson Federal Building, 915 2nd Avenue, Seattle, Washington 98174. Phone: (206) 553-5545.
Spokane Office: 10 North Post Street, Suite 600, Spokane, Washington 99201. Phone: (509) 624-9515.
Tacoma Office: 950 Pacific Avenue, Ste. 650, Tacoma, Washington 98402. Phone: (253) 572-3636.
Everrett Office: 2930 Wetmore Avenue, Ste. 9D, Everett, Washington 98201. Phone Number: (425) 259-6515.
Washington, DC: 154 Russell Senate Office Building, Washington D.C. 20510. Phone Number: (202) 224-2621.
The following table is an overview of the main ways you can contact Senator Patty Murray:
State
Washington
Political Party
Democratic
Entered Office
3rd of January 1993
Term Expires
3rd of January 2023
Main Mailing Address
154 Russel Senate Office Building

Washington DC 20510

Main Phone Number
(202) 224-2621
Email Address
To contact the senator, fill out the form found here.
Official Website
http://www.murray.senate.gov/
Social Media
About Senator Patty Murray
Senator Patricia Murray is an American politician and retired educator who is currently serving as the Senior United States Senator from Washington alongside Junior Senator Maria Cantwell. She has held this seat since 1993.
Murray is the first female U.S. Senator from Washington. Prior to becoming a Senator, she served in the Washington State Senate.
She received her degree in physical education from Washington State University and began working as a professional teacher at first, and then a parenting teacher at Shoreline Community College.
Murray is an advocate for environmental and education issues.
She first ran for the Washington State Senate in 1988 where she defeated two-term incumbent Bill Kiskaddon.
After one term in the state senate, she launched a successful campaign for the United States Senate, and she has now been re-elected four times and is now running for a sixth term in the 2022 election.
She has been a part of party leadership since 2001 where she had several committee chair positions.
Murray is currently the sixth most senior member of the Senate, the third most senior Democrat, and the dean of Washington's Congressional Delegation.
| | |
| --- | --- |
| Posts held | Time in Office |
| United States Senator from Washington | Assumed Office: 3rd of January 1993 |
| Chair of the Senate Health, Education, Labor, and Pensions Committee. | Assumed Office: 3rd of February 2021 |
| Secretary of the Senate Democratic Conference | January 3, 2007 – January 3, 2017 |
| Chair of the Senate Budget Committee | January 3, 2013 – January 3, 2015 |
| Chair of the Senate Veterans' Affairs Committee | January 3, 2011 – January 3, 2013 |
| Chair of the Democratic Senatorial Campaign Committee | January 3, 2011 – January 3, 2013 |
| Member of the Washington Senate from the 1st District | January 9, 1989 – January 3, 1993 |
Discuss Issues with Senator Patty Murray
Senator Murray encourages the residents of Washington State to share their thoughts and opinions with her and her staff members. She even has weekly coffee with Washington State residents every Wednesday morning. Here is a list of topics you can discuss with Senator Murray:
Abortion
Aging
Agriculture
Animal Welfare
Arts
Banking
Budget
Children and Families
Citizenship and Immigration
Request Assistance for Citizenship and Immigration Purposes
Civil Rights
Climate Change
Judiciary
Defense
Economic Stimulus and Financial Services
Education
Elections and Congressional Affairs
Energy
Environment and Natural Resources
Firearms
Fisheries
Foreign Policy
Health Care
Homeland Security and Terrorism
Housing
Request Assistance for Housing
Iraq
Labor and Workforce
Law Enforcement
LGBTQ
Medicaid
Medicare
Native Americans and Indigenous People
Postal Affairs
Request Assistance – General
Social Security
Space
Small Business
Taxes
Technology and Telecommunications
Trade
Transportation
Veterans
Request Assistance for Veterans
Welfare
Women
Services Provided by the Office of Senator Patty Murray
Get Assistance with A Federal Agency
Touring the Capitol in Washington, DC
Order an American Flag
Internship Opportunities
Military Service Academy Nominations
Why It Might Be Difficult to Reach Senator Murray on Your Own
Contacting a United States Senator is a difficult and time-consuming process. You can always try to call the governor to discuss an issue, if you do so you should follow a script. However, there are extremely long wait times and very busy phone lines that make it difficult to reach a Senator.
Writing an email is a better option so that you can clearly communicate your arguments, however, it is intimidating to write a professional email to a U.S. Senator. Therefore, DoNotPay is your best option to contact the governor!
Let DoNotPay Contact United States Senator Patty Murray for You!
DoNotPay is a reliable service that can make the process of contacting a senator much faster and easier. All you have to do is follow these simple steps:
1. Find the Contact Your Government Representative product on .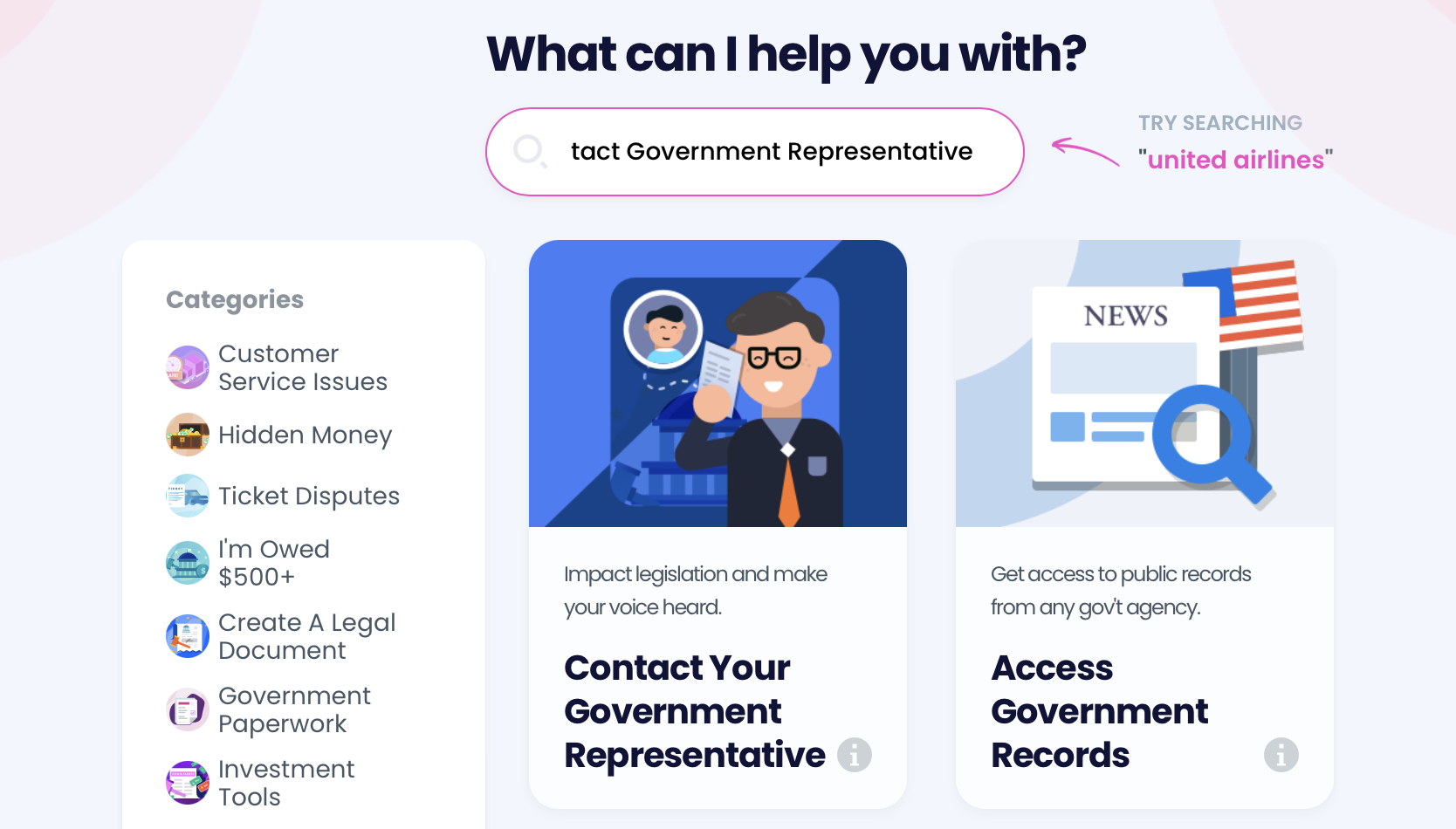 2. Choose whether you want to contact your Senator, House Representative, Governor, President, or Mayor.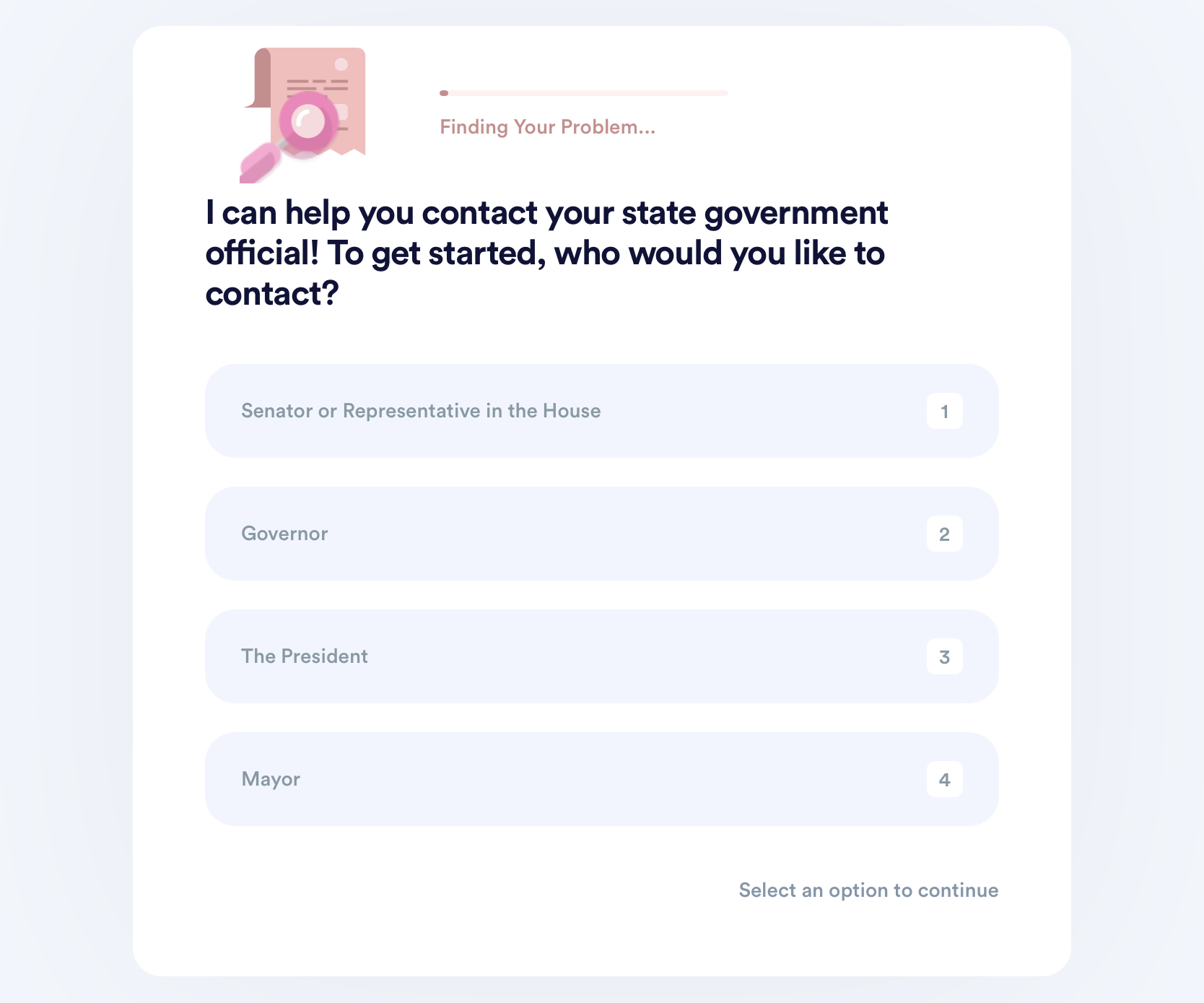 3. Choose the best option that describes your reason for reaching out to the elected official. We'll give you the opportunity to provide relevant details later on.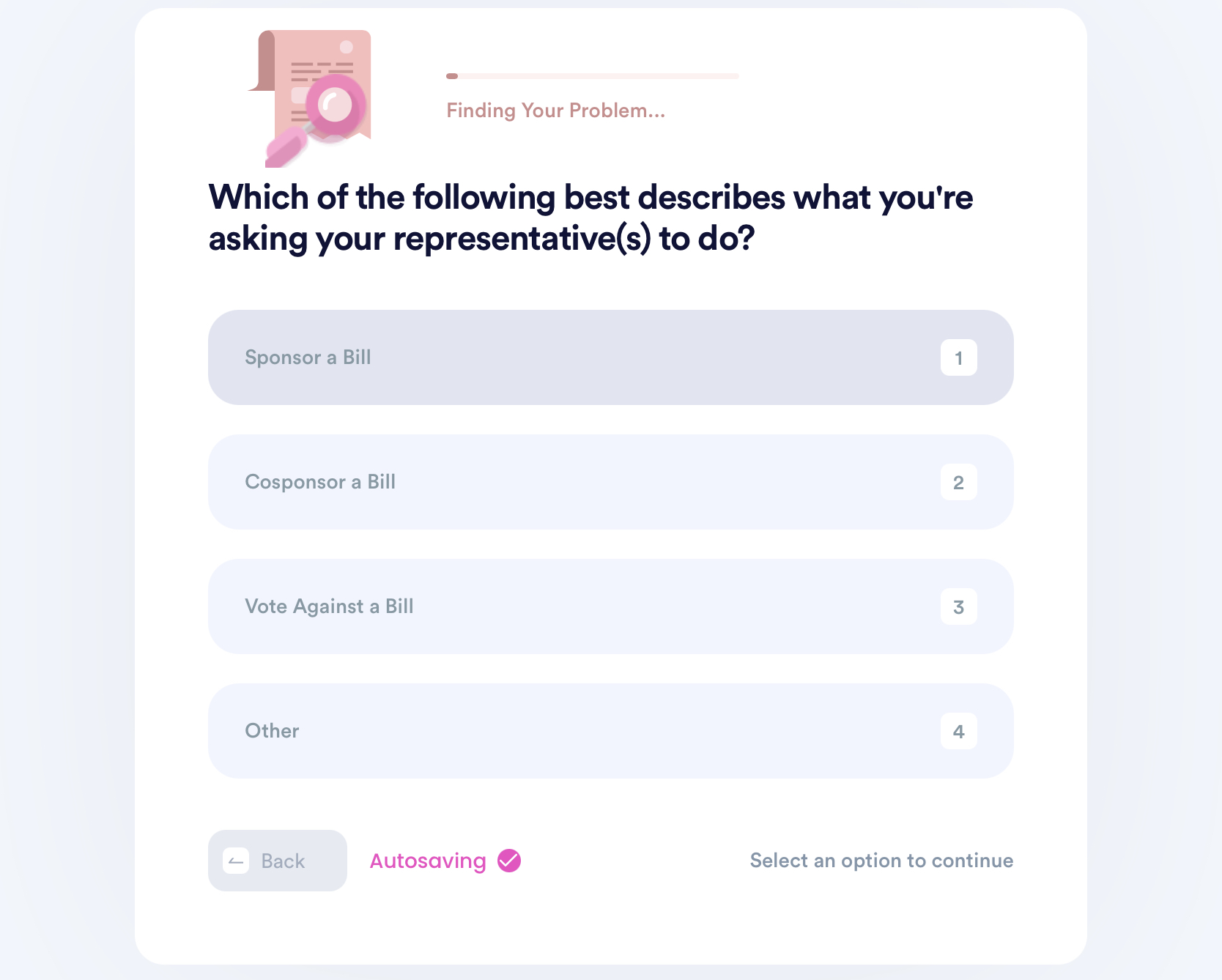 That's all! will take care of the rest and enact our bots to get to work! You should receive a response directly from your official's office.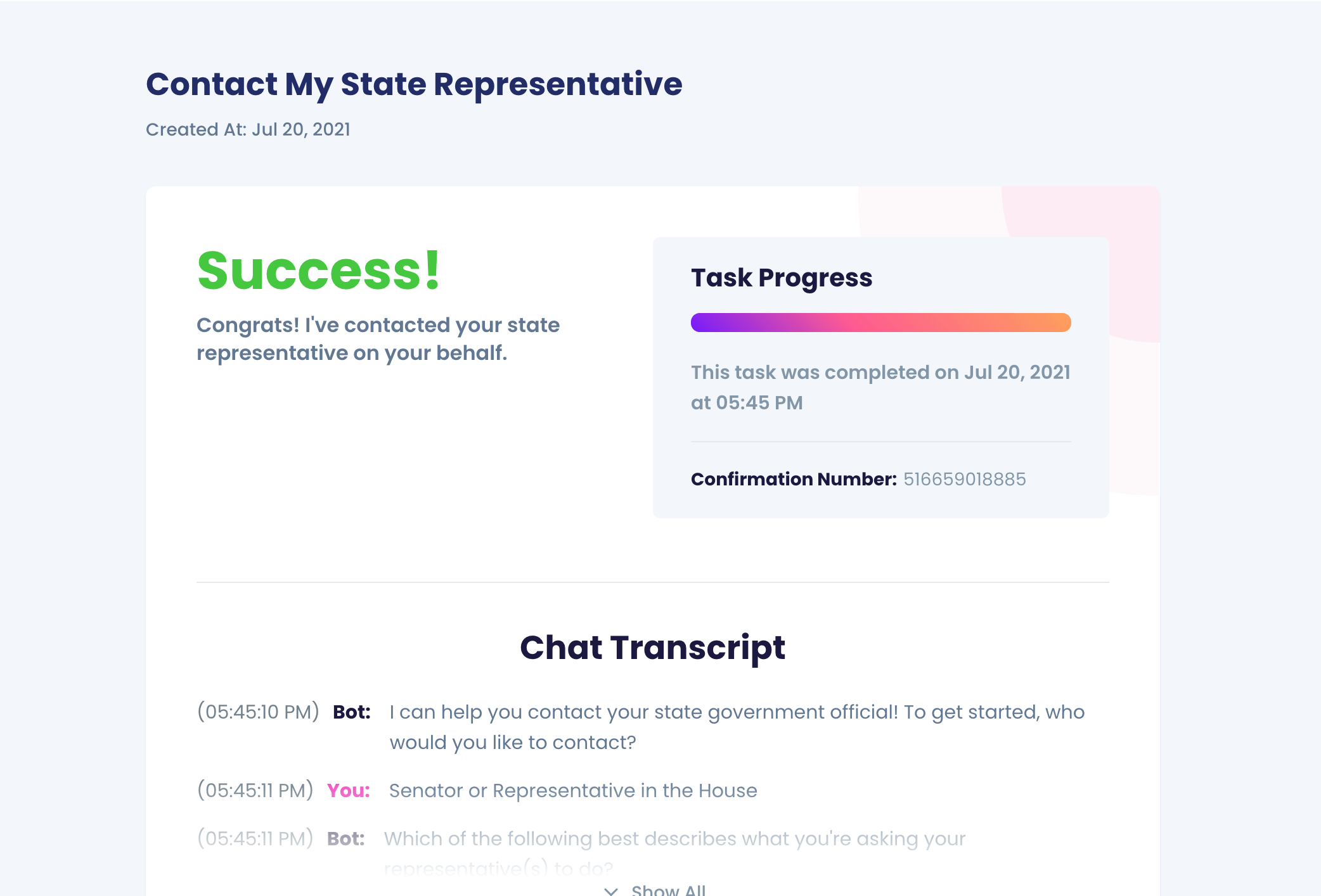 DoNotPay Does It All!