Does Calling Your Senator Work?
The US Senate is one of two chambers of Congress. It has 100 members and each state has two senators. When thinking about the call's impact, sometimes it makes you think, 'does calling your senator work?'. Although calling a senator is by far the easiest way to get in touch with your elected representative, calls can sometimes get lost in the process. Here are some of the real-world facts that happen when you call your senators' offices:
The person who receives the call is usually an intern or a junior staff who has minimal influence on policy decisions.
Most of the time, the intern will simply log your call into a spreadsheet and a high-level staff will generate a weekly report that contains data such as the number of phone calls, the subject of the calls, and the constituents' opinions.
Nonetheless, this doesn't mean that calls to the senate are a complete waste of time. They can be powerful and impactful if a large number of constituents call about the same specific issue. This reflects that the constituents in their state feel strongly about a certain issue and representatives will do well to listen to their voters.
Contact Details of the Senate
When you have inquiries or opinions about public policy or legislation or want to request personal assistance, we recommend contacting your state's senator. Most senators will acknowledge messages — but not respond — from those who are not their direct constituents out of professional courtesy. Each senator has their designated suite or phone number. You may also dial 202-224-3121 to reach the United States Capitol switchboard. The operator will redirect your call to the senate office that you will ask for. Here below is the contact information of the senate:
How to Contact the Senate?
Address
United States Senate

Washington, DC 20510

Phone Number
1-202-224-3121

1-202-225-1904 (TeleTYpe)

Website
https://www.senate.gov/
Step-by-Step Guide to Contacting Your Representative
When it comes to contacting representatives, it is recommended to call or email instead of using social media. A phone call is more effective in getting your opinions across in real-time. If your state's senator or governor is planning for re-election, they will do well to listen to the opinions of their constituents. Here below is a step-by-step guide on how to effectively get in touch with your state's senator:
The first thing to do is to find out who your senator and representatives are. The United States Senate website provides a handy tool where you can look for your senator, based on your zip code or state.
As soon as you have the contact details, the easiest thing to do is to pick up the phone and call the offices directly. If that is not feasible, you may call the switchboard and the operator will direct your call to the appropriate office.
When a legislative assistant answers the phone, he/she will ask if you require a response. They will also be tasked with tallying your response.
Be clear in the issue that you're calling about and get straight to the point.
Avoid creating a backlog of calls by calling senators that are not your direct representative.
Tips for Calling Representatives
When it comes to taking action, the power of a phone call is stronger than that of text, email, Facebook post, or a tweet. This is because an endlessly ringing phone is not easily ignored. When calling congress or the senate, here are some tips to follow to ensure your opinions are heard:
Calls are more instantaneous as Twitter and emails are for a different function — used to signify to senators and congressmen what constituents are interested in. Whereas phone calls are answered by assistants, recorded, and then a tally is given to the senator or congressman.
Instead of calling a Washington office, call your representative's local district offices. They usually have more staff who can entertain constituents' calls.
Avoid making repetitive calls as this blocks other people's chance of reaching their representative. If you're able to get through, ask to speak to someone or simply leave a voicemail.
Before calling, make sure to research the summary of bills that you want your representative to support or repeal.
Make use of a script to better organize your thoughts and prepare for the call.
Regardless of the staff's political affiliation, be respectful of them.
DoNotPay Can Help You Contact Your Government Representative!
Most often, calling an elected representative is easier said than done. You need to find the appropriate contact details which can sometimes be time-consuming and confusing. DoNotPay makes it easy for people to contact their representatives. We are the world's first robot lawyer and we can help you automatically find the contact details of the legislators of your state and send them a message on your behalf. With our app, all you have to do is:
1. Search "Contact Representative," or "Legislator,"on and select the Contact Your Government Representative product.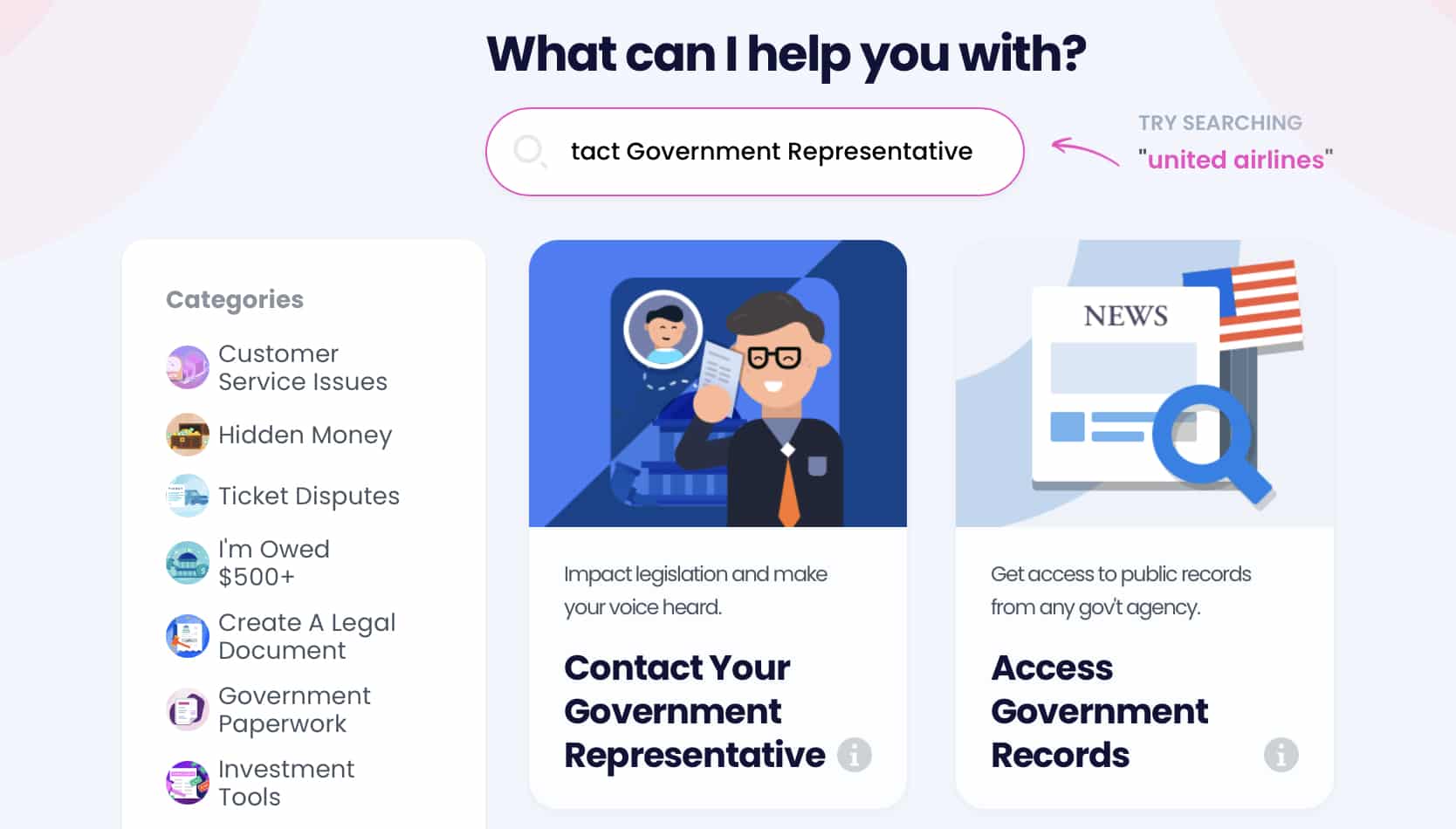 2. Select whether you want to contact your Senator, House Representative, Governor, President, or Mayor.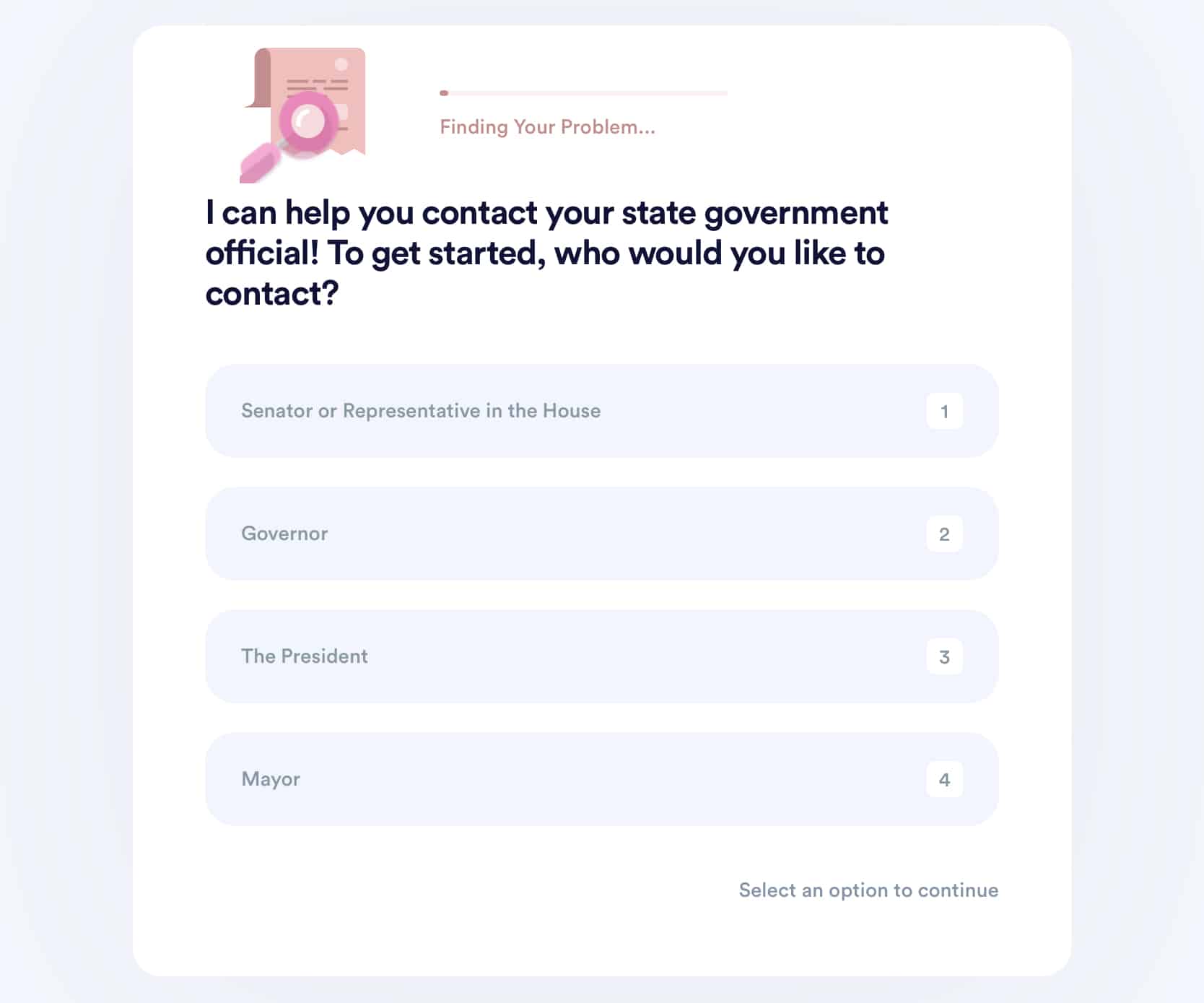 3. Explain why you're contacting your representative. (i.e. Do you want them to sponsor, cosponsor, or vote against a bill?)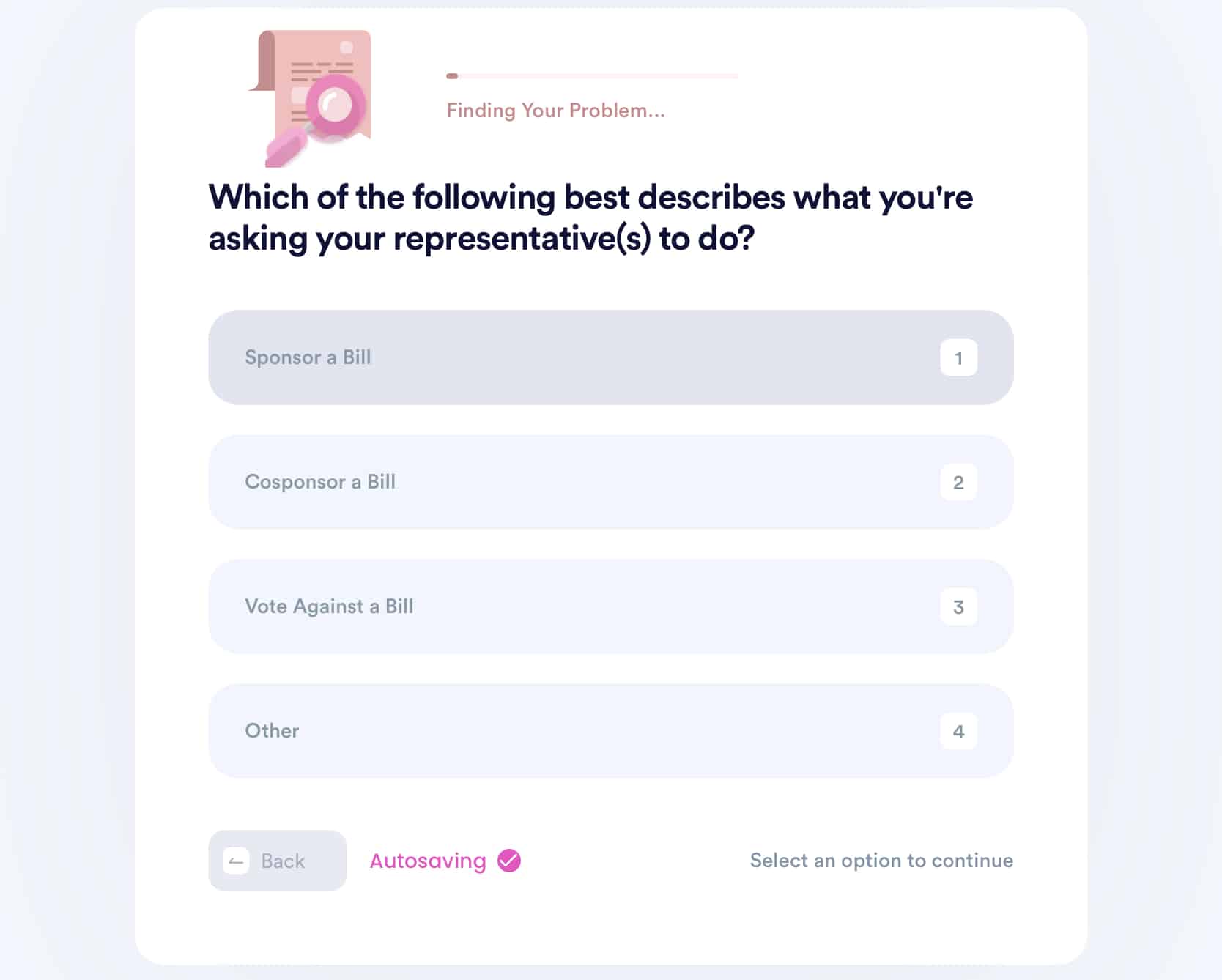 4. Tell us which bill or issue you're concerned about and what you're urging the representative to do.
Sit back and relax! will handle the rest for you and make sure your message gets delivered. Our bots will fill the contact forms on your legislator's website on your behalf.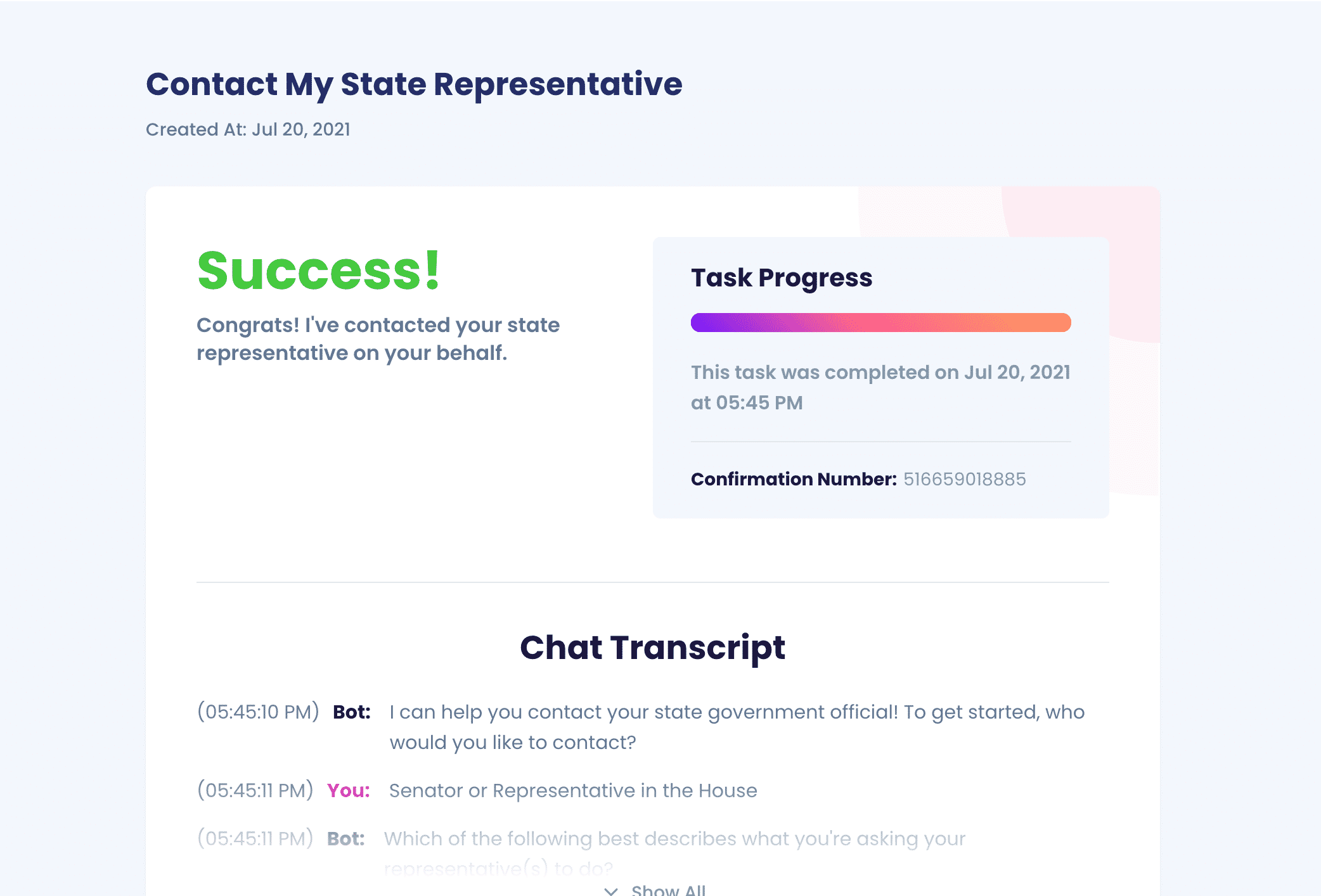 DoNotPay – The AI Lawyer You Can Rely On