How to Get a Cobb County Birth Certificate Online
There are many reasons you need your birth certificate, and if you do not have it, you might not know what to do. If you need a , you are in the right place.
Birth certificates are needed for a wide range of things, from obtaining a passport to identification for new employment. If you have lost your birth certificate or never had one, you might feel lost, and you might not know how to apply for a birth certificate or where. Also, you might be under time constraints that require you to have a birth certificate fast. Luckily, DoNotPay is here to help you get a birth certificate as quickly as possible.
Who Can Obtain a Birth Certificate?
If someone needs a birth certificate, they can get one themselves or have someone who is authorized get the document. There are several reasons why someone might need another party to retrieve the birth certificate, for example, a new birth certificate for a newborn. In Cobb County, the following people can obtain a birth certificate with proper documentation:
The Person Named on the Birth Certificate: Anyone can obtain their birth certificate if they show a valid photo ID.
Biological Parent: A parent can get their child's birth certificate as long as they show a valid photo ID.
Grandparent: A grandparent can pick up their grandchild's birth certificate if they can provide proof of their relationship. This can include the parent's birth certificate.
Legal Guardian: A guardian can get a birth certificate by showing certified court documents establishing custody.
A Sibling: In Cobb County, you can pick up your sibling's birth certificate if you show proof of mutual parents, for example, your birth certificate and an ID.
A Spouse: You can get your spouse's birth certificate if you show the marriage license, a photocopy of your spouse's ID with a signature, and a notarized letter with the spouse's signature authorizing the transaction.
An Attorney: If an attorney represents an immediate family member, they can procure a birth certificate if they show supporting documents.
A Federal or State Government Official
How to Get a Cobb County Birth Certificate on Your Own
Now that you know who can get a , it is crucial to understand how to do so and where to find it.
In-Person
It is possible to pick up a in person by following a few steps, and this will have the fastest processing time.

Fill out the birth certificate request form.
Make an appointment for the Cobb County Vital Records Office at https://10to8.com/book/kcvxgeymaqjnpygddy/.
At your chosen appointment time, go to Vital Records Office 1650County Services Parkway Marietta, Georgia 30008.
Bring $25 for the initial certified copy. Additional copies are available for an extra $5 per piece. Major credit cards and cash are accepted.

Mail
If you choose to get your Cobb County birth certificate by mail, there are a few steps to follow.

Fill out the birth certificate request form.

Enclose a money order payable to Cobb County Public Health. The fee is $25 for the initial certified copy. Additional copies are available for an extra $5 per piece.

Mail the request form and money order to Cobb County Public Health

Vital Records Office

1650 County Services Parkway

Marietta, Georgia 30008

Online
Cobb County birth certificates are available online through a partnership with VitalChek.

Go to https://www.vitalchek.com/v/?ScenarioName=ScenarioWebPlatformRedirect.

Choose the tab that says "Place an Order."

Choose the birth certificate icon.

Fill out your personal information.

A birth certificate will be mailed to you. The birth certificate cost plus a convenience fee will be charged for using VitalChek's service.
How to Get a Cobb County Birth Certificate Using DoNotPay
Getting a birth certificate can be confusing and frustrating. Luckily, DoNotPay has you covered in 8 easy steps:
1. Go to the Birth Certificates product on DoNotPay.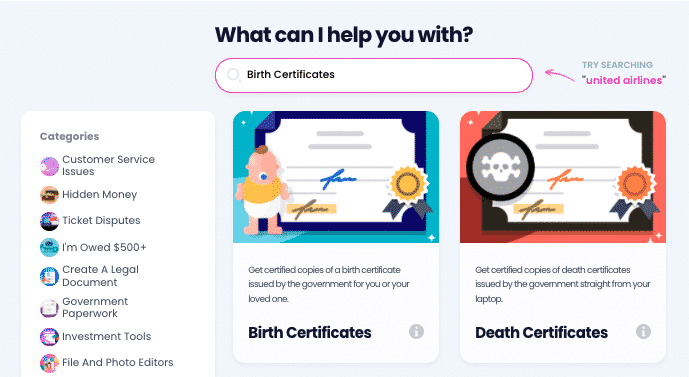 2. Select who the certificate is for (you or a loved one). If you are requesting a copy of someone else's certificate, enter their personal details, and upload evidence that proves your relationship.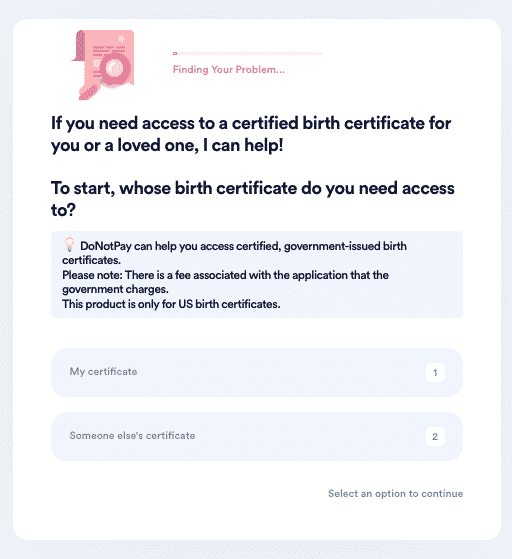 3. Enter the location you or your loved one was born in, so we can complete the form specific to your state.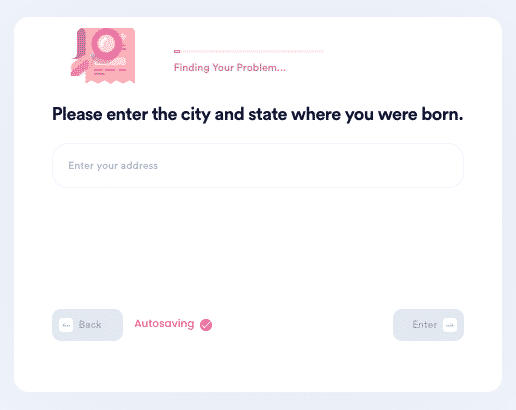 4. Enter the name(s) of the parent(s) as displayed on the certificate.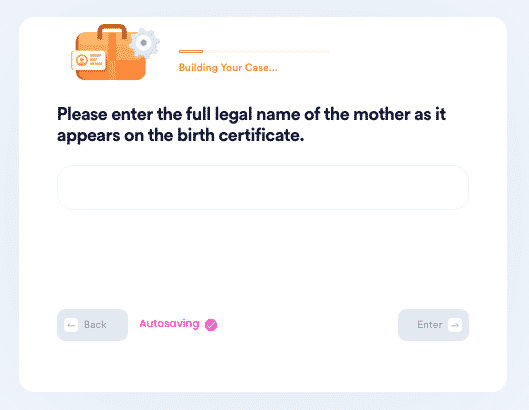 5*. Indicate what you will be using this certificate for, and choose whether you need an authorized or certified copy.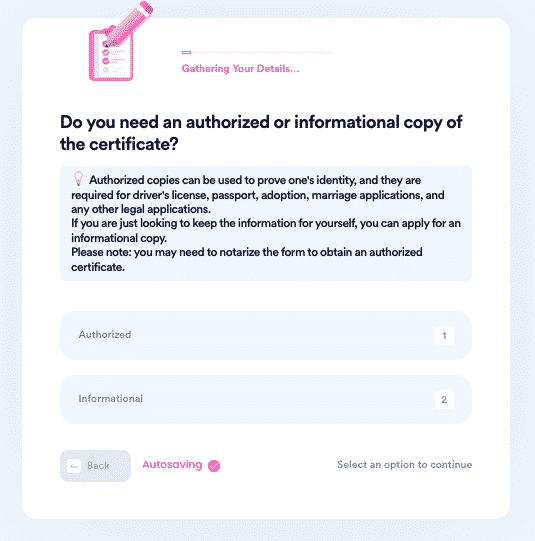 6. Enter your contact information and shipping address. Upload copies of your government-issued identification, such as a driver's license.
7. Choose whether you would like to electronically sign this form or not. Once we generate the form, verify that all of the information is correct.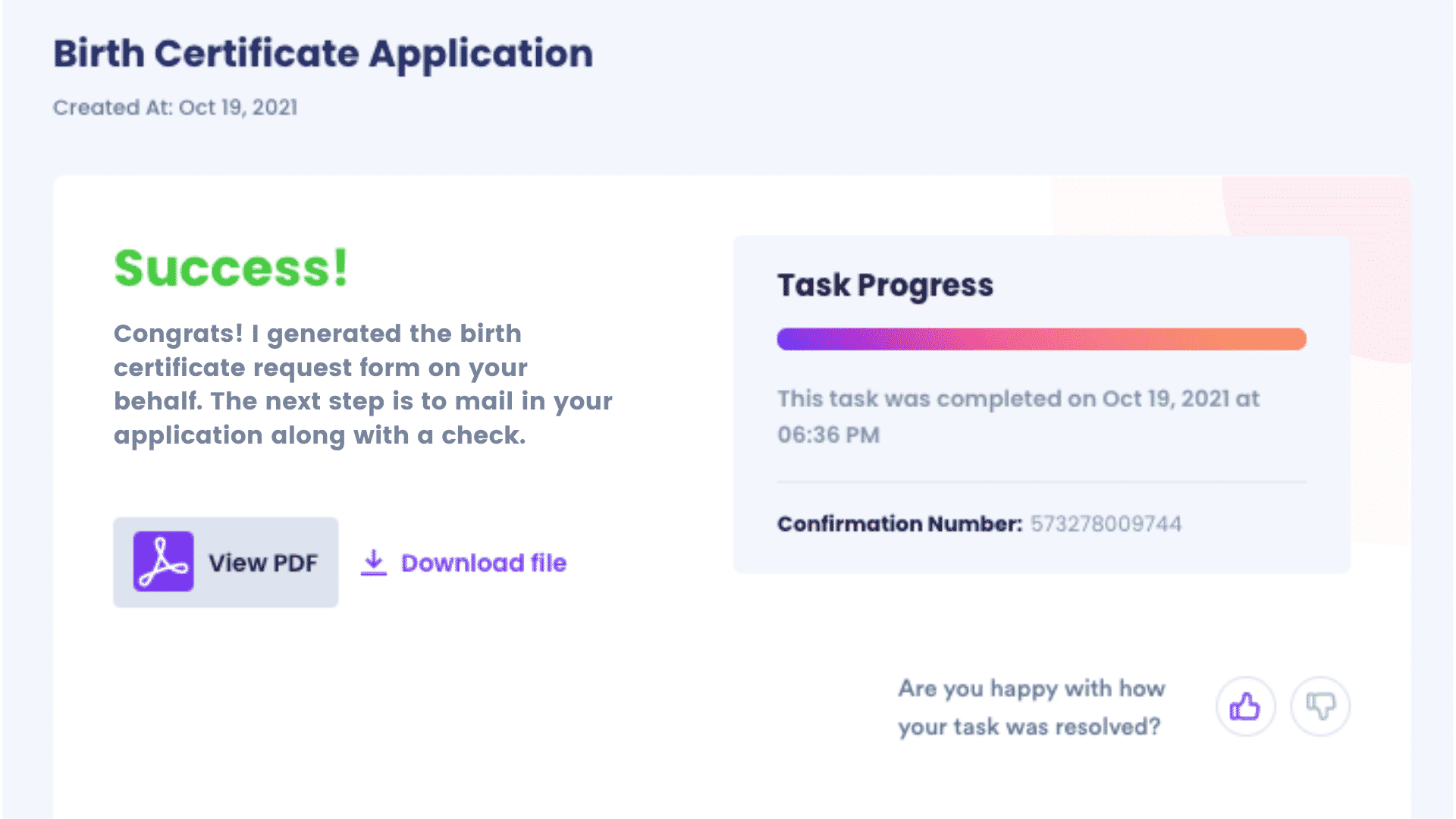 8. If you need the document to be notarized, schedule a notarization appointment using our Notary product. Otherwise, proceed to our Mail Checks product and let DoNotPay mail-in your request form with a check on your behalf.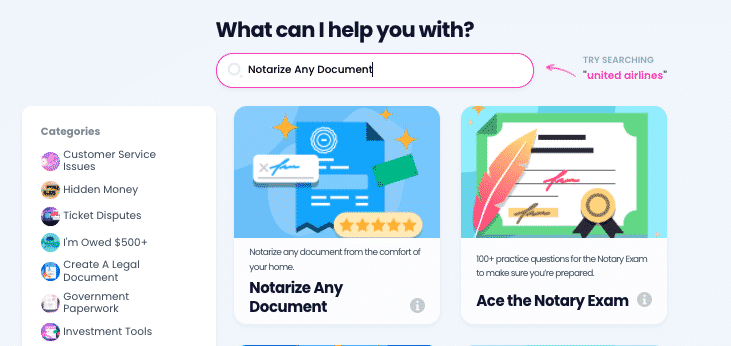 That is it! You can sit back and relax knowing DoNotPay will get you your birth certificate quickly and easily.
Why Use DoNotPay
Although you can get Cobb County birth certificates on your own, DoNotPay gives you several reasons not to.
Simple: Using DoNotPay is as simple as following a few straightforward steps.
Quick: DoNotPay ensures you will get birth certificates as quickly as possible.
Successful: DoNotPay takes the stress out of obtaining birth certificates. They ensure that you will have what you need without the headache by following a few simple steps.
To see what else DoNotPay can do, go to DoNotPay.com today, and check out some other resources we have available: