How to Start a Canva Free Trial Easily With a Virtual Credit Card

Canva is an online design and publishing tool for individuals and businesses to design anything and publish anywhere. They have thousands of professional templates, images, and quality content to choose from.
Like most companies that offer a free trial, you must provide your credit card information to sign up. Don't give away your credit card information; you can get actual free trials and protect yourself from unwanted charges using DoNotPay's virtual credit cards.
Wondering if there is a ? Read on to learn more.
Does Canva Offer a Free Trial?
You can use Canva for free. However, if you want to use Canva Pro, you have to pay for it, but they offer a free trial. The  lasts 30 days.
How Can I Get a Canva Free Trial?
 To sign up for a , follow the instructions below.
Go to their pricing page and click on the "Try for free for 30 days" link. Once you click on that, the sign-up page will come up.
There are three ways to sign in; your Google account, Facebook, or email.
You'll need to fill out your credit card information. Once you fill that in, you're ready to get started.
Does the Canva Free Trial Automatically Renew Into a Paid Subscription?
Canva Pro subscriptions automatically renew. If you sign up for the free trial and don't cancel before it ends, your credit card will be charged. You can cancel at any time during your free trial to avoid any charges. Canva will not issue you a refund if you cancel after your subscription starts.
Avoid Automatic Renewal With DoNotPay Virtual Credit Card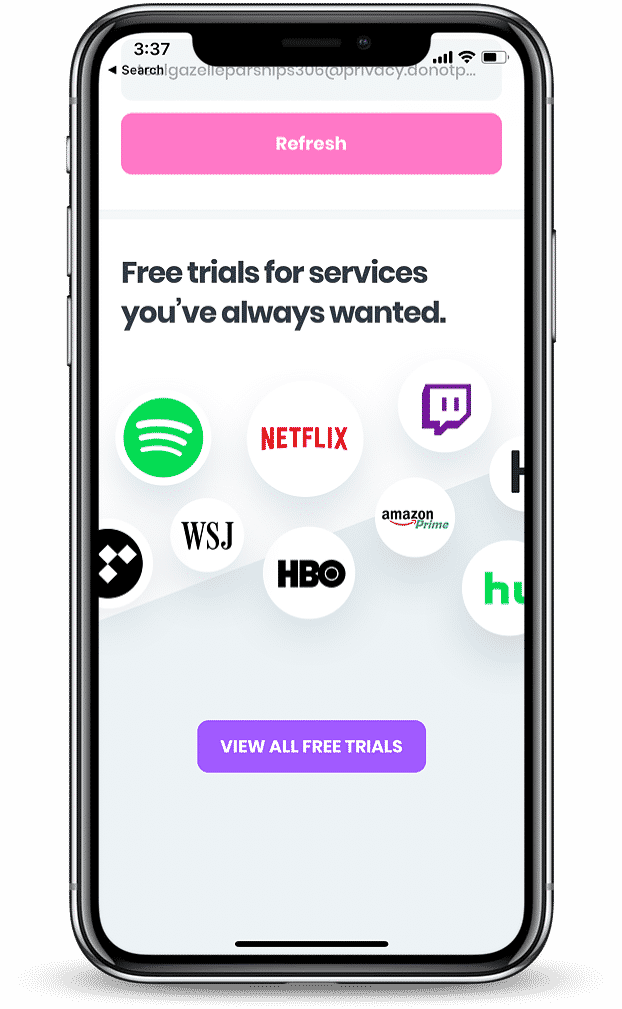 Free trial offerings are very enticing. Companies know that offering "free" trials are an excellent way to get customers to sign up and try their service.
But there's one major problem: you must almost always provide your credit card information.
While these companies promise not to charge your card during the free trial, your card is fair game as soon as the trial is over. They know that most people forget to cancel their trials on time, allowing them to automatically charge your card several times before you even realize you're a paying customer.
So, if you want to cancel your Canva free trial, before you sign up, consider using DoNotPay's virtual credit card.
DoNotPay's virtual credit cards can be used to sign up for free trials. In addition, these virtual credit cards can bypass authentication, so you never have to worry about getting charged because the cards don't process any charges. This way, you can protect your credit card information while also being assured that you won't be charged with unwanted payments.
Even if you forget to cancel the free trial, you won't be charged. Our virtual credit cards won't let the payments go through, so you won't have to stress over remembering when to cancel your free trial. Sign up for the trials you want, enjoy them, and never worry about canceling before it ends again.
More Information About Our Virtual Cards
You can only use each card once.
Each card gets deactivated as soon as it's used
You can't make an actual purchase using the card.
The card's main point is to help you avoid getting unwanted charges. So, you can't use it to make an actual purchase, either.
How Does It Work? 
 Search for the free trial card on DoNotPay and enter the company you want a free trial for.
We'll automatically generate a virtual credit card that you can use for that merchant. Copy the card details shown on the screen below.
Use the card to sign up for your free trial and sit back, relax, and enjoy.
How Much Does Canva Cost After the Free Trial?
 When the  is over, the service costs $119,99 per year.
What Are the Most Popular Alternatives to Canva?
Here are some of the most popular alternative graphic programs to Canva and their pricing plans:
Program
Cost
Visme
Personal $15.00 per month

Business $29.00 per month

Adobe Spark
Starter plan free

Individual (14 days free) $9.99 per month

Team $19.99 per month

Design Wizard
Pro $4.42 per month

Business $37.42 per month

Easil
Easil plus $6.25 per month

Easil Edge $49.00 per month

Snappa
Pro $10.00 per month

Team $20.00 per month

Crello
Pro $7.99 per month
Stencil
Pro 9.00 per month

Unlimited $122.00 per month

PicMonkey
Basic $7.99 per month

Pro $12.99 per month

Team $33.99 per month
What Else Can DoNotPay Do?

DoNotPay doesn't just help with free trials they also provide the  following services: