How to Cancel ZampleBox Subscription?
ZampleBox is a monthly subscription service that offers boxes of premium e-juice suited to their customer's personal flavor preference.
If you changed your mind about this online vape retailer, you could cancel it within minutes using DoNotPay.
Cancel Zamplebox With DoNotPay

The fastest way to get out of your ZampleBox subscription is with DoNotPay. Just follow these steps, and we will help you cancel your account:
Open DoNotPay in your

Scroll down and click on the Find Hidden Money tab

Type in ZampleBox as the name of the service
Once you complete the steps, you only need to wait for the confirmation that your account is canceled.
DoNotPay is an excellent virtual assistant because it can find and deactivate all the subscriptions you don't use.
To do this, just connect your bank account or email address to DoNotPay, and our app will track down every subscription you are paying for. Then simply use the app to cancel those you don't need anymore.
Cancel ZampleBox by Yourself
Additional methods you can use to cancel your ZampleBox subscription include:
| | |
| --- | --- |
| Can You Cancel With | Yes / No |
| DoNotPay | Yes |
| Email | Yes |
| Phone | Yes |
| Letter | No |
| In-person | No |
| Website | Yes |
How to Cancel ZampleBox Online?
Here is how to deactivate your ZampleBox subscription through your account:
Go to the ZampleBox website

Click Log In in the top right corner

Scroll down until you reach My Info Box

Click Cancel this membership link under the My Info Box

Select your reason for canceling or click Continue when the next page loads

Click Continue to conclude your cancelation
How to Cancel ZampleBox Over the Phone?
You can cancel you ZampleBox account over the phone by calling the customer support at 650-437-9269
How to Cancel ZampleBox via Email?
If you encounter any problems with other methods, you can always send your cancelation request to hello@zamplebox.com.
What Are Some Alternative Services to ZampleBox?
Some of the popular choices are:
Service

Features

Price

$20 - $60 per month

A variety of products

Includes subscription plan products and individual items

$15.99

Offers e-juice, coils, batteries, and cartridges

Delivery every seven days, every fifteen days, and every month

Free

Weekly, bi-weekly, and monthly delivery

No extra charge to have the items delivered. You only pay for the product
Does My ZampleBox Membership Renew Automatically?
Zamplebox will automatically renew your subscription and charge your credit card each month.
Can I Take a Break From My ZampleBox Membership?
ZampleBox lets you pause your membership by skipping one month without canceling your subscription. Take note that if you make this change on or after the day your subscription renews, it will not apply in time to stop that renewal from happening.
Am I Eligible for a Prorated Refund When I Cancel My Subscription?
ZampleBox doesn't issue prorated refunds for the unused membership time.
Is There a Free Trial Month With ZampleBox?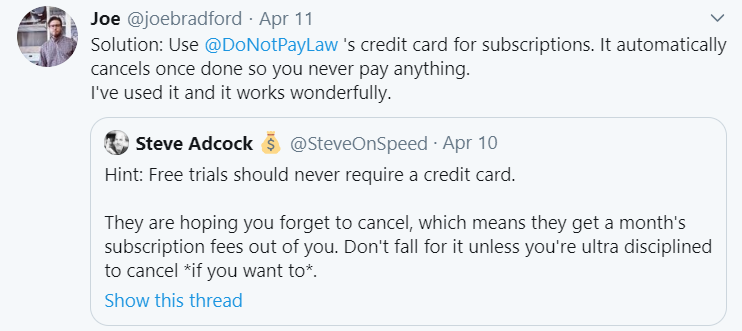 ZampleBox doesn't include a standard free trial period in their offer, but they sometimes have promotional periods during which new users can sign up for free or get a discount price.
Virtual Credit Card That Keeps You Safe When Signing Up for a Free Trial!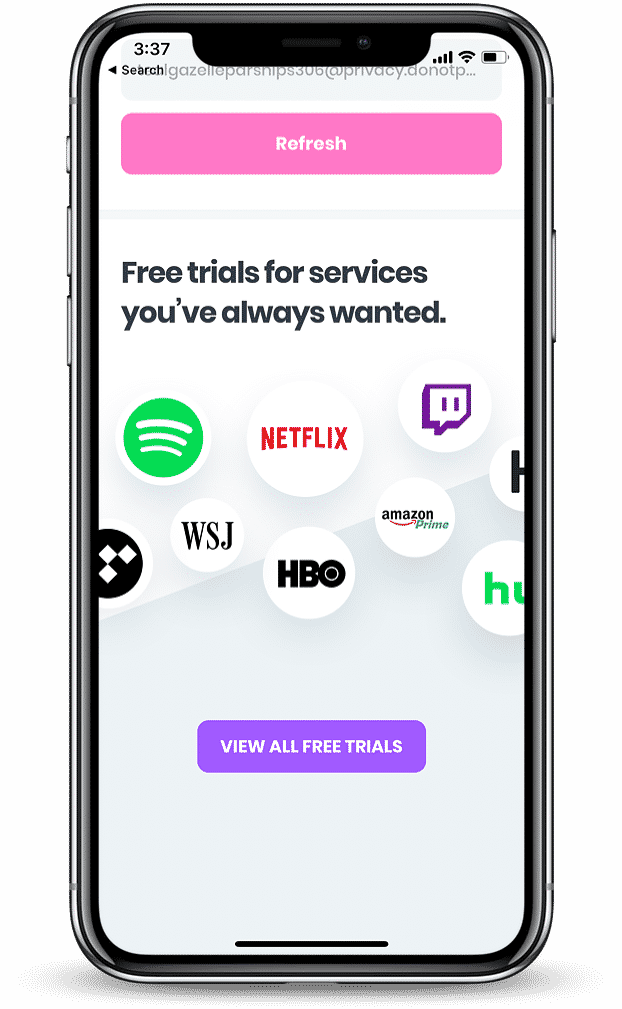 Free trials are an excellent way for businesses to introduce potential clients to their services and products, and for a customer to check out the company and decide whether they're a good match.
But it can also be unpleasant when the company charges the full price as soon as the trial period ends.
DoNotPay's free virtual credit card won't let this happen. Our virtual credit card enables you to sign up for a free trial but prevents any accidental or unwanted charges because it is not linked to a real funding source.
You can get your virtual credit card by accessing DoNotPay from your .
No More Drowning in the Paperwork! DoNotPay Can Help You Out!

DoNotPay is the first robot lawyer in the world designed to help you clear the administrative tasks off your to-do list.
There is no need to manually deal with nuisances like blocking spam emails on your Android or iPhone, reporting robocall scams, or canceling other services like Spotify, Netflix, or Sportsline.
Simply open DoNotPay in your and ask us to help you with:
Disputing traffic tickets

Fighting speeding tickets