Cancel Sportsline Subscription in Just a Few Minutes
Sportsline is a sports betting site that offers predictions for betting fans. The site uses a combination of data and information to provide the best possible picks and projections for sports such as golf, football, basketball, baseball, and others.
Sportsline offers free content, but if you want to get exclusive access to all picks, predictions, analysis, and more, you will need to pay for a SportsLine Pro membership.
What Is a Sportsline Membership?
Sportsline offers a Sportsline Pro membership, and with it, you receive the latest updates and information regarding betting predictions. Sportsline offers a monthly and a yearly fee for their subscription. Bear in mind that every membership will automatically renew at the end of the billing cycle.
How to Cancel Sportsline Pro On Your Own
In case you are unable to pay for the Sportsline subscription or Sportsline Pro is just not working for you, you can cancel the subscription at any time. If you want to do that, you can use several different cancelation methods:
| | |
| --- | --- |
| Can I Cancel Sportsline Pro Via | Yes/No |
| DoNotPay | Yes |
| Phone | Yes |
| Company website | No |
| In-Person | No |
| Email | Yes |
| Letter | No |
Cancel Your Sportsline Subscription Over the Phone
Dial Sportsline customer service at 1-888-508-3055 and inform the representative that you would like to cancel the subscription. Provide the representative with your account info. Once you've finished the call, you will receive a confirmation email about the cancelation.
Keep the confirmation email in case your subscription continues, and you end up being charged.
How to Cancel Sportsline Pro by Email
If you don't enjoy talking to customer service reps, you can always cancel the Sportsline subscription by sending an email to support@sportsline.com. Include your Sportsline Pro account information and a request to cancel the subscription in the email.
You will get a response from Sportsline confirming that you've successfully canceled your subscription.
Quick and Easy Way to Cancel Your Sportsline Membership Using DoNotPay

Not in the mood to talk to customer service reps or don't want to waste your time writing an email to cancel your subscription? We feel you, which is why DoNotPay offers a simple way to cancel your Sportsline Pro membership. All you have to do is:
Sign in to your DoNotPay account using your

Select

Find Hidden Money

Insert Sportsline Pro as the membership you want to cancel
Once you've completed the process, DoNotPay will notify you when your membership is canceled.
You can also connect your email or bank account to DoNotPay, and we will provide a list of all of your subscriptions. You can go through it to see if there is any subscription you want to cancel.
Does Sportsline Offer a Free Trial?
Sportsline does not offer a free trial, but you can always use their free content service if you don't feel like paying for the subscription.
Can I Pause My Sportsline Subscription?
No, Sportsline does not give you the option to pause your membership.
Does Sportsline Prorate Its Cancelations?
In the Pro Membership Terms, Sportsline states that you will not be refunded any fees that were previously paid. When you cancel the subscription, the cancelation will take effect at the end of that subscription period, and you will have continued access until then.
Issues You Might Encounter With Sportsline

According to user reviews, using Sportsline's services and canceling their subscriptions can be a waste of time and money. One user in particular stated that it took them too long to cancel their subscription when contacting customer support.
If Sportsline is giving you trouble and doesn't want to cancel your subscription, you could try and sue them in small claims court. Our robot lawyer will help you build your case and provide you with a script that you can use in court.
Stop Free Trials From Turning Into Paid Subscriptions!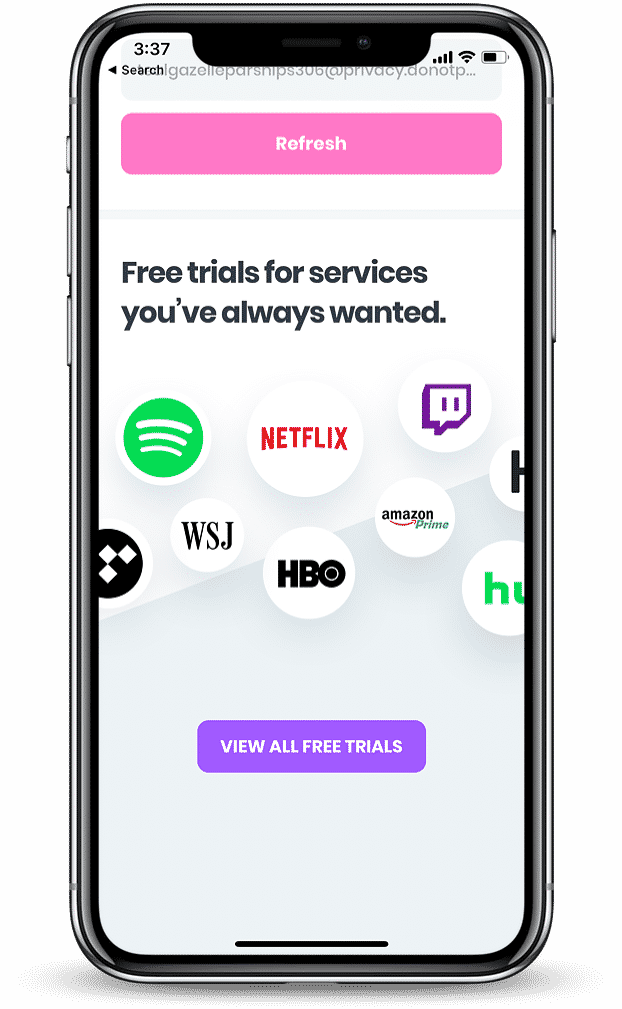 Are you tired of keeping track of your free trials? How many unwanted subscriptions did you end up paying just because you wanted to sign up for a free trial? Don't worry—DoNotPay's virtual credit card will let you sign up for unlimited free trials and save you from losing hundreds of dollars on unwanted charges.
The free trial credit card generates random numbers and acts as a real credit card but is not linked to your bank account. When you sign up for a free trial, merchants cannot misuse your financial information and charge you for a subscription once the free trial ends.
DoNotPay Can Do So Much More

Except for helping you manage your subscriptions and memberships, DoNotPay has many more tricks up its sleeve. Citizens of Detroit, New Jersey, or Sacramento don't need to put up with parking tickets anymore. Getting Origin or Playstation refunds has never been easier for gamers. Sign up for DoNotPay using your and we will help you:
Fight speeding tickets

Dispute traffic tickets