Cancel GE Tracker With the Help of DoNotPay
GE Tracker provides detailed pricing information, real-time price alerts, and profitable items progress tracking to over 450.000 users. It allows you to view your profit margins and use calculators like Decant Potion and Item Sets.
Did you grab a free trial opportunity from GE Tracker and then forgot about it, only to realize your credit card is being charged every month? Maybe you subscribed to the service and found it overhyped and unuseful. DoNotPay can help you cancel GE Tracker in a few easy steps.
DoNotPay Cancels GE Tracker for You
Are you unsatisfied with GE Tracker and wish to unsubscribe but don't know how to bypass all the burdensome steps? DoNotPay has got you covered! You can cancel almost any subscription with the help of DoNotPay! All you have to do is follow these straightforward steps:
Select the

Find Hidden Money

feature

Enter the service you want to cancel (GE Tracker)
You will receive an email in the next 48 hours confirming that your subscription has been successfully canceled.
Cancel All Your Unwanted Subscriptions With the Help of DoNotPay

Most companies have a complicated cancellation process because it discourages users from unsubscribing. DoNotPay can help you cancel any membership effortlessly.
All you have to do is , link your email address or bank account to our app, and we will mark all your active subscriptions for you. Cancel the ones you find obsolete with our Find Hidden Money tool.
With DoNotPay, you can cancel Spot Satellite Messenger, PWI Help, FameAssist, POPSUGAR Must Have, Harvard Business Review, SquareTrade, or any other service!
How Can You Cancel GE Tracker Subscription on Your Own?
You have two options to cancel your GE Tracker subscription:
Via email

On the official website
Email
You can follow the steps below to terminate your subscription via email:
Send a request to

support@ge-tracker.com

Include your account details and subscription plan

Wait for a customer support representative to get back to you confirming the termination
GE Tracker stores your IP information for three months after your account has been deleted to ensure the same IP address is not used to create another account for a free trial.
GE Tracker Website
Follow these instructions to cancel your GE Tracker subscription on the website:
Go to the GE Tracker Website

Log into your account and navigate to

Account Settings

Select the

Cancel Subscription

tab

Click on

Confirm

in a pop-up window
Your cancellation will be confirmed via email
Here's a summary of the different options you can choose to terminate the GE Tracker subscription:
| | |
| --- | --- |
| Can You Cancel Via? | Yes/No |
| Phone | No |
| Email | Yes |
| Letter | No |
| GE Tracker Website | Yes |
| In Person | No |
| DoNotPay | Yes |
Apply for a Refund if You Have a Defected Account
GE Tracker allows you to cancel your subscription and apply for a complete refund. If you are consistently facing problems with your account or GE software, and the customer support team is unable to provide a solution within 24 hours, the company will return your money. All other subscription payments are non-refundable.
Does GE Tracker Prorate Their Refunds?
GE Tracker does not prorate refunds if you choose to terminate your subscription in the middle of the billing period. You can keep your access to all Premium features until the billing cycle is complete.
Can You Pause Your Subscription?
GE Tracker does not allow you to put your subscription on hold. If you want to suspend the GE software, your only option is to cancel.
Can Your GE Tracker Free Trial Automatically Turn Into a Paid Subscription?
GE Tracker offers a 2-day free trial to access all Premium features. Once the trial period is over, the charges start automatically.
Use DoNotPay's Free Trial Card To Avoid Unwanted Charges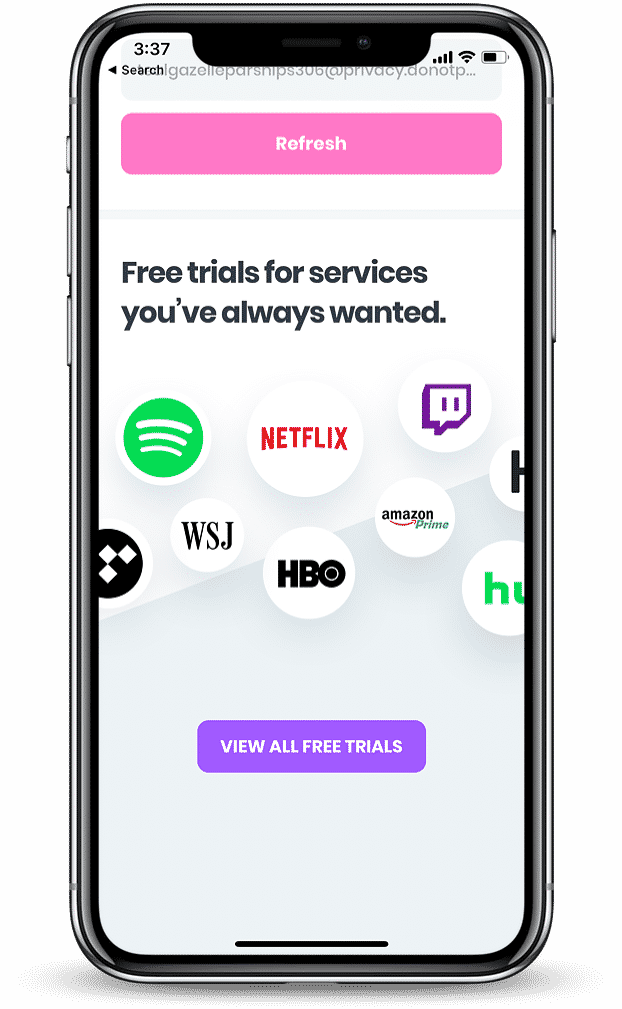 If you want to sign up for free trials but don't want them to automatically renew into paid subscriptions, you can use DoNotPay's free trial card. It acts as a burner card, randomly generating a credit card number and expiration date you can enter to access free trials.
The best part about our virtual credit card is that you don't have to reveal personal details or bank account information and will never be charged for any service you don't plan on using after the free trial ends.
Looking for a Substitute for GE Tracker?
Maybe GE Tracker wasn't really your thing. There are lots of companies doing essentially the same. Here are a few alternatives you could try:
Company

Perks

PlatinumTokens

Provides the best items for flipping on the OSRS Grand Exchange

Has practical features for price checking

Alch Mate

Offers an OSRS RuneScape price guide

Ensures minimum losses
Get Back at Greedy Corporations With DoNotPay
How many times have you tried reaching out to an airline regarding your canceled flight? Did you ever spend hours trying to contact customer service reps only to be refused your refund request?
Big companies tend to make certain processes complicated for their customer in hopes they would give up on pursuing their goals.
This is why your warranty claims often get denied the first time or why canceling a gym membership can be an administrative hell.
Our AI-powered app is here to help you sort these problems out.
Whether you're trying to file an insurance claim, schedule your driving test, start a free trial without disclosing your payment info or a phone number, or get access to public records, we've got you covered.
DoNotPay Is the Virtual Assistant You Need
DoNotPay is the first robot lawyer in the world created to simplify complex tasks. We can help you with anything from appealing your parking citations to filing lawsuits in small claims court.
In case you need to save up some money, our app will show you how to get an extension on your bill payments, sign up for paid clinical trials, or avoid paying your college application fees.
DoNotPay can also report robocallers, text spammers, and email phishing attempts, and real-life stalkers with a few clicks.