How To Cancel POPSUGAR Must Have in a Few Clicks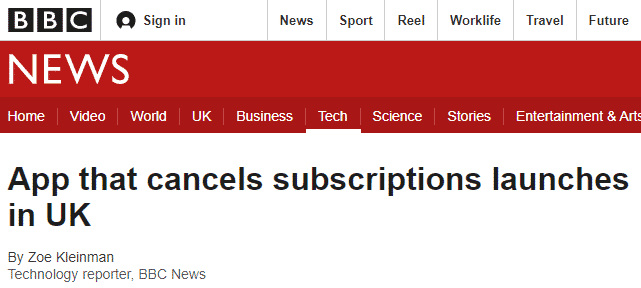 POPSUGAR Must Have is a subscription-based service that sends a box of beauty, home, food, fashion, and fitness products worth at least $250 to its subscribers every three months.
It boasts being the number one female lifestyle brand with more than 32 million followers and fans. If the items don't work for you, follow the instructions to cancel POPSUGAR easily and save some money!
What Should I Do To Unsubscribe From POPSUGAR Must Have?

There are two ways to cancel your subscription to POPSUGAR Must Have:
Sending a cancellation email

Canceling from your account
Sending an Email to Cancel the POPSUGAR Must Have Subscription
If you send emails every day, sending one more to cancel your POPSUGAR subscription should not be an issue! Let the customer care reps know you are not willing to spend your $75 anymore and send an email to community@popsugar.com. Should you not get a response, use DoNotPay's instructions to get rid of your membership quickly.
Canceling the POPSUGAR Must Have Subscription From Your Account
Follow these steps to get rid of POPSUGAR Must Have subscription in a few clicks:
Log into your POPSUGAR Must Have account

Click on

Subscriptions

Choose

Details/Manage Subscriptions

Tap on

Cancel This Subscription

Confirm the cancellation
There is another way to break free from the POPSUGAR subscription, and it is a game-changer! will come to your rescue! Take a look at the table below for a summary of cancellation options.
| | |
| --- | --- |
| Is It Possible To Cancel POPSUGAR Must Have Via | Yes/No |
| DoNotPay | Yes |
| Company Website | Yes |
| Phone | No |
| In person | No |
| Email | Yes |
Cancel POPSUGAR Must Have Subscription With DoNotPay

DoNotPay can help you cancel your subscriptions. We offer the easiest way to terminate unwanted memberships. This is how you do it:
Open your

and log into DoNotPay

Choose

Find Hidden Money

Type in the name of the service you want to cancel (in this case, type in POPSUGAR Must Have)
This is all you have to do to cancel your POPSUGAR subscription.
Are you having issues with tracking your memberships? Use DoNotPay and connect your email and bank account to our app, and we will list all your active subscriptions. Follow the same steps and cancel the services you are not using. We will notify you once the cancellation process is completed.
Potential Problems When Canceling POPSUGAR Must Have Subscription
When you google how to cancel the POPSUGAR Must Have subscription, the results suggest submitting a cancellation request through the company's contact form. If you follow the link, you will be disappointed. The help center no longer exists, and the link does not work.
No need to despair! DoNotPay can help you solve this problem and cancel the subscription for you.
You must also pay attention to the timing since there is a deadline for canceling POPSUGAR Must Have. If you miss it, you will be charged for the next season's box. There's no need to fret because we've got you covered! Check out the dates below and make sure you unsubscribe on time.
| | |
| --- | --- |
| Seasonal Box | Cancel Before |
| Spring | February 1 |
| Summer | April 15 |
| Fall | August 1 |
| Winter | October 15 |
DoNotPay can help you cancel other subscriptions, such as BoxyCharm, SprezzaBox, Starz, Audiobooks, and many more.
Will POPSUGAR Let Me Pause My Subscription?
Not sure whether you would like to continue with your subscription to POPSUGAR Must Have or not? You can take some time off and think about it. In the meantime, there is no need to continue paying for the subscription. No fee is charged if you pause your subscription, and you can restart it again any time you feel like it.
Are There Alternatives to POPSUGAR Must Have?
Are you displeased with POPSUGAR? Do you want to explore and see what's out there? Browsing through the internet and trying to find the perfect subscription-based service can take a lot of time. We will help you narrow down your search.
Feel free to try out these services similar to POPSUGAR and choose the one that suits you best. Take a look at the table below and find out more!
Company
Pricing

Benefits

Rocksbox

$21 per month

Free shipping both ways

Try out three pieces of jewelry. You can return and exchange them for a new set whenever you like

If you like the jewelry, you can purchase it at a discounted rate

JustFab

$39.95 per month

Skip a month without charges

Pick your selection of shoes, jeans, bags, or jewelry

Ships to the USA and Canada

Free returns and exchanges within 30 days

Goddess Provisions

$33 per month

Free shipping in the USA

100% vegan and cruelty-free food snacks, aromatherapy, crystals, tea, and other products

Ships worldwide

The company plants a tree for each box sold with Trees.org
Falling for Scams Is Less Likely With DoNotPay
Thanks to AI technology, DoNotPay is a great resource for protecting your privacy and finances from potential scammers. Our bots can help you report robocalls, keep your inbox clean from spam email and shady text messages, or even deal with stalking and harassment, if it comes to that.
In case the issues escalate, skip the expensive lawyers and sue the offenders in small claims court with ease.
Another great way to increase your online security is to use our virtual credit cards and sign up for any free trial without risking unwanted charges. You can even avoid sharing your contact info with our Burner Phone feature.
The Solution To Your Driving Woes

DoNotPay provides invaluable help to future and current drivers. By helping you ace that driver's license test, scheduling a DMV appointment the easy way, or contesting parking tickets, our app saves you money and time.
If you need to file a car warranty or an insurance claim, we will help you deal with the necessary paperwork within minutes. Trying to get out of a car wash membership? DoNotPay can cancel it in an instant.
Our platform works above ground as well. You can use DoNotPay to secure refunds from airline companies or compensation for delayed and canceled flights.