How Can I Sue for Spam Email? The Best Tips and Tricks From DoNotPay
Spam messages are not just annoying and inbox-cluttering. They can contain dangerous fraud offers or infect your device with malware. Did you lose money to scammers? Was your personal or other important info stolen? Even if the answer to those questions is no, you can still file a lawsuit to punish unsolicited email senders and earn in the process.
Legislation Behind the Email Spam Lawsuits
Here is a list of documents regulating unsolicited messaging in North America:
When Can You Sue for Spam Email Messaging?

According to the CAN-SPAM Act, not all email spam is considered illegal. Listed below are the conditions required for an unsolicited message to be illegal:
It has false or misleading header information

—The information presented in the

From

and

To

fields and routing information is false and don't represent the person or business that sent the message

Subject information is deceptive

—The subject line is contradicting the content of the email 

The message is not identified as an advertisement

—The message needs to clearly state that it is an ad

The message is missing the location of the sender

—It doesn't contain the physical address of the sender or the PO box

There is no unsubscribe mechanism

—The message doesn't contain a clear and obvious way of opting-out of the same sender's future emails.

The mechanism needs to be operational for up to 30 days after the email was sent

The advertiser doesn't honor your opt-out request

—Advertisers are obliged to honor your unsubscribe request within ten days from the day you've sent it. Any message sent after that is considered illegal spam
Now that you know what is considered illegal spam, let's cover how you can press charges against unethical businesses. 
Suing for Spam Emails With DoNotPay

You can take a text spammer to small claims court easily, with the help of DoNotPay. 
Use our smart form to provide information regarding the claim. Our robot lawyer will help you compile all the required documents and take care of the red-tape for you. 
You can count on us to:
Help you with a demand letter

Fill out the forms for you

Provide you with legal arguments needed to win your case

Give advice relevant to your statement
From here, all you have to do is file the complaint and show up in court at a specified date. DoNotPay will take care of everything else for you. We make the process easy and simple.
Get Rid of Email Spam With DoNotPay
Here is how you can prevent email spam with DoNotPay's assistance: 
Log in to your DoNotPay account in your

web browser

 

Locate

Spam Collector

 

Type in your email address and connect it with

DoNotPay

Forward any spam message to

spam@donotpay.com

 
After you take these steps, and DoNotPay receives your spam report, two things happen: 
We will

unsubscribe

you from the sender automatically

The app notifies you regarding a class-action lawsuit against the sender (if there is one)
If you join it and win, you could get compensation and potentially lucrative spam email revenge. In case you become a participant, a flag will show up in your Spam Collector tab on your DoNotPay dashboard.
How To Sue for Spam Emails on Your Own?
The CAN-SPAM Act doesn't allow consumers to press charges on their own. They need to rely on the Federal Trade Commission (FTC) or State Attorneys General office. The internet service access providers are exempt from this rule, and they can sue the spammers, too. In certain states, there are laws that allow you to sue the spammers, but in some cases, they might be preempted by the CAN-SPAM Act. 
How To Report Spam Emails to Government Organizations
You can report spam to different institutions depending on the type and content:
DoNotPay Against Ancient-Method Spammers—Physical Email Spam Lawsuits

USPS statistics state that 77.3 billion marketing letters were sent in 2018. According to the 2018 Statistical Factbook, only catalogs amounted to 9.4 billion. These numbers show the mail sent via the postal services only. Flyers and letters delivered in person contribute to even more mess in your mailbox. 
Our revolutionary new feature, DoNotMail, will help you fight the spammers and earn in the process. All you need to do is take a photo of the unwanted mail and upload it on our app. From there, we will unsubscribe and notify you if there is a class-action suit against the sender. If you join it and win, you may earn up to $500 from the settlement. 
Other Spamming Methods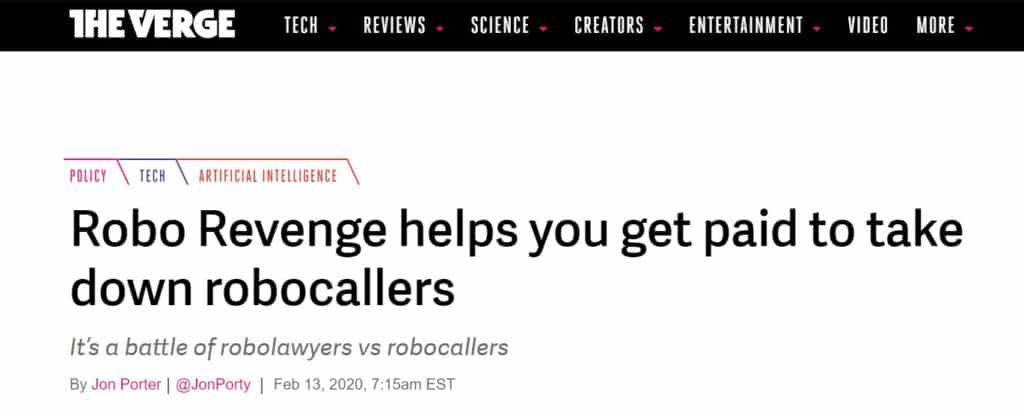 Spamming doesn't stop with emails. Robocalls and spam texts are other tools that can be used for both fraudulent and annoying marketing purposes. DoNotPay designed convenient features that can help you stop any unwanted or dangerous digital communication. 
Check out our RoboRevenge functionality and earn some money on the scammers! The process is simple, and you can get rid of automated calls and robotexts for good. Here are some useful advice regarding:
Additional Resources Related to Email Spammers and Their Methods 
When it comes to scammers, their weapon of choice is your lack of expertise. DoNotPay will help you with that, too. Check our useful articles to arm yourself with knowledge about:
Is There a Limit to What DoNotPay Does?

There probably is, but when it comes to making your life more comfortable and dull-chores-free—we are unsurpassed. Check how to sue Verizon, learn how to get a refund for a game on Steam, or cancel Talkspace any service.
DoNotPay can help you with:
Disputing traffic tickets

Fighting speeding tickets
You can access DoNotPay from your web browser to get access to these handy saving features!