How to Get a Bumble Free Trial Securely With a Virtual Credit Card

Finding love isn't always easy, so it's lucky we live in a time where technology can make it a little easier. Bumble is one of the leading dating apps available now, offering people a way to connect with others and potentially find both romantic and platonic connections they might never have experienced otherwise.
While the base app is free, there are ways to pay that can help enhance your experience on the app. With the free trial, you should consider using DoNotPay to make sure your  won't end up charging you after the trial ends.
Does Bumble Offer a Free Trial?
The base Bumble app is free to use after registering and downloading with no additional payment necessary. However, there is a paid version of the app known as Bumble Boost, which gives users a few extra perks that are meant to help their chances of connecting with someone interesting. New users who join Bumble are able to get a  of Bumble Boost.
How Can I Get a Bumble Free Trial?
It's a simple matter to get a free trial of Bumble Boost. After creating a new account, you should automatically get the offer to try Bumble Boost. Many people report seeing an ad for a Boost trial appearing at least once or twice a month until it's claimed, so you should still have the chance to use the trial even if you dismiss it the first time by accident.
When you see it, just accept and verify it with your credit card. Once you do, you should get all the benefits of the service added to your account, such as:
Unlimited swipes
Extra Spotlights
Ability to take back a swipe
Does the Bumble Free Trial Automatically Renew into a Paid Subscription?
Your free trial of Bumble Boost will renew into a paid subscription automatically. While there are different levels to the subscription you can get on your own, the automatic renewal sets you up to pay monthly until you cancel. Canceling after you've been charged won't get you a refund, either, so it's a good idea to stay on top of your trial unless you're planning to keep the app for at least another month.
Avoid Automatic Renewal With DoNotPay Virtual Credit Card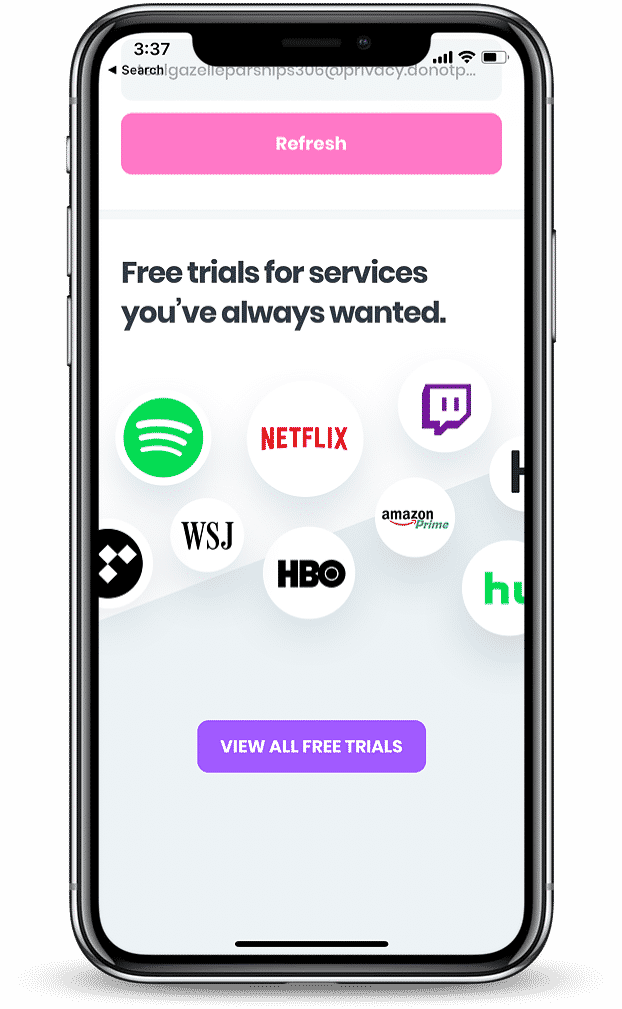 If you plan to use a free trial of Bumble Boost to help you match with someone before you quit, you're at risk of getting charged. When you're hanging out with someone new and trying to get to know them, the last thing on your mind will be making sure to cancel a free trial. That puts you in the position of forgetting, and forgetting means you could get charged for a month of a subscription service you don't want or need.
Using DoNotPay's free virtual credit card service means you don't have to worry, though. It works just like a normal credit card with the only difference being that this card's number and information are randomly generated by us. You put it in to get your free trial, but there's no money to back it up. That means that, when your trial expires and Bumble or another service tries to charge you, they'll unsubscribe you because they can't get a payment.
Here are some things to note about virtual credit cards:
You can only use the card once.
The card is deactivated as soon as it is used.
You can't make an actual purchase with the card since there is no funding attached to it.
How Much Does Bumble Cost After the Trial?
DoNotPay can also help you cancel a Bumble subscription if you no longer want or need it. But if you want to continue the service, here's what you can expect to pay:
| | |
| --- | --- |
| Tier | Cost |
| 1 Week | $ 5.99 |
| 1 Month | $ 9.99 |
| 3 Months | $ 19.99 |
| 6 Months | $ 39.99 |
As always, remember to cancel before your free trial is up, otherwise you'll be charged for a month of service.
What Are the Most Popular Alternatives to Bumble?
There are a number of dating apps people might use as an alternative to Bumble. The majority of these work on a similar model, as well, with a free app as the base and various means to pay for extra features. If you haven't had any luck finding that special someone on Bumble, some of the alternatives you might want to use are:
eHarmony
Tinder
Match.com
Zoosk
OkCupid
What Else Can DoNotPay Do?

Fixing your love life and keeping that  as free as advertised isn't all DNP can do to help. We have a variety of services for our users to try, including:
Whatever might be troubling you,  can help make it easier to deal with. Give the app a try today to see the full extent of how we can help you out.