How to Sign Up For a Bravo Free Trial With a Virtual Credit Card

If the sparks flying on reality TV have you glued to your screen night after night, you might find your next fix on Bravo. With its wide variety of original programming, including Emmy-nominated shows, you'll never run out of entertainment. Maybe you're already sold on subscribing to a television service for Bravo content, but if you're not, you might be able to try it out without paying a dime. If you're curious about what Bravo has to offer you, test the network out with a  through DoNotPay.
Where Can I Watch Bravo for Free?
There are several streaming platforms that carry  programming. These four offer free trials:
YouTube TV
Sling TV
fuboTV
Peacock
If you already subscribe to these services, you will not be able to take advantage of their free trials. You may also be able to get free trials of live streaming television from your internet provider. Several telecommunications providers offer streaming access as part of their television packages, including
Frontier does not offer a trial period of their services. While it is not explicitly a free trial, DirecTV Stream allows subscribers 14 days to get a refund if they are dissatisfied with the streaming service. Xfinity offers Instant TV in some service areas, which comes with a free 30-day service.
Watching Bravo for Free on a Streaming Service
YouTube TV
YouTube TV subscribers have access to Bravo through the free trial. The length of the free trial varies with promotions, but you will get at least seven days. To sign up for your free trial, you need to
Sign in to your Google account
Submit your zip code
Add the networks you'd like to watch (premium networks may have different trial lengths)
Enter your payment information
Sling TV
Sling offers two packages of TV channels. You can get just the Orange package, just the Blue, or both. Bravo is included in the Blue package but not in the Orange. Each tier has a three-day free trial available.
fuboTV
Like many streaming services, Fubo offers a seven-day free trial of their service. You can sign up for any of their three tiers:
Fubo also offers a Latino Quarterly plan, but there is no free trial for this.
Peacock
Peacock does have a free tier, but your ability to watch Bravo content is limited. The free tier also has ads mixed into the content. Free trials of the premium tiers are not always available, but you may be able to catch a seven-day trial if you try comparing plans. To sign up, all you need to do is create an account.
Choosing a Streaming Service
Subscription Pricing
YouTube TV
$64.99 per month
| | |
| --- | --- |
| Blue | $35 per month for 42 channels, 50 hours of DVR, and three screens. |
| Orange and Blue | $50 per month for 50 channels and 50 hours of DVR; Channels that are only available in Sling Orange will only be viewable on one screen at a time, while Sling Blue channels can be watched on up to 3 screens. |
fuboTV
| | |
| --- | --- |
| Starter | $64.99 per month; 118 channels with 250 hours of DVR space and three screens |
| Pro | $69.99 per month; 118 channels, 1000 hours of DVR space, and ten screens |
| Elite | $79.99 per month; 163 channels, 1000 hours of DVR space, and ten screens |
Peacock
| | |
| --- | --- |
| Premium | $4.99 per month; Unlocks more content and live TV, ads are still present |
| Plus | $9.99 per month; Ad-free watching, and you can download content to watch offline |
Auto-Renewal
Like many subscription services, these free trials will roll over into full-priced terms unless you cancel before your trial period ends. If you cancel early, some of the services will let you access their channels for the remainder of the trial period.
Can I still Watch Bravo After I Cancel?
Streaming Service
Yes/No
YouTube TV
No
Sling TV
No
fuboTV
Yes, if you signed up through Roku.

No, if you signed up with the fubo sales team.

Peacock
Yes
Use DoNotPay and Don't Get Charged When Your Trial Is Up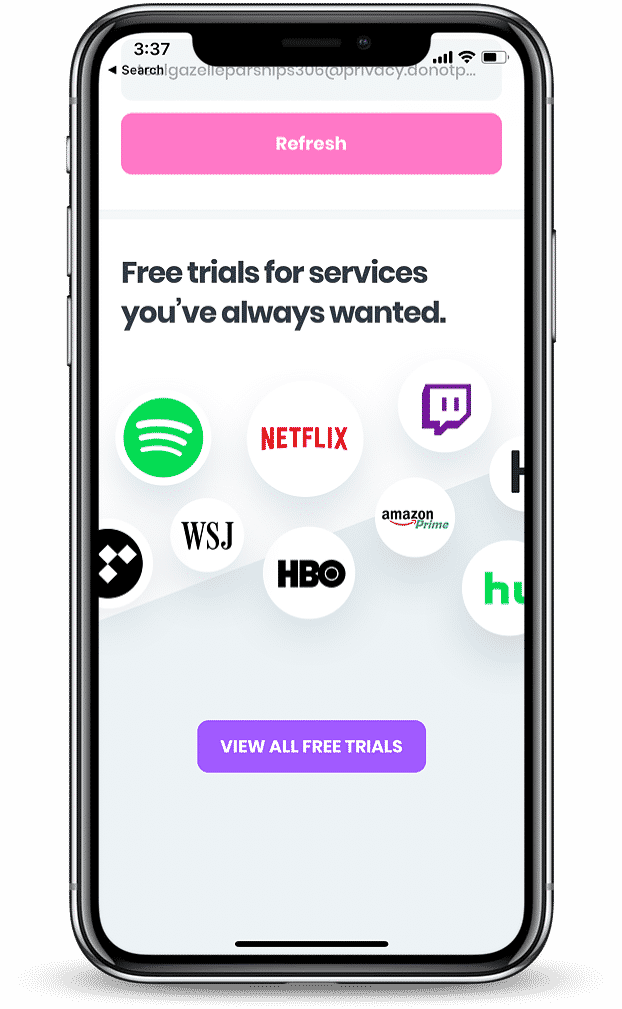 Surprise charges are no fun. Even with reminders, people frequently forget to cancel their free trials on time, or they cancel too close to the billing date (24 hours or more is recommended for many services). DoNotPay can stop streaming services from automatically charging you, saving you the anxiety of missing the date. With our virtual credit card service, you can enter valid credit card information that isn't linked to your line of credit.
Live With Less Worry With DoNotPay

Do you feel like you're spread too thin between all your obligations? Gain more flexibility in your day with DoNotPay. We can take some of those tasks off your plate. We've helped with
And more. Try DoNotPay today to regain control of your day.