How to Get Your Milwaukee Birth Certificate From Your Phone
Wisconsin is the 25th largest state in the U.S. and Milwaukee is the largest city in the state. If you were born in Milwaukee, Wisconsin and need to get a copy of your birth certificate, this article will provide you with everything you need to know.
DoNotPay makes it easy to get your in just a few clicks.
Why You Need Your Milwaukee Birth Certificate
A birth certificate is the most important document you will likely ever have. It's critical to obtain your social security card (and claim your benefits when you retire), among other things. From enrolling in school to joining the military, to traveling, there are countless reasons you'll need to have your birth certificate throughout your life.
However, there are different types of birth records, and it's important that you receive the right one so you can easily prove your identity and age when necessary.
The Difference Between an Authorized and Informational Birth Certificate Copy
Official birth certificates are usually printed on a special kind of paper and most include a raised seal from the Clerk of Court where you were born. Conversely, an informational birth certificate is a simple copy of your birth certificate information.
An Authorized/Certified Birth Certificate can be used to officially prove your identity, age, and nationality. An informational copy cannot be used for official identification purposes. In some cases, authorized copies may require notarization, while informational ones may not.
Who Can Get a Birth Certificate Copy in Milwaukee?
In Wisconsin, only individuals and their immediate family members are eligible to receive a birth certificate. Specifically:
Spouse
Child
Parent
Sibling
Grandchild
Also, in Wisconsin, a person with a notarized permission letter from the person named on the certificate, or their legal representative, may obtain certified birth certificates.
If you are trying to get your sibling's birth certificate, you must have the same parents, and they must have been married at the time of the birth. Wisconsin takes this very seriously.
In Wisconsin, falsely obtaining someone else's birth certificate is a Class I felony and can result in a fine of not more than $10,000 or imprisonment of not more than three years and six months, or both.
How Much Does it Cost to Get a Birth Certificate Copy in Milwaukee, WI?
The cost for getting your birth certificate in Milwaukee is $20 for the first copy and $3 for each additional one. Additional fees might be applied if you opt to use their credit card services or request expedited services.
How Long Does it Take to Get a Copy of a Birth Certificate in Milwaukee?
The length of time it will take to receive your will depend on how you apply for it:
In person: Immediately
Mail-in requests: Processed in 24 to 72 hours before being mailed
Credit/Debit card requests: As quickly as one business day
Which Documents do I Need to Get a Copy of a Birth Certificate in Milwaukee?
To request a copy of your birth certificate, you should download and fill out an application, and you'll need to provide one of these:
Current Wisconsin driver's license
Current Wisconsin photo ID
Current Out-of-state driver's license or photo ID card
If you do not have a valid, government-issued photo ID, you can prove your identity by providing at least two of these:
Government issued employee ID card or badge with photo
US

passport

Check or bank book
Major credit card
Health insurance card
Recent dated, signed lease
Recent utility bill or traffic ticket
How to Get Your Milwaukee Birth Certificate On Your Own
Nothing is more frustrating than applying for your birth certificate, only to have your request denied due to missing or inaccurate information, or illegible materials. That's why you must follow these steps exactly, to reduce the risk of delays or being denied your birth certificate. There are four ways you can request your birth certificate:
In person
Email or FAX
Mail
See the table below.
To Get Your Milwaukee Birth Certificate In Person
Download and fill out the application form.
Collect the necessary identification documents.
Visit the City of Milwaukee Health Department - Vital Statistics, Zeidler Municipal Building, 841 North Broadway, Room 115 between the hours of 8 AM to 4 PM.
Pay for your birth certificate with cash, money order/cashier's check, VISA, or Mastercard.
You may have to fill out a brief application, but it would be helpful to go ahead and have your application already filled out.
To Request a Milwaukee Birth Certificate By Mail
Relationship to person named on the birth certificate.
Reason the certificate is needed.
Full birth name of person named on the record
Date of birth
City and county of birth
Parent's names, including mother's maiden name
Sign and date the letter
Include copies of your valid ID
Include a check or money order made payable to Vital Statistics
Include a self-addressed, stamped envelope
Mail to: Vital Statistics 841 North Broadway, Room 115 Milwaukee, WI 53202
To Request A Milwaukee Birth Certificate By Email or Fax
Requesting by email or fax requires a credit or debit card (Visa or Mastercard), and offers options like expedited service, Saturday delivery, and expedited shipping.
Download the correct form for what you want:
Print the form and fill it out, or fill it out electronically using your keyboard, then print it, sign it and FAX your request to us with a copy of your current photo ID to (414) 286-2036.
Fill out the form and save it to your device. Email the form with a scanned copy of your current photo ID to vitalrecords@milwaukee.gov.
If emailing, Put your name and date in the body of the email.
It's all a huge hassle, but DoNotPay could make it easy for you.
Let DoNotPay Get Your Milwaukee Birth Certificate
It can be overwhelming to try to get your Milwaukee birth certificate, but there is an easier way. How to get a copy of a birth certificate in using DoNotPay.
DoNotPay is the fastest, easiest way to get your Milawaukee birth certificate. Instead of having to go to a county clerk or post office in person and write a check, you can get your birth certificate entirely within the app.
If you want to order/get a birth certificate copy in Milwaukee, but don't know where to start, DoNotPay has you covered in 8 easy steps.
1. Go to the Birth Certificates product on DoNotPay.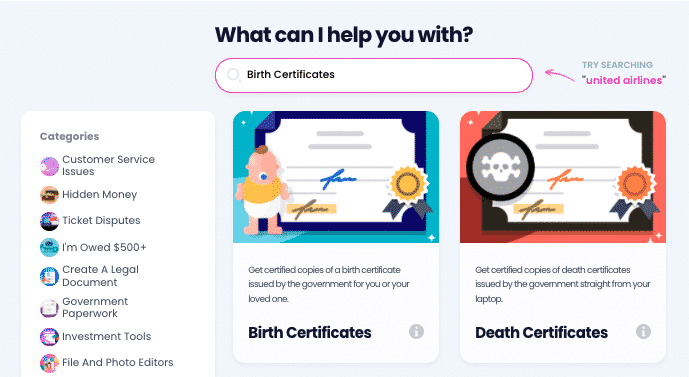 2. Select who the certificate is for (you or a loved one). If you are requesting a copy of someone else's certificate, enter their personal details, and upload evidence that proves your relationship.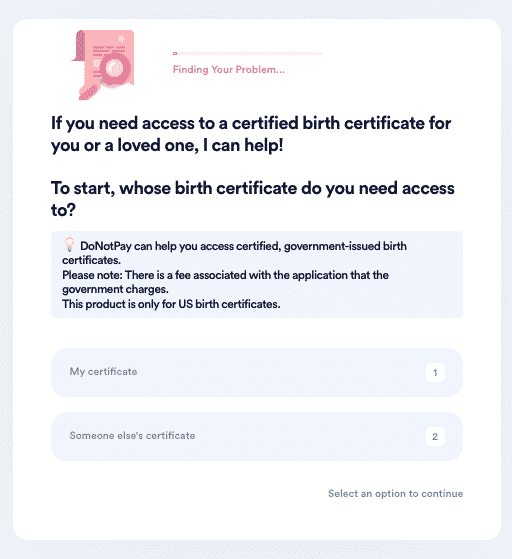 3. Enter the location you or your loved one was born in, so we can complete the form specific to your state.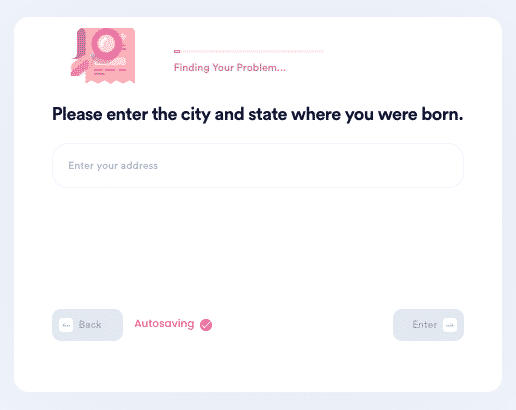 4. Enter the name(s) of the parent(s) as displayed on the certificate.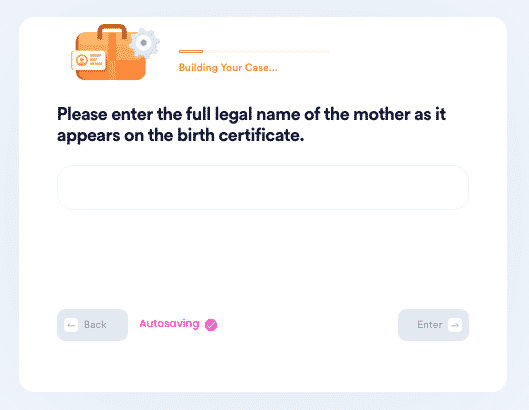 5. Indicate what you will be using this certificate for, and choose whether you need an authorized or certified copy.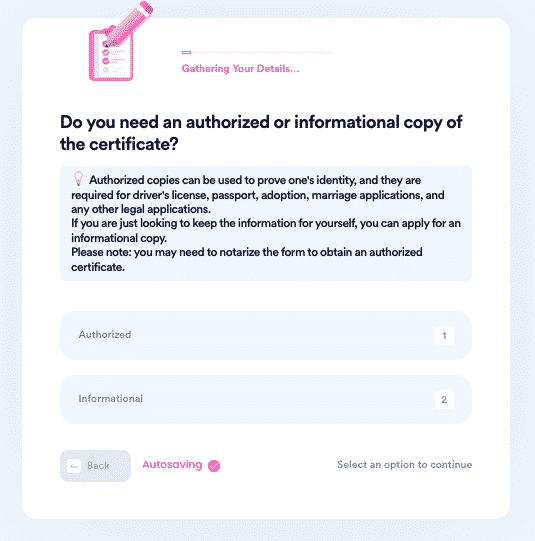 6. Enter your contact information and shipping address. Upload copies of your government-issued identification, such as a driver's license.
7. Choose whether you would like to electronically sign this form or not. Once we generate the form, verify that all of the information is correct.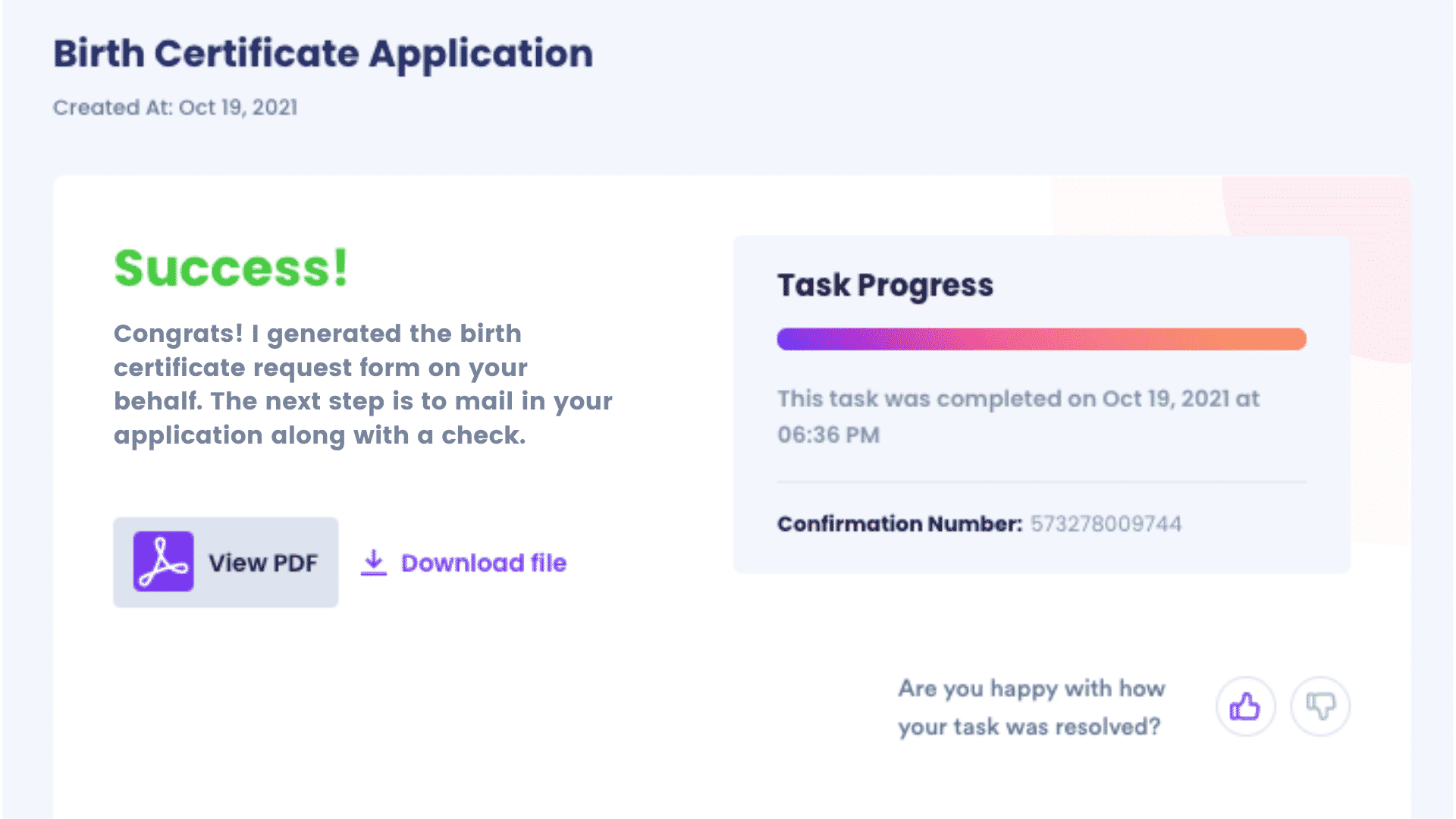 8. If you need the document to be notarized, schedule a notarization appointment using our Notary product. Otherwise, proceed to our Mail Checks product and let DoNotPay mail-in your request form with a check on your behalf.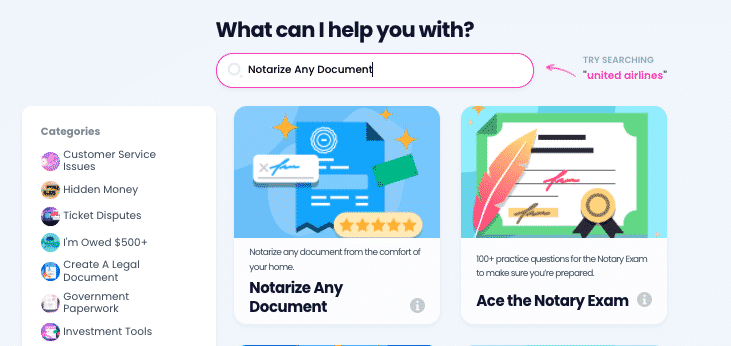 Nothing could be easier. Try DoNotPay for this, and every other paperwork hassle in your life!