How to Request Your Birth Certificate in Memphis, TN
When you need a birth certificate right away, it can seem almost impossible to get one. There is no set rule on where to find your birth certificate. The process of requesting a birth certificate varies from community to community. Counties and states have a multitude of processes to follow to acquire a birth certificate. The fees can also vary widely.
The fastest and most efficient way to get a copy of your birth certificate is to go through DoNotPay. The confusion is taken out of the process by following the DoNotPay steps.
The reasons why someone needs a birth certificate include applying for:
Form of identification
Driver's License

Passport

Replace a lost birth certificate
This article will explain everything you need to know about ordering your .
Where Do I Get My Birth Certificate in Memphis, TN?
are maintained by the Shelby County Office of Vital Records. A birth certificate application can be submitted in person or by mail to:
Office of Vital Records
Room 100
814 Jefferson AVE
Memphis, TN 38105
The application should be notarized, whether the application is submitted in person or by mail.
Some birth certificates are not available. For example, in Memphis, birth certificates for anyone born before 1925 are not available.
How Much Does it Cost to Get a Birth Certificate From Memphis, TN
requested directly from the Shelby County Office of Vital Records cost $15.
How Long Does It Take To Get a Birth Certificate From Memphis, TN?
Birth certificates, other than newborns, can be picked up in person or by mail with the appropriate application. Shelby County Office of Vital Records does not list a processing time on their website. It is unknown how long they need to process the request.
Newborn birth certificates take a minimum of 45 days after birth. There is no expedited process for these certificates.
Can I Request a Birth Certificate Online?
Birth certificates can be ordered through an online service called VitalChek. This is a private company that offers the service for an additional fee.
The cost of a Tennessee birth certificate is $26 to $26.25.
The additional cost of shipping varies by the means used to ship, as well as any special handling for an expedited request.
USPS
Processing Time - 3-21 business days

Delivery Time - 7-10 business days

UPS
Processing Time: 3-5 business days

Delivery Time: Overnight
Shipping costs may vary.
The best way to order a Memphis birth certificate online is to use DoNotPay, following the steps below.
Request a Birth Certificate From Memphis, TN With the Help of DoNotPay
DoNotPay is the perfect solution to getting a copy of your birth certificate. The process is super easy, and the paperwork is done correctly, every time.
If you want to get a but don't know where to start, DoNotPay has you covered in 8 easy steps:
1. Go to the Birth Certificates product on DoNotPay.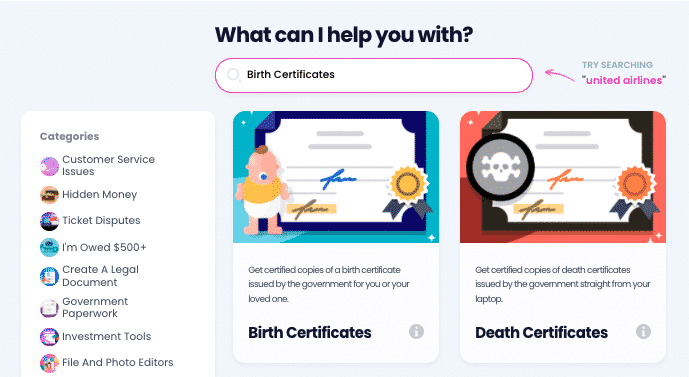 2. Select who the certificate is for (you or a loved one). If you are requesting a copy of someone else's certificate, enter their personal details, and upload evidence that proves your relationship.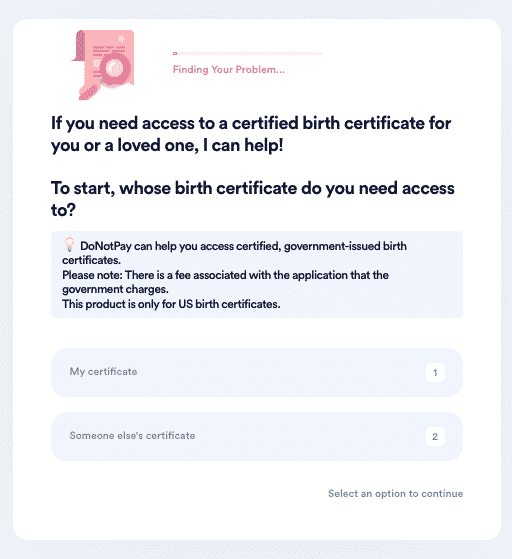 3. Enter the location you or your loved one was born in, so we can complete the form specific to your state.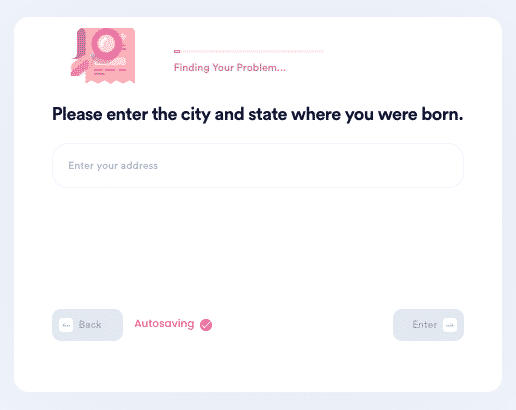 4. Enter the name(s) of the parent(s) as displayed on the certificate.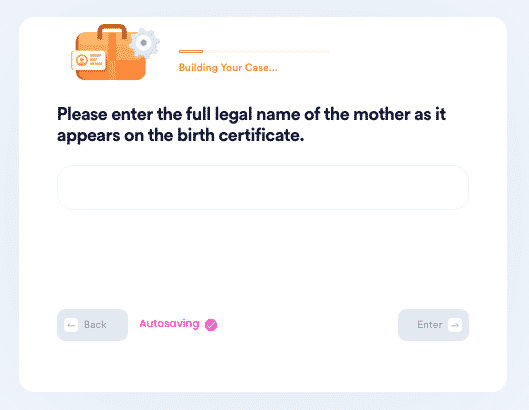 5. Indicate what you will be using this certificate for, and choose whether you need an authorized or certified copy.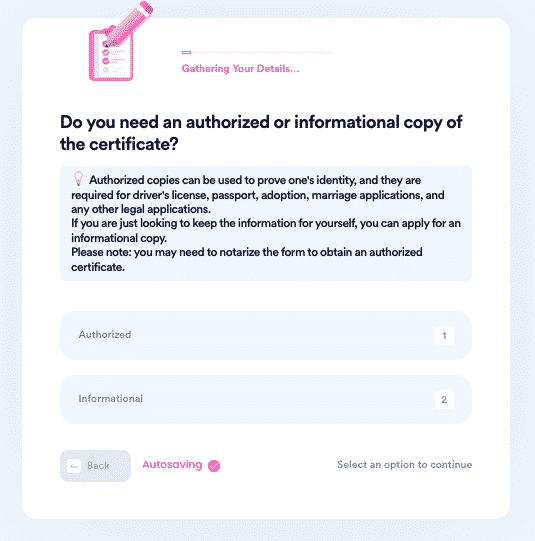 6. Enter your contact information and shipping address. Upload copies of your government-issued identification, such as a driver's license.
7. Choose whether you would like to electronically sign this form or not. Once we generate the form, verify that all of the information is correct.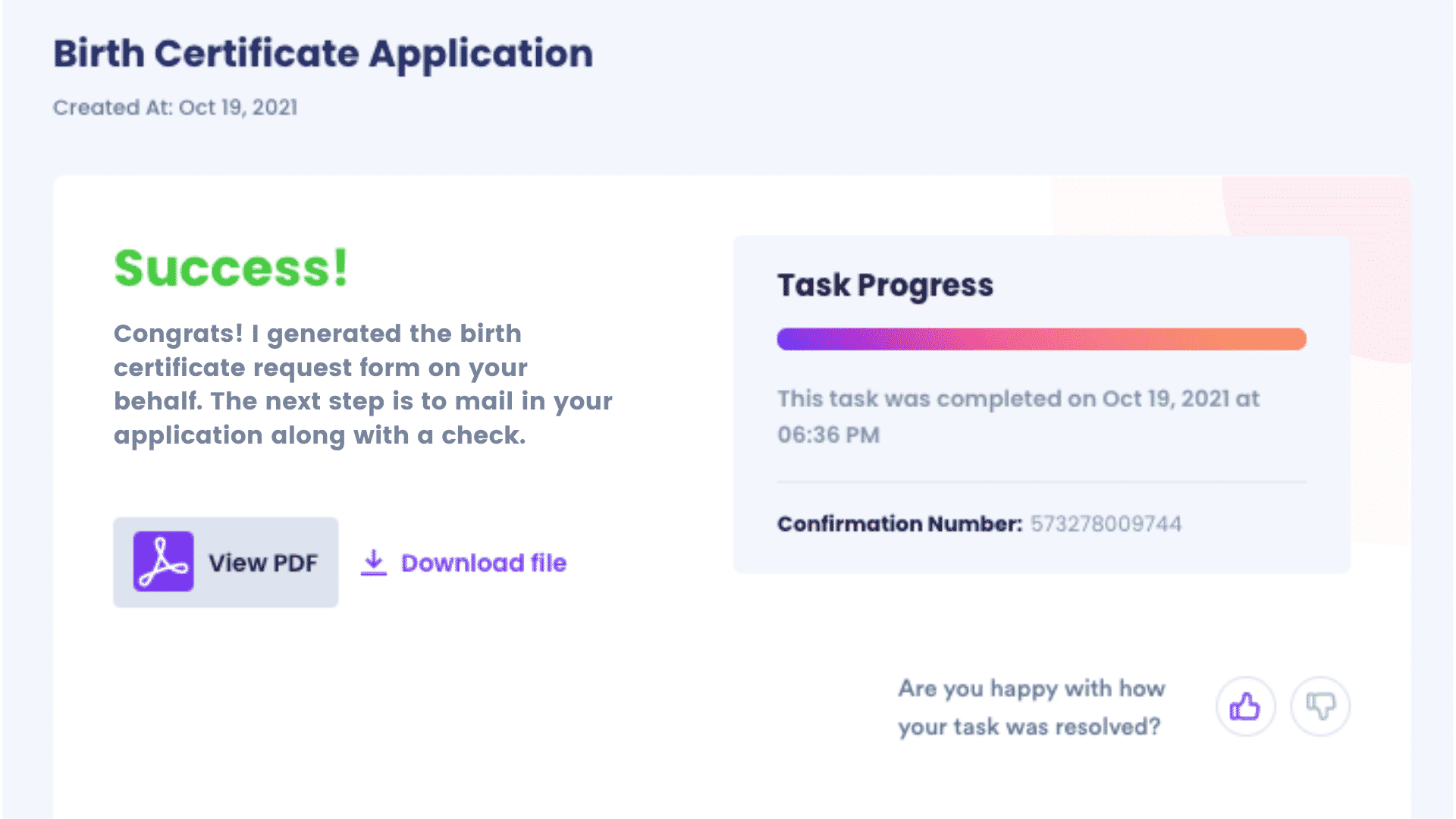 8. If you need the document to be notarized, schedule a notarization appointment using our Notary product. Otherwise, proceed to our Mail Checks product and let DoNotPay mail-in your request form with a check on your behalf.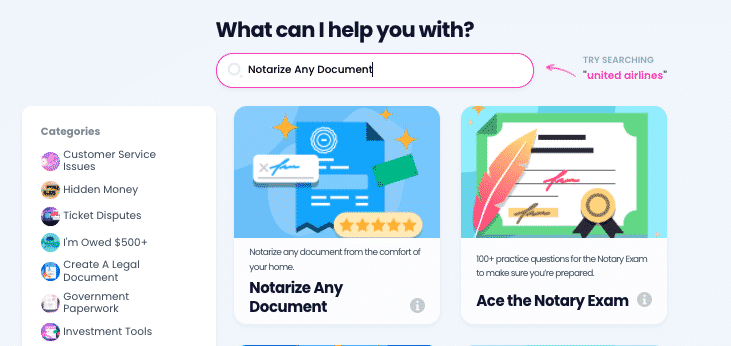 It's that easy! You don't need to visit the post office or vital records office. You don't need to find parking or waste your day.
Why You Should Use DoNotPay to Request a Birth Certificate in Memphis, TN
DoNotPay makes getting a birth certificate fast and easy.
Our process is all online and saves you a trip to the post office.
We offer virtual notary and check mailing services.
We file the application on your behalf.
What Else Can DoNotPay Do for You?
There are many solutions available on DoNotPay for everyday problems. Not only that, they are all in one place. Check out this small sampling of help available:
The solutions available on DoNotPay are designed to save you time and money. Check this out today and see what we have for you.