How to Get an Astrill VPN Free Trial With a Virtual Credit Card 

A Virtual Private Network (VPN) is used to hide your identity online, making it more difficult for other people to monitor your online activities and steal your data. Astrill VPN is one of the most reliable in the market in terms of ensuring your security and fast speeds when using the internet. In China, it offers protection against DNS leaks and can be used to unblock US Netflix.
Read through the article to understand how DoNotPay enables you to use  while preventing your credit card from being charged. 
Does Astrill VPN Offer a Free Trial? 
Yes. Astrill offers an  for its customers. However, this is only limited to people living in countries other than China. Individuals living in this country can no longer access the 7-day free trial that comes with the product. Moreover, Astrill VPN does not offer a refund to its customers.
However, if you are an android user who only needs a VPN for that single device, you can use Astrill VPN free of charge.
How Can I Get Astrill VPN Free Trial? 
If you are living in a country outside China, you can follow the procedure below to get your Astrill 7-day free trial: 
Deactivate any existing VPN or proxy connection- You must use your current IP address for you to access the sign-up page of the Astrill VPN free trial. When using another VPN service, your IP address will read that you are connected from another place, contrary to where you are.
Visit the Astrill free trial sign-up page. It is important to note that if you are in China or use any other VPN, this page will automatically be redirected to a pricing page rather than the free trial sign-up page.
Fill in your information on the fields that appear.
Once you sign up, you will receive emails from Astrill VPN explaining to you about the product and the terms and conditions that apply when using it.
Does Astrill VPN Free Trial Automatically Renew Into a Paid Subscription? 
Astrill VPN free trial will automatically renew into a paid subscription plan once the free trial period elapses. Since you provided your payment option when signing up for the free trial, you will most likely be charged a monthly subscription fee for the paid plan after the expiry of the 7-day free trial.
If you do not wish to continue with Astrill VPN, you must cancel your subscription before the expiry of the free trial period. Failure to do so will have your credit card charged, and you cannot get a refund.
Avoid Automatic Renewal With DoNotPay Virtual Credit Card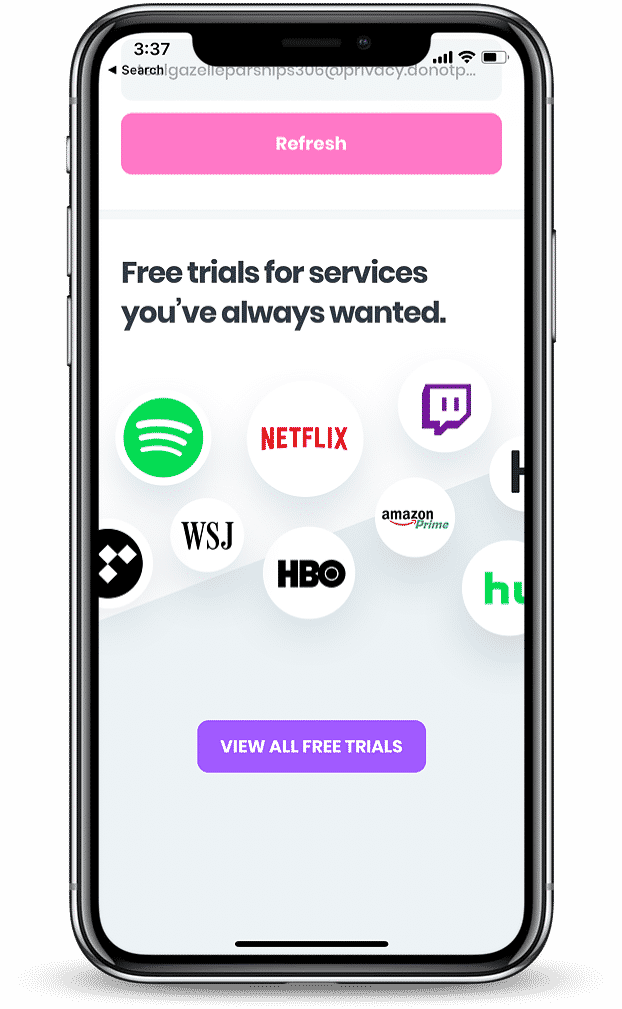 Many people who enroll for a free trial plan of services such as Astrill VPN forget to cancel their subscription before the free trial expires. As a result, they find themselves being charged, as in most cases, the monthly fee immediately applies after the free trial expiry. To counter this, DoNotPay developed a virtual credit card, also known as a free trial card. This virtual credit card of DoNotPay works by protecting you from receiving any unwanted charges and cancels the Astrill VPN service after the trial. The credit card uses randomly generated information, so it's not connected in any way to your actual credit card. It also has no money in it, and as a result, any payments cannot be processed. Therefore, you will be automatically unsubscribed from the service.
How Much Does Astrill VPN Cost After the Trial? 
Astrill VPN is charged $20.00 per month. However, if you choose to use the 1-year plan, it becomes relatively cheaper, and you will be required to pay a monthly fee of $10.00 per month — pay $120.00 yearly instead of $240.00. There is also a 6-months plan which charges $15.00 every month — pay $90.00 for six months instead of $120.00.
What Are the Most Popular Alternatives to Astrill VPN? 
If you are looking for other good VPN providers, here are a few examples that can be used as alternatives for Astrill VPN: 
Service
Ssubscription Costs
Remarks
ExpressVPN

$12.95 every month for a 1- month plan
$9.99 monthly for a- 6 month
$8.32 monthly for a 1-year plan

Money back guarantee for one month ; free for 3 months
WannaFlix

$9.97 for a 1-month plan
$8.32 monthly for a 6-month plan
$6.99 monthly for 1-year plan

It offers a 1 month money back guarantee or a free trial of 3 days.
Surfshark

A monthly plan for $12.95 per month
A two-year plan for $59.76
30-day money back guarantee

N/A
What Else Can DoNotPay Do? 
DoNotPay is compatible and accessible by most web browsers. You can use its free trial card to sign up for Hulu and HBO free trials, among many others.
DoNotPay can also help you with many other things, including:
Disputing traffic tickets
Fighting speeding tickets
Why hesitate? Use DoNotPay today to register for Astrill's free trial, and let us protect you from receiving any unwanted charges.