How to Avoid Getting Charged at the End of Your Ahrefs Free Trial With This Virtual Credit Card

Ahrefs is a great tool to improve the SEO of your website, and, under certain circumstances, it allows you to access a free trial. Although an  can enable you to determine whether certain software is right for your needs, it also has a disadvantage. If you forget to cancel your membership before your trial is up, you end up getting charged for at least a month on your credit card.
If you'd like to try Ahrefs risk-free, knowing that you won't get charged even if you forget to cancel your membership, you should give DoNotPay a try. With the help of DoNotPay, you can generate a virtual credit card number and use it to try Ahrefs or any other software of your choice. However, given that this virtual credit card doesn't have any credit to back it up, you will not get charged at the end of the trial period, even if you forget to cancel your membership.
What Can You Do With Ahrefs?
With , you can improve the SEO (search engine optimization) of your website in the following ways:
Ahrefs' site explorer analyses your backlinks and those of your competitors. It can also help you to find the best keywords for your site.
Ahrefs' content explorer can help you find content that is being shared a lot on the internet.
Ahrefs' keyword explorer can help you find the right keywords to use to increase your SEO.
Ahrefs' rank tracker can help you figure out where you rank about other websites that are similar to yours.
Ahrefs' site audit tool is an overall kind of tool that will help you stay on track as far as SEO goes.
Does Ahrefs Have a Free or Paid Trial?
Ahrefs does give you a couple of options to try it out before you commit to paying for it.
| | |
| --- | --- |
| Ahrefs Paid Trial | One option, which Ahrefs promotes, is the 7 days for $7 option. It allows you to try all of its functions for 7 days for the low price of $7. |
| Ahrefs Free Trial | If you own a website, Ahrefs will also allow you to use its webmaster tools for free. Ahrefs doesn't give you much information about this option because they like to push the paid trial option. However, there is a link to this option on Ahrefs' main page. |
Ahrefs also has several free tools that it gives you access to. These include the following:
Keyword generator
Keyword difficulty tracker
YouTube keyword tool
Amazon keyword tool
Bing keyword tool
Backlink checker
Broken link checker
Website authority checker
Ahrefs SEO WordPress plugin
Ahrefs SEO toolbar
SERP checker
Keyword rank checker
What Do You Get During Ahrefs' Trial Period?
If you opt for Ahrefs' 7 day trial for $7, you get full access to one of two plans.
With the Lite plan, you get 5 projects, 500 keywords tracked, and 10,000 crawl credits per month. If you choose to go ahead with this plan after 7 days, it will cost you $99 per month.
With the Standard Plan, you get 10 projects, can track 1500 keywords, and get 500,000 crawl credits per month. If you opt for this plan, you will have to pay $179 per month after the trial period.
If you opt not to go ahead with either of these plans, you can still save the work you have done using Ahrefs' webmaster tools.
If you don't cancel your Ahrefs membership within 7 days, then your credit card will be charged the price of a Lite or Standard plan at the end of that period, depending on which one you opted for when you signed up.
Why Should You Sign Up With DoNotPay's Virtual Credit Card?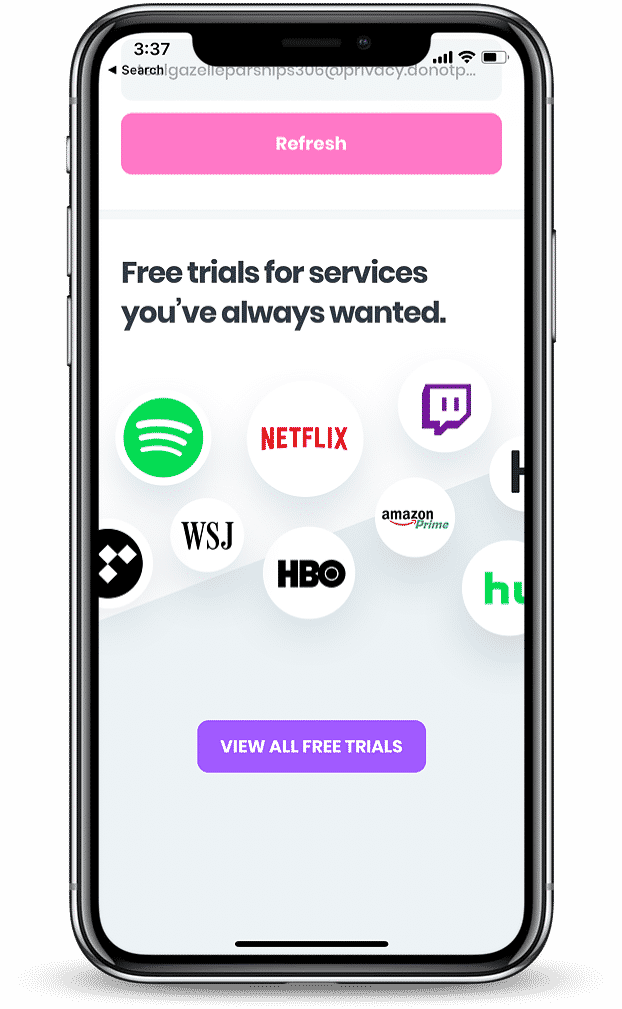 Often, people sign up for free trials of software only to find that it's not exactly what they're looking for. There's no way to tell this without actually trying the software out. So you have to enter your credit card number and get a free trial.
However, many people forget to unsubscribe later and end up getting charged on their credit cards when the free trial ends. If this has happened to you in the past and you are leery of signing up for free trials, DoNotPay has a solution.
Sign up for your free trial of Ahrefs or any other software by using a virtual credit card. It is a credit card number that DoNotPay generates for you, and it's good for one use. There's no actual line of credit attached to it which means that when the free trial ends, you will automatically get unsubscribed instead of being charged.
What Else Can You Do With DoNotPay?

If you're happy with the results of using DoNotPay's virtual credit card, consider all the other ways in which DoNotPay can make your life easier.
It can be useful to get a free trial for software like Ahrefs which can potentially help you grow your business. But signing up for free trials comes with a risk—your credit card might end up getting charged when your free trial ends unless you remember to cancel your subscription.
DoNotPay can help you out in this situation with its virtual credit card generator. It will generate a credit card number that the system will accept as a real credit card. However, given that this number doesn't have a line of credit to back it up, you will end up getting automatically unsubscribed when the trial period ends.