How to Get Adobe Stock Free Trial and Not Be Charged

Adobe Stock is a photo service that offers over 60 million high-quality images that are not only accessible from their website but also Creative Cloud applications such as Photoshop, Illustrator, or InDesign. Users can search, select, and license stock photos without third-party services to import files. Adobe Stock operates on a subscription basis but offers a thirty-day free trial with each subscription tier. But what happens if you sign up for the and decide it's not right for you?
DoNotPay can help with that. We all know how hard it is to remember how to cancel free trials, and since we gave out our credit card information when we signed up, we are on the hook for the subscription price. Right? But with DoNotPay's Get Free Trials and Don't Get Charged product, we can help you get a free trial without ever being charged, even if you forget to cancel.
How to Sign Up for Adobe Stock Free Trial
Signing up for  is pretty easy. You go to their website, and at the top of the page, you will see a box that says Get 10 Free Adobe Stock Images.
Click on the box that says Start Now.
You will be directed to a pop-up that asks you to sign in, either with an existing login, create a new account, or use Google or Facebook to sign in.
You will see in the box that you are getting the following with your free month:
Ten standard assets a month
You can cancel risk-free before your trial ends.
You will be charged $29.99 if you do not cancel
You can roll over up to 120 credits if you decide to renew.
You will be taken to a screen where you must input your credit or debit card information and billing address.
It begins your 30-day trial.
But what happens if you forget to cancel before the 30 day trial period is over?
How Much Does an Adobe Stock Subscription Cost?
Adobe Stock has several subscription packages and credit packs where you can purchase additional access. Depending on the number of assets you need, you can choose the plan that is right for you.
| | |
| --- | --- |
| Plan (per month) | Amount |
| 10 Assets | $29.99 |
| 40 Assets | $79.99 |
| 350 Assets | $169.99 |
| 750 Assets | $199.99 |
Avoid Automatic Renewal With DoNotPay Virtual Credit Card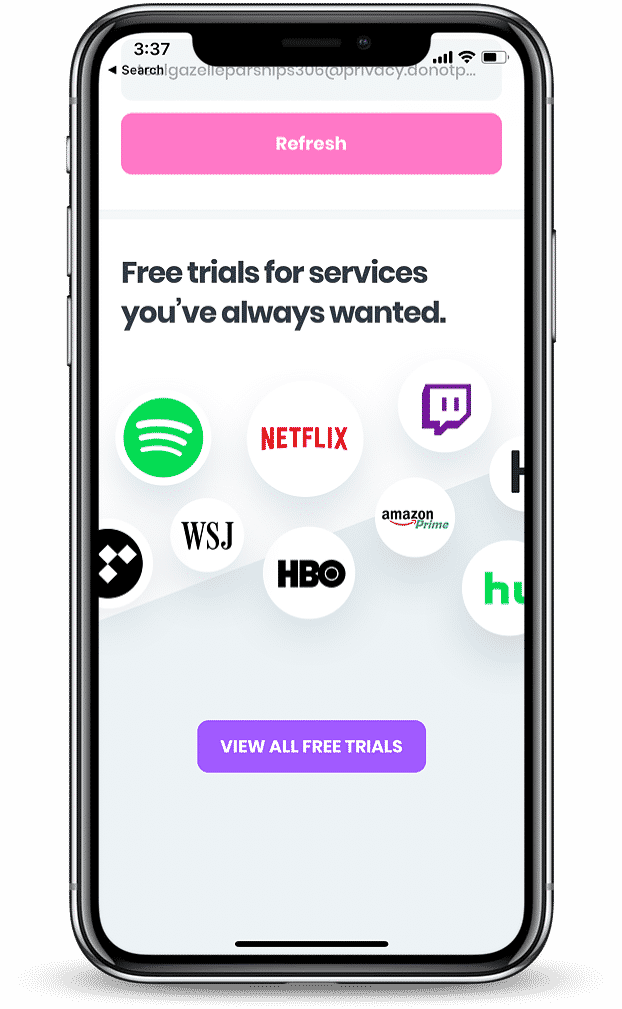 If you forget to cancel your , your credit or debit card will be automatically charged. That's where DoNotPay can help. DoNotPay offers a virtual credit card that you can use to sign up for free trials because they bypass authentication. You never have to worry about being charged because there is no available balance on the card. You can protect your personal credit card information and will not incur any unwanted charges,
Using DoNotPay's virtual credit card is easy.
We generate a random number and credit card info, and you can use it to subscribe to the service of your choice.
When the free trial period is over, you will not be charged since there are no funds available on the card.
Your subscription ends automatically.
How Can I Use DoNotPay's Virtual Credit Card?
Using DoNotPay to avoid being charged for an automatic renewal is fast and easy. It removes the worry of getting charged for a product you don't want to purchase.
Search free trial card on DoNotPay and enter the company you want a free trial for.
We'll automatically generate a virtual credit card that you can use for that merchant. Copy the card details shown on your screen.
Use the card to sign up for your free trial and sit back to relax and enjoy. Your card will be deactivated after it has been used once, so you cannot be charged when your trial ends.
And never fear if you didn't use DoNotPay for your free trial, and you were charged. We can help you get an Adobe refund if you act quickly. DoNotPay can show you how to get an Adobe refund, saving you time and money.
What Else Can DoNotPay Do?

DoNotPay has products to help solve the problems that are costing you time, money, and frustration every day. Here are a few of the things that DoNotPay can help you with:
Disputing traffic tickets
Fighting speeding tickets