How to Start 24 Hour Fitness Free Trial Without Getting Charged

24 Hour Fitness is a privately owned and managed fitness center chain with several locations and a headquarters in Carlsbad, CA. The  is the perfect solution for fitness enthusiasts who enjoy top-notch fitness classes, premium gym amenities, and much more.
In this guide, we'll talk about:
24 Hour Fitness free trial
Ways to avoid getting charged on your own
DoNotPay's virtual credit card
Does 24 Hour Fitness Have a Free Trial?
Yes, 24 Hour Fitness has a free gym pass. 24 Hour Fitness has a free trial that runs for three days without charges. Fortunately, 24 Hour Fitness does not limit any feature, service, or amenities for members signing up for the . 
The 3-day pass begins on your first day of usage at the club. In addition, this 3-day free trial is valid in every 24 Hour Fitness location.
How Can I Get the 24 Hour Fitness Free Trial?
According to the website's terms and conditions, one of the most prevalent qualifications for the free trial is that you need not have been a member or guest of 24 Hour Fitness within the last six months. Once you pass this requirement, go to the membership sign-up website page. 
Enter your name (first and last), email address, mobile phone number, date of birth, and club location. Click Next, and you will be directed to the next page to choose your nearest 24 Hour Fitness club at your convenience. Select the club, then click Next.
You will receive the 3-day free pass sent to your email. 24 Hour Fitness accepts payment via several forms, including credit and debit cards.
Does the 24 Hour Fitness Free Trial Automatically Renew Into a Paid Subscription?
No. Once you sign up for the free pass via the website, 24 Hour Fitness doesn't request your payment details until at the end of the pass. However, as a registered member after the 3-day free gym pass, all payments are auto-renewed, with the option to change this setting. 
Therefore, if you need to avoid being charged automatically, you need to cancel at least 24 hours before the expiry of your subscription. If you get charged since you forgot to cancel at the proper time, you can request a refund.
Unfortunately, doing so is not always easy and may be time-consuming. DoNotPay can help you get a 24-hour Fitness refund if you forget to cancel your subscription on time to auto charges.
How Can I Get Free Trial and Avoid Getting Charged on My Own? 
It is easier to forget to cancel your free trial and end up paying for a subscription service you don't enjoy. Here are a few ways you can cancel a free trial and avoid getting charged:
Cancel payment once you sign up for the free trial.
If you cancel a free trial after signing up, you will still use it for the entire trial period without getting charged. It is one of the best and easiest ways to ensure you don't get billed.

However, remember that not all free trials operate in the same manner. Some services will stop your trial immediately you unsubscribe, e.g., Hulu and Apple Music.

Set a reminder a few days before your trial period ends.
Don't wait until your free trial ends to cancel your subscription. That's because you may take forever to find instructions on how to unsubscribe, and this could push you past your deadline.

Another reason why you shouldn't wait till the last minute is that most services will still charge you if you cancel less than 24 hrs before your free trial period ends.

Go virtual.
If you signed up with a free virtual credit card and forgot to cancel your subscription before your trial period ended, you can never get charged.

DoNotPay's Virtual Credit Card works by generating temporary credit cards that expire when you please. Some advantages of virtual credit cards include:

Reducing costs
Increasing security
Managing cash flow better
More convenient than physical credit cards
Protecting you from fraudulent activities
Helping you manage subscriptions

Speak with Customer Support.
Do not disregard how powerful personal appeal can be. If you thought you canceled your subscription before your free trial ended or your request was unsuccessful, you can contact Customer Support to help you out. Just ensure you remain humble and courteous in your request.
Avoid Automatic Renewal With DoNotPay Virtual Credit Card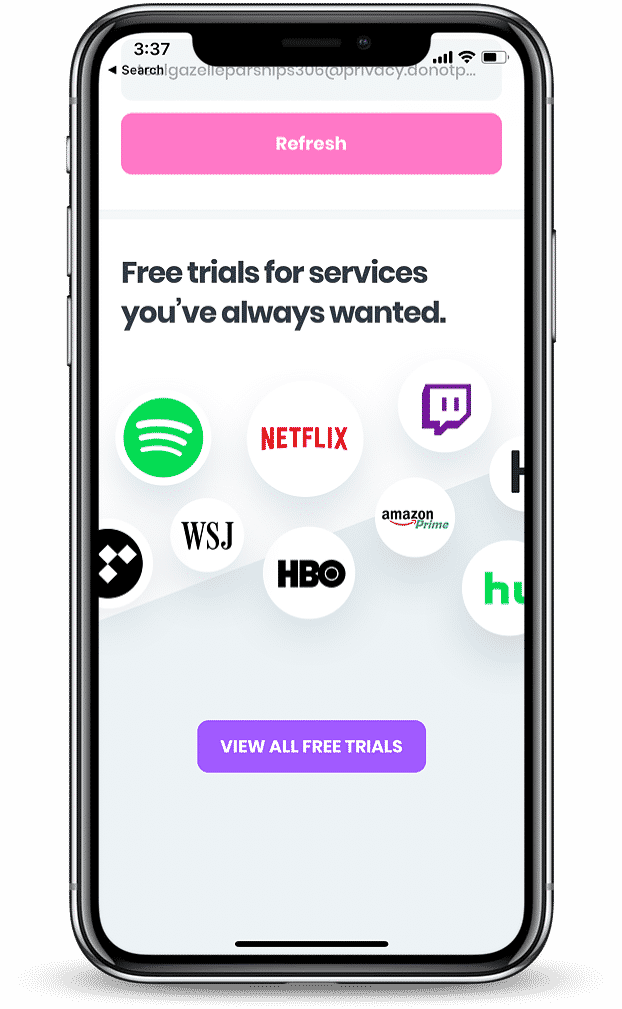 Most people tend to forget to cancel their free trial subscriptions before the trial's expiry, leading to an unwanted charge. Unfortunately, it is a long and tiring process to reach out to the service providers to request an account cancellation and a refund.
DoNotPay can help you cancel your 24 Hour Fitness subscription. To do this, DoNotPay uses free virtual credit cards that work exactly like a normal credit card but are slightly different.
DNP generates a random number and credit card details that you will use to subscribe to 24 Hour Fitness. Once your subscription ends, the service provider won't charge you since the virtual credit card doesn't have any money.
Consequently, since you can't be charged, you will be unsubscribed automatically. Reach out to DoNotPay to generate a free virtual credit card that you will use to sign up for the 24 Hour Fitness trial.
How Much Does a 24 Hour Fitness Cost After the Free Trial?
24 Hour Fitness premium packages differ widely. Below is a depiction of what to expect to pay after the free trial period.
| | |
| --- | --- |
| Fee Type | Pricing |
| Initiation fees | $99.99 |
| Monthly fees | $30 - $35 per month |
| Annual payments (paid in full) | $459.88 |
You may also negotiate prices for individual trainer packages, which vary according to factors, such as the number of workout sessions.
What Are the Popular Alternatives to 24-hour Fitness?
Fitness is a widely chased goal by many individuals. Fortunately, there is a wide range of fitness centers providing an array of fitness services and products. Therefore, if you find 24 Hour Fitness a little pricier or not up to your standards, here are a few alternatives to consider.
Anytime Fitness. It generates 93% of the 24 Hour Fitness' revenue.
Equinox
Gold's Gym
Planet Fitness
LA Fitness
Each competitor has its unique advantages over 24 Hour Fitness, including pricing. Fortunately, it is possible to get a free trial or user discounts on almost all the alternatives.
How Else Can DoNotPay Help?

DoNotPay is an experienced expert in solving a wide range of issues. Regardless of your complaint and the service provider in question, DNP has got you sorted out. Besides helping you sign up for a 24 Hour Fitness free trial, DNP can also assist you to:
If you want to try out 24 Hour Fitness gyms without getting charged, DoNotPay has got your back. Sign up with DNP to access the 24 Hour Fitness free trial risk-free.