How to Get a Zoom Free Trial Without Giving Your Credit Card Information

Zoom is a great tool to have handy nowadays because it lets you have videoconferences. If you've never used it, you may want to see how it works through a . You've got options for using Zoom and DoNotPay has answers to help you make the best decision for you.
Does Zoom Offer a Free Trial?
The basic plan for . There is no trial available for any of Zoom's products except for Zoom Rooms. Here are some things you need to know about Zoom plans.:
All of the Zoom plans build on one another. While each plan offers 1:1 meetings, starting with the Pro plan, you can include more people in meetings.
The paid plans are typically for businesses only.
You can request demos, but this isn't the same as a free trial.
How Can I Get a Free Zoom Trial?
The only plan that offers a free trial is  and it's for businesses only. Here's how to do it:
Go to Zoom's homepage.
Click on "plans and pricing."
You'll see "billed monthly" and "billed annually" in about the middle of the screen. You'll want to click on "Zoom Rooms," which is below and to the right of "billed annually."
On the right side of the screen, you'll see "free" and "start a 30-day free trial." Click on "sign up," which is to the right of the preceding text.
This will lead you to a new page, where you'll have to give information about yourself and your business.
Zoom will contact you to set up your free trial.
No information is given as to whether or not you have to give your credit card. However, it is assumed you will give them this information when they contact you. It is not required for the initial form.
Does the Zoom Free Trial Automatically Renew Into a Paid Subscription?
No information about automatic renewal for Zoom is readily available. However, it has been noted that you have the option to set up for "manual" or "auto" payment. Generally, it's preferred that auto payments are used and, in these cases, invoices are paid the day of renewal. It also appears that all Zoom accounts are initially set up as being renewed automatically and the user, if desired, has to change it to "manual" renewal.
If you decide to cancel, you may be eligible for a refund, only if the account hasn't been used since it was last billed.
Avoid Automatic Renewal With DoNotPay Virtual Credit Card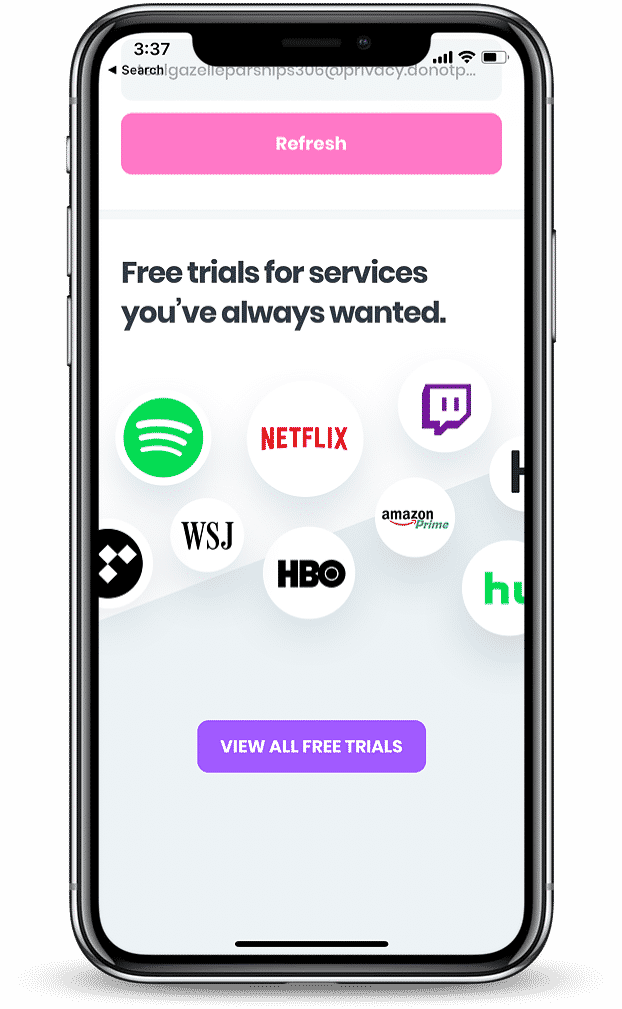 We've all done it: signed up for a free trial, used it a couple times, and then forgot about it. Then, we're stunned to see a charge on our credit card bill! DoNotPay has a way around that problem. Use a virtual credit card. Here's how it works:
DoNotPay's virtual credit card is a randomized number and information used for paying for things, including for subscriptions.
There's no money on the card, so when the subscription tries to auto-renew, it'll be denied. There you go! Automatic unsubscription!
How Much Does Zoom Cost After the Free Trial?
It depends on the plan you selected. Again, only Zoom Rooms has a free trial and it's $499 a year. The other plans don't offer free trials and you start paying from Day 1.
What Will Zoom's Charges Look Like on My Credit Card Statement?
It'll say Zoom or Zoom Rooms and the amount billed will be shown. You can change your billing information in your Zoom account under the "billing" section. This will let you change your credit card or payment method entirely.
What Are the Most Popular Alternatives to Zoom?
Zoom isn't your only option out there. Here are the most popular options.
| | |
| --- | --- |
| BlueJeans Video Conferencing | plans range from $120 to $199 per year |
| Google Meet | starting at $8 per month |
| Microsoft Teams | $5 per user per month |
What Else Can I Do With DoNotPay?
DoNotPay can help you solve almost all of your problems, such as
DoNotPay is great for many different things and is a valuable option for taking care of all those pesky tasks today!