Start Your Zipcar Free Trial With a Virtual Credit Card

Free trials are one of the many joys of the internet, but we don't always remember to cancel them on time. Most companies won't remind you that your free trial is almost up, hoping you'll forget to cancel so they can get more money out of you. However, this can be avoided entirely.
So how do you get a without any risk?
Fortunately, DoNotPay has your back when it comes to free trials. They'll generate a virtual credit card for you to use when you sign up for a free trial with Zipcar, as well as any other service that offers a free trial online. There's no need to worry about getting charged when using a card with no money on it.
Does Zipcar Offer a Free Trial?
No, Zipcar does not currently offer a . Their services are relatively cheap, however, depending on the plan you choose.
The available Zipcar Plans include:
Alumni
Student
Faculty or Staff
Business
How Do I Sign Up for Zipcar?
You can't get a free trial, but signing up for Zipcar is easy if you live in an area where the service is provided. Not all areas are serviced by Zipcar, unfortunately.
To sign up for Zipcar:
Go to Zipcar's website.
Choose between a student plan or a business plan.
You'll then be prompted to either find your University or create a business plan.
Then, you need to create a Zipcar account. Enter the required information and go to the next page.
Enter your payment information and get started!
How Much Does a Zipcar Subscription Cost?
The cost of using Zipcar's service depends on the plan you choose. There is no information provided regarding the cost of a business plan, but there is information on the cost of a University plan.
Plan
Subscription Fees
Alumni

$45/year for subscription
$9.50/hour for driving or $79/day
$0.58 for every mile driven after 180 miles

Student

$35/year for subscription
$9.50/hour driving or $79/day
$0.58 for every mile driven after 180 miles

Faculty and Staff

$35/year for subscription
$9.50/hour driving or $79/day
$0.58 for every mile driven after 180 miles
These rates can change depending on the university you attend as well. If you aren't eligible for a university or business plan, you can choose a monthly or annual plan for a higher fee. The monthly plan is $9 every month, and the annual plan is $90 per year. Each plan includes free gas, secondary insurance, and roadside service.
Avoid Automatic Renewal With the Help of DoNotPay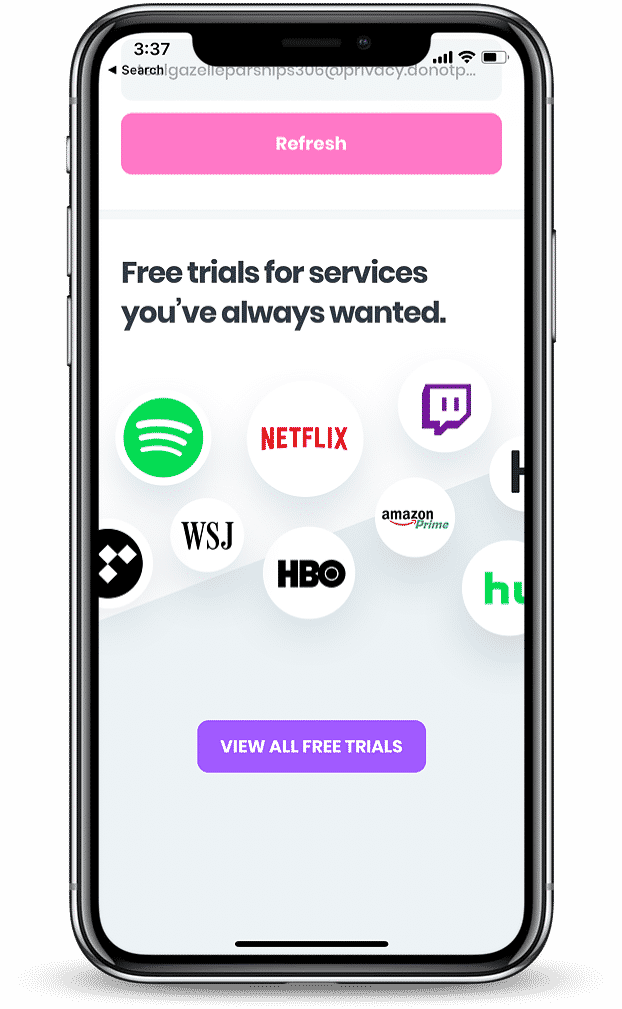 Don't let yourself get charged for a service you didn't want to renew. Almost everyone has forgotten to cancel a free trial before they were charged for the service, but now DoNotPay can help you avoid that entirely! By taking advantage of the Virtual Credit Card product, you'll never have to worry about an auto renewal charge again.
All you have to do is:
Search free trial card on DoNotPay and enter the company you want a free trial for.
We'll automatically generate a virtual credit card that you can use for that merchant. Copy the card details shown on your screen.
Use the card to sign up for your free trial and sit back to relax and enjoy!
What Are the Most Popular Alternatives to Zipcar?
There are some alternatives to Zipcar if they're too costly, or aren't available in your area. Some of these alternatives are cheaper than Zipcar, but others will cost a bit more money.
The alternatives include:
Car2Go: $5 to join, charged by the minute/hour/day; Like Zipcar, Car2Go is a ride-sharing program. There's no need to make a reservation either. You can just rent the car and return it to its home spot.
Enterprise Car Share: Rates depend on the area; Membership only, but no cost for membership. You can book by hour or day. Cars are parked around the city or area you live in, ready for you to hop in and go.
GetAround: Free to join; Rates as low as $5/hour. 24/7 roadside assistance. Manage your rentals through your smartphone.
Turo: Free to join; Pick and choose the car you want to drive. Rates ranging from $39/day to over $100/day depending on the car. Pick up or have your rental delivered to you.
You could also choose to use a regular rental car company. In most cases, you won't have to make a reservation, but the fees are typically higher than they would be with a ride-sharing service.
What Else Can DoNotPay Do?

What do you need help with? You'd be hard-pressed to find a problem DoNotPay can't help you solve. Aside from getting a virtual credit card for your free trial, DoNotPay can help you get revenge on robocalls, get rid of spam mail, and dispute parking tickets.
With so many options to choose from, use DoNotPay as your go-to online lawyer anytime you have a problem.