Enjoy Zeus Network Free Trial Without Getting Charged In 2022

The Zeus Network is a streaming service available through Apple TV, iPhone, Android, Roku, and Fire TV. You may have heard about the network and find yourself wondering whether it would be worth signing up for. Often, when we're not too sure about a service such as Zeus Network, we try to take advantage of any streaming service or  offers before committing to payment. 
Does Zeus Network Offer a Free Trial?
This really seems like the $10 million questions, to be honest. Why do we say that? Since the web is filled with contradictory information about whether you can expect a .
If you consult language on the Apple Store page, for example, you will find the following statement: "Your account will be charged for renewal at least 24-hours prior to the end of the current cycle. Any unused portion of your free trial will be forfeited upon payment."
Such a statement would seem to indicate that customers can expect to receive a free trial when signing up for the Zeus Network. In reality, though, whether such an offer exists is open to question. There is no mention of such an offer on the Zeus Network subscription page.  This is why working with DoNotPay to test for a possible free trial can be very helpful before plunking down your hard-earned cash for a subscription.
How Can I Get a Zeus Network Free Trial?
There's no way to currently guarantee that you will be able to get a Zeus Network free trial. When you sign up, you are expected to provide your credit card information from the beginning, and it seems that you will be charged without delay.
If you're hopeful that the free trial referenced in the Apple Store language actually exists, there's one way to find out without risking payment: you can provide Zeus Network with a credit card number generated by a DoNotPay virtual credit card. 
To sign up for Zeus Network, one way to do so is by navigating to this Zeus Network page. From there, you will:
1. Select your payment plan (yearly or monthly).
2. Create an account by providing a username and password.
3. Enter your credit card information.
4. Click on "Start subscription."
Avoid Automatic Renewal With DoNotPay Virtual Credit Cards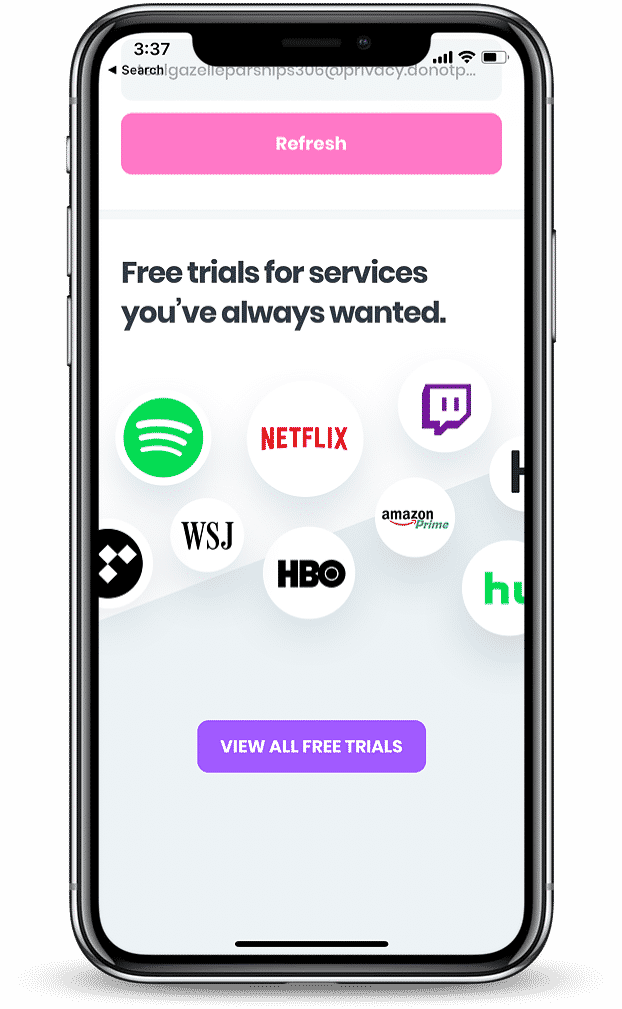 A free DoNotPay virtual credit card gives you a number of advantages when you're signing up for what you hope might be a free trial. The main advantage is that with your randomly generated number, Zeus Network won't be able to charge you when you sign up because there is no money associated with your account.
If there is no free trial offer available from Zeus Network when you sign up, of course, your payment will not be authorized, and you will not be given an account. But if there is an unadvertised free trial available, you will be able to take advantage of the free trial offer using your virtual credit card for the period of the free trial. Zeus Network won't be able to automatically renew your subscription into a paid one. 
How Much Does a Subscription to Zeus Network Cost?
Currently, a subscription to Zeus Network will run you as follows:
1 year: $49.99
1 month: $4.99
Subscriptions are renewed automatically until they are canceled, which means you can run up quite a hefty bill if you aren't careful.
What Are Some Popular Alternatives to Zeus Network?
There are many popular streaming apps with similarities to Zeus Network on the market these days. Some of these include:
Hulu

Live TV access
Hundreds of shows and movies
Hulu originals

YouTube

Allows you to upload your own videos and view those of others
Accounts come in free and paid versions

Greentech Network

HD quality
Downloadable app for renewable energy news
What Else Can DoNotPay Do for You?
Where do we start? For one, let's imagine that you do sign up for Zeus Network and end up deciding to cancel your subscription. It's very possible that you'll find the process of canceling more complicated than you expect, especially given that Zeus Network is available on so many different platforms, and they each have their own process for canceling.
With DoNotPay, however, things are much simpler. You don't need to worry about the details of individual platforms. Rather, you can let DoNotPay do the work of canceling your Zeus Network subscription for you in just a few easy steps. 
That's just the very beginning of all that DoNotPay has to offer. Not only can it help you cancel subscriptions of all sorts, but it can also help you save money by:
Make sure to check out DoNotPay today to see all the many ways in which it can help you navigate bureaucracy and save money and time in your daily endeavors.