How to Get ZBrush Free Trial Without Giving Your Credit Card Info

If you're in the market for sculpting tools, chances are very high that you've come across ZBrush. ZBrush is one of the most advanced 3D sculpting tools today, providing a vast toolset and applications. The award-winning software lets you manipulate digital clay as if you're working with a real thing.
But what works for everyone else might not work for you. So, a can be a great way to explore the software and determine whether it's the right fit for you. With a free trial, you won't have to commit before knowing it's really what you want. You get a chance to try out all the features for a specified amount of time so that you can make an informed decision.
Does ZBrush Offer a Free Trial?
Yes.  provides a fully functional free trial version for people to test the software before they buy it. This offer runs for a whole 30 days, which is enough time to gain first-hand experience on what the tool does, and weigh options before deciding whether you want to commit to regular billing.
The best part is you get to keep the designs you make during the free trial. You can even import, save and export the designs. But you can't use it for commercial reasons. Also, the trial version needs an internet connection every time it's launched.
How Can I Get a ZBrush Free Trial?
If you need ZBrush on a free trial, here is how to get it:
Go to the Pixologic site.
Create an account.
You'll receive an email from Pixology with a link to download the free trial version of ZBrush.
Click the link, enter your email and license key, and download the activation file.
Install the free version on your computer and launch it.
Then load the activation file and click "Activate."
Does the ZBrush Free Trial Automatically Renew Into a Paid Subscription?
No. You will not be enrolled in the paid version automatically after the trial ends. But you'll have to buy a license to unlock the premium features of this sculpting tool.
Can I Sign Up for ZBrush Free Trials Without Getting Charged?
The fact that you won't pay for a  doesn't mean your money is safe. Most service providers will charge you the minute your free trial ends. But you can avoid such situations by using DoNotPay's free virtual credit card. With our virtual credit card, you don't have to worry about being charged automatically after the trial period expires.
How Can You Avoid Automatic Renewal With DoNotPay Virtual Credit Card?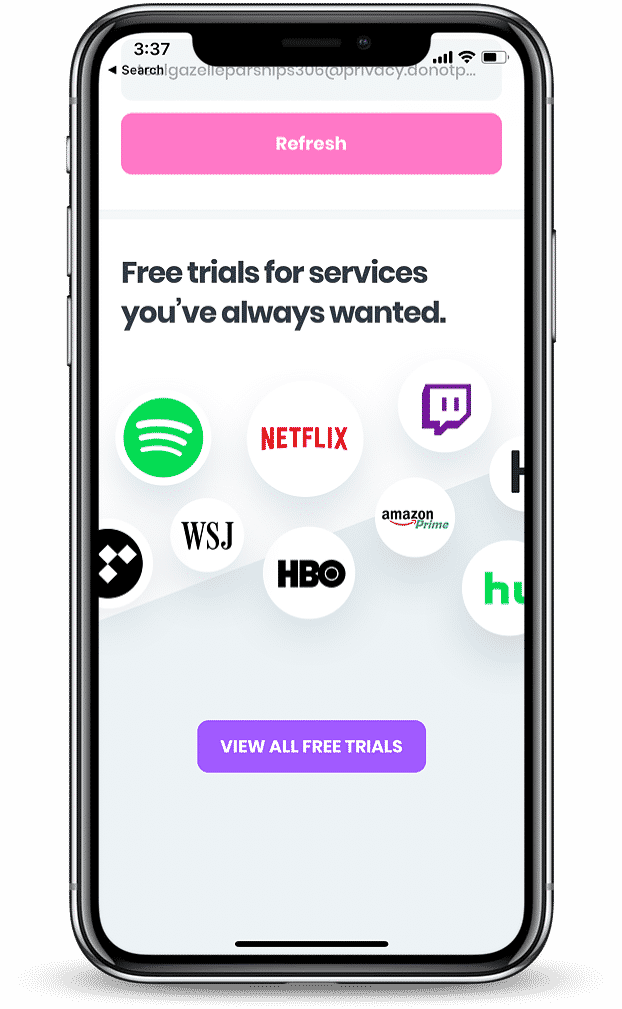 Free offers are exciting. And while the majority of these companies promise you no charges after the trial period, you will be surprised to get charges on your credit card statement. We all know how easy it is to forget to cancel free trial subscription offers.
You can avoid automatic renewal and charges using a DNP Virtual Credit card. Here is how this works:
DNP generates a random number and credit card information.
Use this information to sign up and join a free trial.
The free trial expires.
The service provider tries to charge you but finds no money on the free virtual credit card.
Get unsubscribed automatically – no commitment or losses.
Will I Get Charged if I Forget to Cancel the Free Trial?
One of the benefits of using our free virtual cards is that you don't have to worry about getting charged even if you forget to cancel the free trial. Virtual credit cards are designed so that payments can go through once the free trial ends.
All you need to do now is sign up for the trials you want, enjoy them, and never worry about canceling before it ends again.
However, you should take note of the following:
The trial cards are not reusable
Your card will be deactivated immediately after use
You cannot use the cards for actual purchases
How Much Does ZBrush Cost After the Trial?
ZBrush is available for both individuals and companies:
Single User Monthly Subscription
Description
$39.95

Automatically rebills every month on the same calendar day
Non-refundable, cancel any time
Free upgrades
Single User 6 Month Subscription
Description
$179.95

Automatically rebills every month on the same calendar day
Non-refundable, cancel any time
Free upgrades
Single User Perpetual Subscription
Description
$895

For individuals or small companies
One-time fee (Lifetime License)
Volume User Perpetual License
Description
$895/Month

For small businesses that require five or more licenses
One-time fee (Lifetime License)
Floating  Perpetual License
Description
Price Varies

Enterprise solution for companies that need ten or more licenses
One-time fee (Lifetime License)
Academic Perpetual License
Description
Price Varies

Non-commercial license for students and faculty at accredited schools
One-time fee (Lifetime License)
What Are the Most Popular Alternatives to ZBrush?
The 3D market is flooded with different sculpting software. Whereas ZBrush is considerably the industry standard, you have several other options to choose from. It is always important to factor in various aspects such as complexity, price, and use case, among others, when deciding which sculpting software will work best for you.
Here is an overview of the most popular alternatives to ZBrush:
Alternative
Price
User Level
Notable features
Sculptura
$10
Beginner

Ten brushes
Easy shapes addition
High-quality mesh

Cinema 4D
$94/month
Advanced

Sculpting functions for smoothing and symmetry
3D painting tools
Sculpting in layers
Powerful and realistic rendering capabilities

Blender
Free
Advanced

20 brush types
Many starting shapes
Rigging, animation, and painting tools
What Else Can DoNotPay Do?
Aside from helping you get the ZBrush free trial, DoNotPay can help assist you with several other issues, including the following:
Disputing traffic tickets
Fighting speeding tickets
Sign up to get started with your stress-free ZBrush free trial today!