How to Start a Yousician Free Trial Without a Credit Card

The Yousician platform revolutionizes music learning by giving music lovers a chance to learn and play the music they like. Yousician has an audio recognition technology that makes interactive learning possible.
With 20 million active users, 17 instruments, 1800 songs, and more than 9000 lessons, Yousician is the place to be. Users can learn to play ukulele, bass, guitar, and piano, and audio recognition software will give them feedback.
Yousician also offers a free trial to new users to enjoy premium services before subscribing. After the end of the period, the free trial automatically renews to a paid subscription. DoNotPay allows users to enjoy  and cancel the subscription before the auto-renewal date.
Does Yousician Offer a Free Trial?
Yes, Yousician offers new users a free trial to their premium services when they first sign up. The free trial lasts for seven days, and you are encouraged to cancel before the end of the trial; otherwise, it will renew to a paid subscription.
The premium features offered include access to:
Songs
Exercises
Instructional videos
How Can I Get a Yousician Free Trial?
If you want to sign up for a , there are three ways you can achieve that:
Yousician Free Trial Sign Up Method
Instructions
Credit Card or PayPal

Log in to your account on the Yousician website.
Enter the email address you used to sign up, username, and password.
Select either premium, premium+, Premium+ Family and choose the free trial option.
Confirm and select the start the free trial option.
Select your payment method and add your payment information.
Choose the start free trial option.

iTunes

Open the Yousician app on your iOS device and log in to your account.
Select the start my membership.
Follow the prompts on your screen and start the free trial.

Google Play

Open the Yousician app on your Android device and log in.
Choose my start membership and follow the prompts to start the free trial.
How to Cancel a Yousician Free Trial On Your Own
Successfully canceling a free account is similar to canceling a Yousician membership account, and it will also depend on your method of signing up. If you can't remember the technique used, just visit the Yousician website and check on which provider you used in the payment method section:
Yousician Cancel Method
Instructions
Credit Card or PayPal

Visit the Yousician web page and log in to your account using your username and password.
Go to my subscription section and click on the cancel free trial or membership.
You will be redirected to the feedback section, where you can say why you're canceling.
Click on the red button to cancel.

iTunes

Go to Settings on your iOS device and click on your name
Click on the subscriptions tab.
Select the type of subscription you want to manage.
Click on cancel free trial and confirm cancellation.

Google Play

Open the Yousician app on your Android device.
Tap the profile icon situated in the top right.
Click on payments and subscription options, then select a subscription.
Select the type of subscription option you used when starting the trial.
Cancel the free trial subscription and confirm the cancellation.
If you forgot your password or need more help canceling your free trial, use DoNotPay to cancel Yousician easily.
Avoid Automatic Renewal With the DoNotPay Virtual Credit Card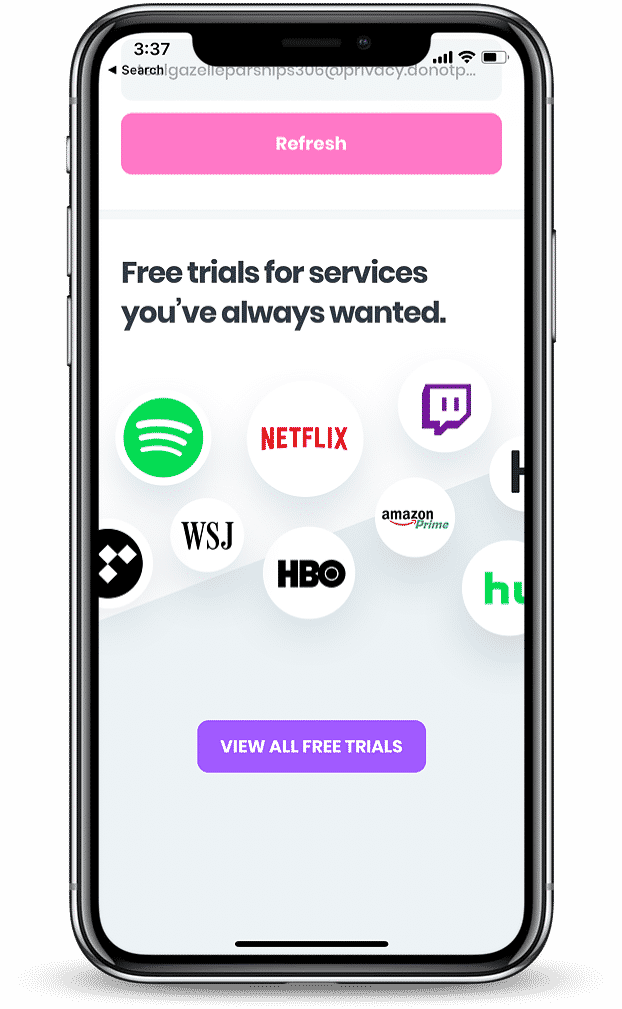 When signing up for a Yousician account, you are required to provide your credit card information so that if you want to continue with the membership, you don't face any interruption. You won't be charged for canceling a free trial. However, if you don't cancel on time, your account will automatically be upgraded to a paid subscription. 
DoNotPay lets you get a Yousician free trial and avoid automatic renewal with a virtual credit card. The free trial card by DoNotPay allows you to avoid paying for unintended bills.
The virtual card uses a credit card generator which helps you create your own unique credit card information, which you can use in place of your actual credit card. The new credit card number is unique and temporary.
The free trial card is not directly linked to your bank account, so the free trials will not automatically renew to paid subscriptions. The other benefit of the card is that they look like real cards to the vendors you have linked to. With that, you can enjoy all their services without any worries.
The card cannot be used to make any unauthorized purchases, since it has a limitation of only one transaction. Rest easy knowing that even if you forget to cancel your free trial, you won't be charged.
What Else Can DoNotPay Do to Help You Save Money?

Fighting corporations, bureaucracies, canceling Yousician free trials and subscriptions are some of the many things DoNotPay can help you with at the click of a button. Other things DoNotPay can help you achieve when signing up include:
 for DoNotPay to try out these fast and easy solutions for yourself.