How to Get a YogaGlo Free Trial Without Providing Your Credit Card Information

Dozens of websites and apps offer yoga videos, which you can stream or download. However, few have an impressive roster of teachers committed to your body and mind well-being.  is among the few online services that provide online yoga and meditation, fitness, and Pilates classes.
 initiated the concept of recording live yoga and meditation classes. The classes at recorded at their studios in Santa Monica, but if you're a member, you can attend them in person. YogaGlo members gave unlimited access to their live classes and an extensive catalog of over 4,000 videos.
Does YogaGlo Offer a Free Trial?
Yes,  During this period, new subscribers get unlimited access to meditation, yoga, and Pilates videos. The free trial offers you an opportunity to experience what YogaGlo is all about. You benefit from the expertise of innovative instructors who are dedicated to your mental and physical health.
How Can I Sign Up for a YogaGlo Free Trial?
You must create a YogaGlo account to start enjoying their free trial. These are the steps to follow:
Head over to the YogaGlo signup page.
Enter your full name and email address, then create a password.
Choose between the annual and monthly subscriptions.
Provide your payment card information.
Click "Join Glo now" to activate your account.
New subscribers should provide their credit card information when signing up for the YogaGlo free trial. This way, it will be easy for the service to start charging them when the free trial period ends.
Does the YogaGlo Free Trial Automatically Renew Into a Paid Subscription?
Yes, when the 7-day free trial period ends, your account will get upgraded. As a result, an amount corresponding to the subscription plan you chose when signing up will be deducted from your bank account. After creating a YogaGlo account and realizing you don't need the service, you can cancel at any time. Nonetheless, you'll still access the website until the free trial period ends.
YogaGlo offers refunds to subscribers only in special circumstances. So, if you forget to cancel your subscription and end up getting upgraded, the chances are that the company won't refund you any money. However, DoNotPay offers you a convenient way to cancel your YogaGlo subscription without worrying about extra charges.
All you need to do is link your email address or bank account to DoNotPay, and they'll show you all your active subscriptions. That way, you can conveniently cancel the subscriptions you no longer need. Here's how to go about it.
Visit the DoNotPay website.
Navigate to the "Find Hidden Money" section.
Type in "YogaGlo" as the subscription you want to cancel.
Click "Submit" to cancel the subscription.
Avoid Automatic YogaGlow Renewal With DoNotPay Virtual Credit Card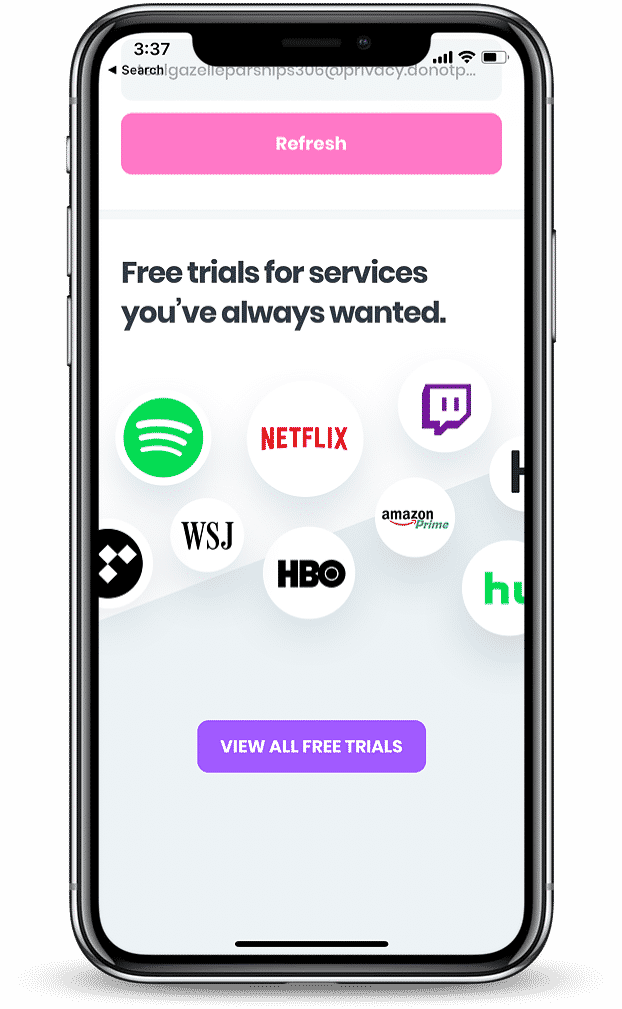 An average American subscribes to 4 services. As such, it's easy to forget about the services you've signed up for and lose money through automatic renewals. DoNotPay wants to save you from the hassle of keeping up with your free trials or canceling services you don't need by providing you with a free virtual credit card.
When you use DoNotPay to seize the YogaGlo free trial, random payment card details and billing information will be generated. Therefore, you won't need to sue your actual credit card details. The DoNotPay virtual credit card doesn't have money and isn't linked to any bank account. When the free trial ends and YogaGlo attempts to charge you for the automatic upgrade, they'll hit a dead end.
How Much Does YogaGlo Cost After the Trial?
When signing up for the YogaGlo free trial, you'll have to choose from two subscription plans.
| | |
| --- | --- |
| Annual subscription | Monthly subscription |
| $195 | $24 |
What Will YogaGlo Charges Look Like on My Statement?
Here's how the charges from YogaGlo might appear on your credit card statement:
| | | |
| --- | --- | --- |
| POS REFUND YOGAGLO  SEATTLE | Misc. Debit YOGAGLO  SEATTLE | ACH ELECTRONIC DEBIT Mar21 05:34a IAT PAYPAL YOGAGLO |
| YogaGlo Seattle | PENDING YOGAGLO  SEATTLE | POS PUR YOGAGLO  SEATTLE |
| ACH HOLD YOGAGLO IAT PAYPAL ON 04/01 | POS REFUND YOGAGLO  SEATTLE | POS PURCH YOGAGLO  SEATTLE |
| CHECKCARD YOGAGLO  SEATTLE | HIFI GLOBAL US SEATTLE 02/29 | Point of Sale Debit L340 DATE 02-28 YOGAGLO CREEK COOP -WILMINGTON |
| YOGAGLO  SEATTLE | POS Debit YOGAGLO  SEATTLE | ACH HOLD YOGAGLO IAT PAYPAL ON 03/16 |
| Visa Check Card YOGAGLO  SEATTLE MC | POS PURCHASE YOGAGLO  SEATTLE | PRE-AUTH YOGAGLO  SEATTLE |
| CHKCARDYOGAGLO  SEATTLE | ASPIRO AB/YOGAGLO (7949) | Visa Check Card YOGAGLO  SEATTLE MC |
| ACH HOLD YOGAGLO IAT PAYPAL ON 03/17 | YOGAGLO | Misc. Debit YOGAGLO  SEATTLE |
What Are the Most Popular Alternatives?
Dozens of websites offer online yoga, meditation, and fitness classes and can be an excellent alternative to YogaGlo. They include:
My Yoga Teacher
Peloton
Chi Universe
Sky Ting Yoga
YogiApproved
What Else Can DoNotPay Help You With?

Besides signing and canceling your , DoNotPay can help with:
Are you faced with an issue that DoNotPay can help you solve?  to get started.