How to Get a YNAB Free Trial With a Virtual Credit Card

You Need a Budget, or YNAB,  is a budgeting app that is based on the envelope method and zero-based budgeting. When you use zero-based budgeting, you take all of the money you have right now and divide it among your bills, debts, and savings until you have no more money to allocate.
YNAB's operating principle is to "give every dollar a task." Each dollar is set aside for a specific reason, such as auto or life insurance, home repair, long-term savings plans, and so on. The idea is to avoid surprise expenses that can lead to debt.
YNAB offers a free trial without the use of a credit card. But other companies require one for their free trials. This, in turn, can lead to costly subscriptions that you may not want to keep when you forget to cancel before the renewal date. DoNotPay eliminates the need to remember to cancel those free trials with the use of a virtual credit card.
How the YNAB Trial Works
YNAB offers a free 34-day trial with no commitment or credit card required. The reason for the odd number of 34 days is that after the month rolls over, you will begin to see the savings of the program. Since the longest month is 31 days, that will give you a few days to review your finances to see if the program is going to work for you.
What steps are required to sign up?
To receive your free trial, you will need to sign up. Here are the steps you will take:
Go to the YNAB website and create an account.
You can choose to manually enter your financial information or let YNAB access the websites you use to pay your monthly bills.
YNAB will help you plan and budget every dollar you earn.
Does YNAB Automatically Renew?
No. YNAB will not automatically renew your trial membership. However, if you choose to keep the service, your membership will renew monthly. Should you choose to continue, you will need to provide your credit card information.
However, other companies work differently. They'll claim they need to collect credit card information for the following reasons:
To limit trials to one free trial per person
To reduce spam registrations
To prevent service abuse
While these may be legitimate reasons for collecting the information, DoNotPay's virtual credit card is safe for both you and the company you are sampling.
What is the cost of YNAB?
You can choose to pay monthly or yearly for YNAB. See the table below.
Plan
Pricing and Details
Monthly Plan

$14.99/month
Billed monthly.
Cancel anytime.

Annual Plan

$98.99/year
One-time payment billed annually.
Cancel anytime.
Avoid the Hassle of Forgetting to Cancel a Free Trial With DoNotPay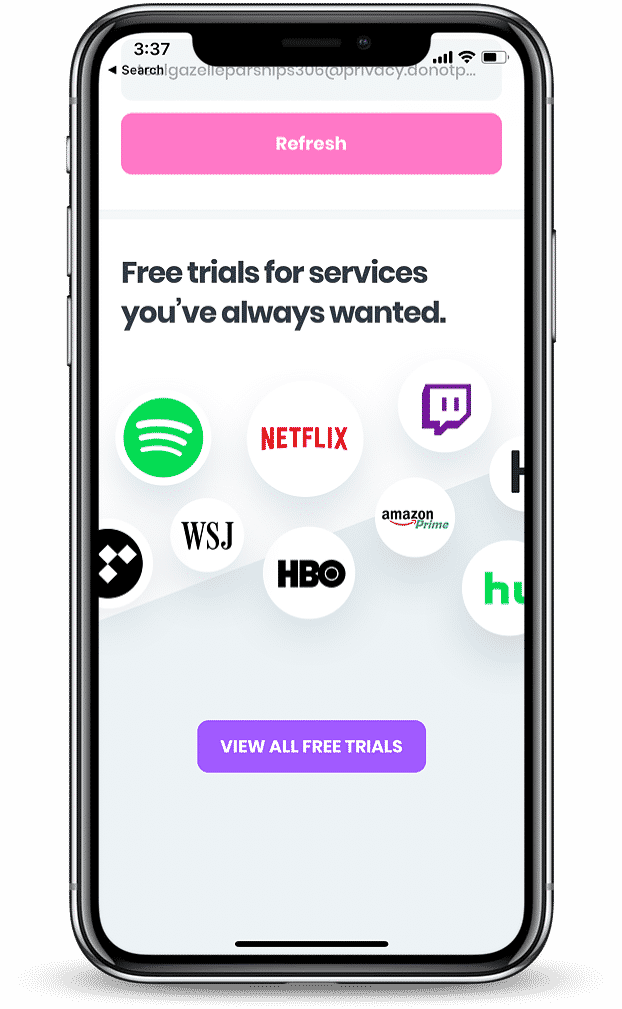 YNAB doesn't require a credit card to access their free trial, but there are plenty of companies that do. Often, life gets busy and we forget that those free trials are going to expire and we are charged with a service that we may not want. However, with the use of a virtual credit card, DoNotPay eliminates the risk of unwanted charges easily and conveniently.
Here is how the virtual credit card works:
Sign up for your free trial on the website.
When credit card information is required, simply go to the DoNotPay website and get a virtual credit card. We will generate a virtual card number, expiration, and CVV code for you to enter to get your free trial.
When the free trial period ends, the subscription will not renew. Because there is no funding attached to the card, the account cannot be billed so the subscription will self-terminate.
How Many Other Ways Can DoNotPay Help?

DoNotPay can help with many everyday tasks including:
Protecting yourself from stalking and harassment
Final Thoughts About YNAB
YNAB is a great way to get your finances on track and help you save money. If you've never been taught how to budget, this can be a great way to help you save for college, a new home, or that fantasy vacation you've been dreaming of.
YNAB is a great alternative to other budgeting services because you can try it truly risk-free, since you don't have to supply your credit card information.
However, if you choose a financial service that does require a credit card for a free trial, use DoNotPay so that you can eliminate the need to remember to cancel. Unfortunately, many companies will gather credit card information during the free trial, counting on the fact that you may forget to cancel. Additionally, those same companies also won't refund your money if you do forget. They will simply not renew after the subscription end date, leaving you stuck paying for a service you won't use.
There's no need to worry about trying to get your money back if you fail to cancel before the trial period finishes with the use of a virtual credit card. You can sit back, relax, and take advantage of your free trial without the hassle of canceling if you use DoNotPay.