How to Start a Yidio Free Trial With a Virtual Credit Card

Yidio is a premier universal search and discovery service that spans across major video streaming sites. Yidio brings you search results from Netflix, Hulu, Showmax, Showtime, Amazon Prime, and more to one place. Yidio's robots monitor hundreds of streaming services to find movies and TV shows you like to watch based on your previous viewing, rating, and rental history.
To get a grasp of the service, you can register for a l to assess whether the service is worth your hard-earned money. However, like most other subscriptions, you need to provide your payment details for the trial period before scoring a free trial.
This could lead you to losing your money if you don't cancel the trial before it ends. Read on to learn how you can use DoNotPay to without risking your credit card info.
Does Yidio Offer a Free Trial?
Yes. To introduce its services to potential customers, Yidio offers a risk-free 7-day  to help its viewers search and discover exciting movies and TV shows to watch. The free trial gives you full access to Yidio's comprehensive search and discovery features. There are two different Yidio subscriptions:
Premium
The premium plan costs $4 per month or $48 per year. It allows you to search for movies and TV shows across all available streaming services. It lets you save time and money by using one platform to manage your movie and TV life.
Premium with FLIXFLING
This plan costs $7.99 per month and offers a 7-day free trial. With the FLIXFLING subscription, you access thousands of excellent movies and shows that you can watch on-demand. This subscription comes ad-free, with real-time reminders and priority assistance to get help fast.
How Can I Get a Yidio Free Trial?
Starting a Yidio free trial doesn't have to be a hassle. Follow these simple steps:
Visit the official Yidio website to begin your free trial.
On the sign-up dashboard, select your preferred Yidio plan and click "Continue."
Fill in your email address, password, name, and credit card number.
Read Yidio's terms of use and privacy policy to understand the service's terms of operation before accepting them
Tick the "I'm not a robot" Captcha and click on "Start Now."
Congratulations, you have successfully registered for a Yidio free trial.
You may cancel your free trial within the 7-day trial period to avoid being charged for the subscription.
Does the Yidio Free Trial Automatically Renew Into a Paid Subscription?
Yes. After your free trial expires, Yidio will automatically continue your membership into a paid subscription and charge you annually until you cancel your subscription.
To prevent your trial from rolling into a paid subscription, consider canceling it more than 24 hours before it expires. Yidio offers no refunds or credits for partial months of service.
Skip Automatic Renewal With DoNotPay Virtual Credit Card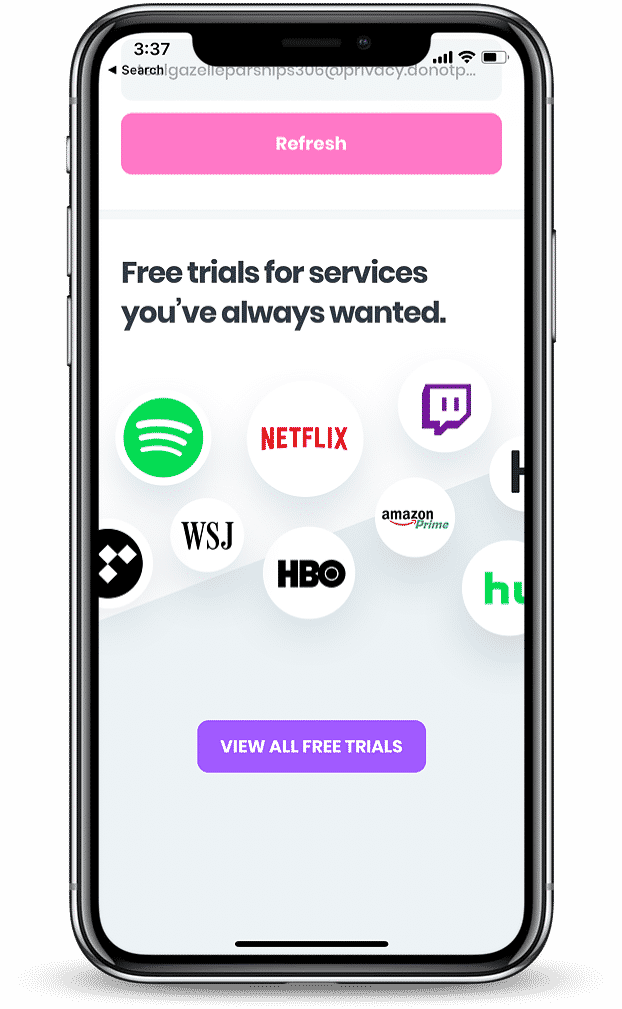 Losing track of your subscriptions is bound to happen when you have a zillion other things to take care of. This can result in a financial crisis, getting charged for services you no longer need. 
Fortunately, there is a better way to sign up for free trials without risking your credit card information - the DoNotPay Virtual Credit Card. Our free trial card is designed to help you avoid automatic subscription renewal, so you don't have to worry about getting charged once your trial expires.
It's not linked to your bank account or any other funding source. So, how does this virtual credit card protect your wallet?
DoNotPay generates a random credit number and card info you can use to subscribe to any service
When the free trial expires, the service won't charge you because there's no money on that card so you will get unsubscribed automatically.
Visit DoNotPay on your web browser to learn how you can protect your hard-earned cash from subscriptions you don't need anymore.
How Much Does Yidio Cost?
Yidio offers two different plans - premium and premium with FLIXFLING. You gain access to thousands of great movies and shows that you can watch on-demand with the latter. It also comes with real-time reminders and priority assistance to get help fast.
| | |
| --- | --- |
| Plan | Cost |
| Premium | $7/ month |
| Premium with FIXFLING | $4/ month or $48/ year |
What Else Can DoNotPay Do?
Whether you are struggling to unsubscribe from a service or want to sue anyone in a small claims court, DoNotPay will go the extra mile to help you.
DoNotPay offers a convenient app with exciting features and resources to help you solve any administrative, legal and financial problems you might be facing. Easily access DoNotPay from your web browser and get assistance with:
Disputing traffic tickets
Fighting speeding tickets
DoNotPay is here to help make your life a lot easier. Try it today.