How to Get a Xactimate Free Trial With a Virtual Credit Card

Xactimate is an easy-to-use and convenient method that makes estimates of the costs of reconstruction or repairs. They specialize in estimates for commercial structures and residential buildings, allowing companies to keep track of their business needs more easily. Therefore,  are ideal for companies who may be about to undertake renovations or insurance company employees who must estimate the value of repairs.
The downside of Xactimate is its price. How do you know that it will work? You try it out and hope that you can get away from the free trial if it doesn't meet your needs. However, in the business world, this may not be something you will remember. How do you handle that?
DoNotPay has the answer to that question and all others that you may be wondering about Xactimate.
Does Xactimate Offer a Free Trial?
You have the chance to try out the  service for 30 days to help you decide if it's the right service for you. This trial period is simple to use and will help to give you an idea whether this service is one you want to use or not. With this free trial, you'll receive perks such as:
Create Detailed and Accurate Estimates
Easily Manage your Projects
Have a Simpler Estimation Process
Have Access to Reliable Information for Pricing
Never Let Language Barriers Stop your Estimation Process
Save Time and Money
Easily Sketch Using Aerial Images
How Can I Get a Xactimate Free Trial?
Getting a free trial from Xactimate is easy. All you have to do is visit the Xactimate website and download the client using the Xactimate free trial download. Once downloaded, it's as simple as creating an account and opting for the 30-day free trial option.
As with most other free trials, you must leave card information when you sign up for a free trial with Xactimate. This is so that, if you don't cancel before the end of the 30 days, Xactimate can charge you to keep your subscription running.
Does the Xactimate Free Trial Automatically Renew into a Paid Subscription?
At the end of your , you can expect your card to be automatically charged to cover the next subscription period. The prices may differ depending on how long of a subscription time you chose.
One month for $255
Three months for $662
Six months for $1,121
Twelve months for $1,685
If you were to want to cancel your subscription and not be charged, it's best to cancel the free trial a couple of days in advance. This will help to prevent any charges from coming out of your account.
Avoid Automatic Renewal with a DoNotPay Virtual Credit Card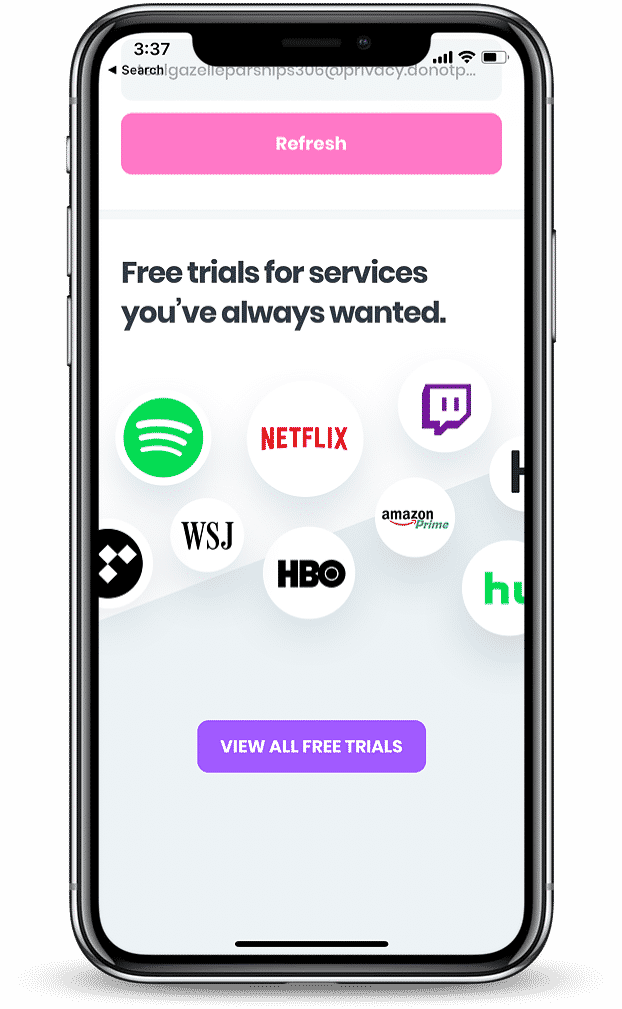 To help you to prevent unwanted charges, DoNotPay offers a virtual credit card. This is an amazing service when you consider how many people get charges on their cards due to subscriptions they had forgotten.
The way the free virtual credit card works is simple. DoNotPay will give you a randomly generated card number with information that can be used to start the free trial. Once that free trial period has run its course, you will find that the company cannot charge you since a virtual credit card has no money on it to be taken. This means after the free trial, your subscription will end until you decide to opt to pay.
What are the Most Popular Alternatives to Xactimate?
If the Xactimate free trial does not offer exactly what you are looking for, it's important to remember that there are other companies out there with the same services. Potentially looking at one of them could help you find a better fit for you.
Market Sharp
Market Sharp helps contractors and home improvement companies to stay on top of their daily business needs.
Option to Book a Live Demo
Three Different Subscription Options to Fit All Needs
Type of Subscription:
Price:
Details:
Standard
$99.00 a Month
Payment Information

Standard CRM Use

Marketing

Pro
$199.00 a Month
Standard CRM Use

Marketing

Advanced Production

Ultimate
$299.00 a Month
Advanced CRM Use

Advanced Production

Full Marketing Automation
DataForma
DataForma is a software used for service work management.
Can Book a Free 15-Demo
$69.99 a Month
100 GB of Storage Space
Access to Major Accounting Programs
Training Resources
Keep Your Data Safe
Customer Support 24/7
Jonas Enterprise Service & Construction Software
Option to Book a Demo
$8,000.00 One-Time Payment
Accounting
Payroll
Contract Help
Service Management
Client Portal
Logs for Daily Use
Scheduling
Inventory and Equipment Management
Reports
Now that you know everything about Xactimate and it's competitors, let's talk about DoNotPay.
What Else Can DoNotPay Do?

DoNotPay can help you with much more than just virtual credit cards for . They specialize in many areas of expertise, meaning that there is something that they can do for everyone.
What do you need DoNotPay to help you with, today? We are available to help with many services, across a large variety of companies and entities. All you must do is let us know what you need. Therefore, when you are ready, simply visit DoNotPay online.