How to Get a WordPress Hosting Free Trial With a Virtual Credit Card

If you're looking to set up a blog, WordPress has few true peers. But if you're considering WordPress as a hosting platform for your website, that's a different story. Other hosting service providers out there rival and even surpass WordPress in many areas.
Before spending the time and money on your new website, you should explore WordPress and other hosting providers with a free trial. Don't just base your decision on online reviews or what your friends are using. Do your own due diligence. And while setting up free trials with multiple providers can be risky and time-consuming, there's a way to do so without unintentional charges on your credit card.
What to Look For in a Hosting Service
If you're considering Wordpress hosting, you should consider the following factors of a quality hosting service:
Hosting environment
Security
Speed
Level of technical support provided
Scalability
Terms of service
Price
These core considerations can help you determine whether WordPress is the best hosting service provider for you.
Hosting Environment
The first thing to understand is the different hosting environments available and what each provider offers. You can choose from:
Shared hosting
Virtual private server (VPS) hosting
Dedicated server hosting
Managed dedicated hosting
Cloud hosting
Shared hosting is the least expensive, though, because you share server space with other websites, their performance could negatively affect yours. VPS hosting is slightly more expensive as you have your own dedicated portion of the server and are less vulnerable to performance and security issues stemming from other sites.
A dedicated server is an option if you have the know-how to handle the hardware yourself. But many people and businesses opt for managed dedicated server hosting where you lease out a server to manage your site, though the server is secured and maintained by the lessor. You can also opt for cloud-based hosting, where your site will live on a giant public cloud supported by hundreds, if not thousands, of individual servers.
Security
No matter which platform you choose, the provider must offer best-in-class security. With ransomware attacks occurring every minute these days, you need a hosting provider with a strong reputation for security to keep your data and that of your site's viewers and customers secure. And you must use those tools yourself or risk financial and legal liability.
Speed
It isn't easy to come up with something truly unique these days. And if you're building a website, blog, or store in a space with a lot of competition, speed matters. A viewer or prospective customer waiting more than a few seconds for your site to load will quickly move on to the next one. For this reason, it's best to choose a hosting option where you're not sharing server resources with others so that their performance does not impede your loading speed.
Level of Technical Support Provided
If you run into difficulty administering your site, you'll need support immediately, not three days later. Look at each support package offered by each potential hosting provider and online reviews from current customers. Choose the provider with a comprehensive support offering and the best reputation for delivering fast and effective customer support.
Scalability
Some website operators have found that as their traffic grows and they plan to add more features, they're hampered by their hosting provider's limited resources. It can be a real hassle to have to switch providers because your current one lacks the resources for you to be able to scale effectively. Make sure you choose the hosting provider and package that can support your current and future needs.
Terms of Service
Before submitting your payment information, make sure you understand what you're paying for.
What are the terms of the contract?
How long are you locked in for?
What support are you being provided?
What happens if there is a data breach?
How frequently do you backup customer data?
What's your security policy?
Knowing the answers to these questions and more is critical to helping you make the right decision.
Price
Your out-of-pocket costs are also critical, but should not be your only consideration. Still, as you start to explore potential providers, you'll see that hosting service prices vary between providers and plans. Don't sacrifice the features you need for the price, but don't spend excessively on features you don't need immediately either.
What WordPress Hosting Offers
WordPress offers free and paid hosting on WordPress.com. However, the free hosting offered provides fairly limited functionality, which you may find yourself outgrowing fairly quickly. To support the costs of free sites, WordPress will serve ads on your site, which may interfere with your vision for it. You also won't be able to use a custom domain name, so you'll probably want to opt for a paid plan.
However, you can host your site on WordPress with one of four paid plans that range from $48 to $540 annually. The least expensive option, the Personal, will be ad-free, allow you to use a custom domain name, collect payments, and provide unlimited email support. Other options include:
WordPress Hosting Option
Cost Per Month
Benefits
Premium
$ 8

No ads
Payment collection
Live chat and email support
Premium theme options
Video uploading and Google Analytics  capability

Business
$25
All of the above plus

Access to WP Plugins
Live chat support
SFTP capability
Advanced SEO tools
Automated backups

eCommerce
$45
All of the above plus:

Ability to accept payment from multiple countries
Shipping integrations
Online store premium design options
How to Get a WordPress Hosting Free Trial
There is no WordPress hosting free trial option. You can use the free WordPress option, but it provides extremely limited functionality, which won't likely give you a full picture of everything WordPress offers. But it can give you a sense of how easy managing a site may be on the back-end, which can help influence your decision.
While WordPress doesn't offer a free trial, you can get a free trial from one of several self-hosting providers that support WordPress. By choosing a free trial for a service like:
A2Hosting
Cloudways
Hostgator
Hostinger
InMotion Hosting
LiquidWeb
You can evaluate and find the right provider for you and see if there may be a better option than WordPress for your site.
Why Using DoNotPay Is a Better Way to Get a Hosting Free Trial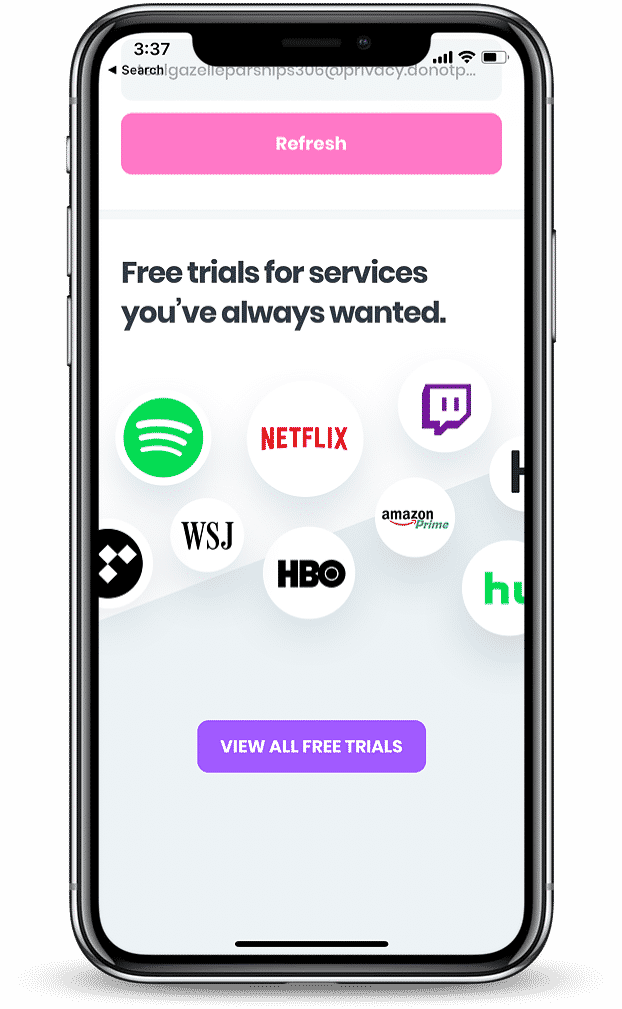 The challenge of trying out multiple services is that each one has a different trial period. And you need to provide your credit card for each one. If you're not meticulously keeping track of when each trial period starts and ends, you could be charged for services you don't ultimately use.
However, you can avoid unnecessary charges when using DoNotPay's virtual credit card. We produce a random number that you can use instead of entering your credit card number. So, if you forget to cancel your trial before it ends, the company will try to charge that number rather than your credit card.
DoNotPay's virtual credit card protects your personal information and keeps you from getting unwanted charges.
What Else Can I Do With DoNotPay?

Not only can DoNotPay help you avoid unwanted charges on your card from free trials, but we can also help you manage a lot of time-consuming and complicated tasks online. Whether you need to schedule a DMV appointment, contest a parking ticket, or handle bills you're having trouble paying, DoNotPay is a great resource for those who need an easy way to help them manage their day-to-day.
But if you're looking to build a website, DoNotPay should be part of your plan. We can help you explore and choose the right hosting service provider without unnecessary charges.