How to Get a Wolfram Alpha Pro Free Trial With a Virtual Credit Card

Wolfram Alpha Pro offers a unique engine that allows users to compute answers and provide expert-level knowledge as necessary in educational and professional settings, using algorithms to automatically answer questions, perform analysis, and generate reports. While the program offers several basic functions for free, receiving all the tools available through the software requires a subscription. Subscriptions begin at $4.75 a month for students and educators. For others wishing to obtain all the features of Wolfram Alpha Pro, expect to pay $5.49 a month, and additional for the premium service with priority customer support.
The charges associated with a subscription can add up, particularly if you're not using the service. Fortunately, DoNotPay offers a way to avoid being charged for unwanted subscriptions.
Are Free Trials of Wolfram Alpha Pro Available?
of their Pro product in the past, and they continue to offer basic features of their product for free. To sign up for these free services, you must register for an account and create a Wolfram ID by entering your name and email, creating a password, and agreeing to the company's terms of service. Once you have created an account, you can opt to upgrade to the Pro or Premium Pro services, for which you will be billed annually, semi-annually, or by the month using the credit card provided.
What if I Want to Cancel an Alpha Pro Subscription Before It Renews?
If you are a current subscriber to Alpha Pro, Alpha Pro for Students, or Alpha Pro for Educators and you wish to cancel the subscription, you can do so in several different ways, including:
Over the phone, by calling the company's customer service team.
On the company's website, from your account page.
Through PayPal, if you are paying for the subscription there.
By emailing the company's customer service department or contacting them through the website's chat feature.
On your Android device, by managing your subscriptions in the Google Play Store.
On your iOS device, by managing your subscription in your phone's settings.
Simply and easily through DoNotPay
How DoNotPay Can Help You Avoid Paying for an Alpha Pro Subscription Through a Virtual Card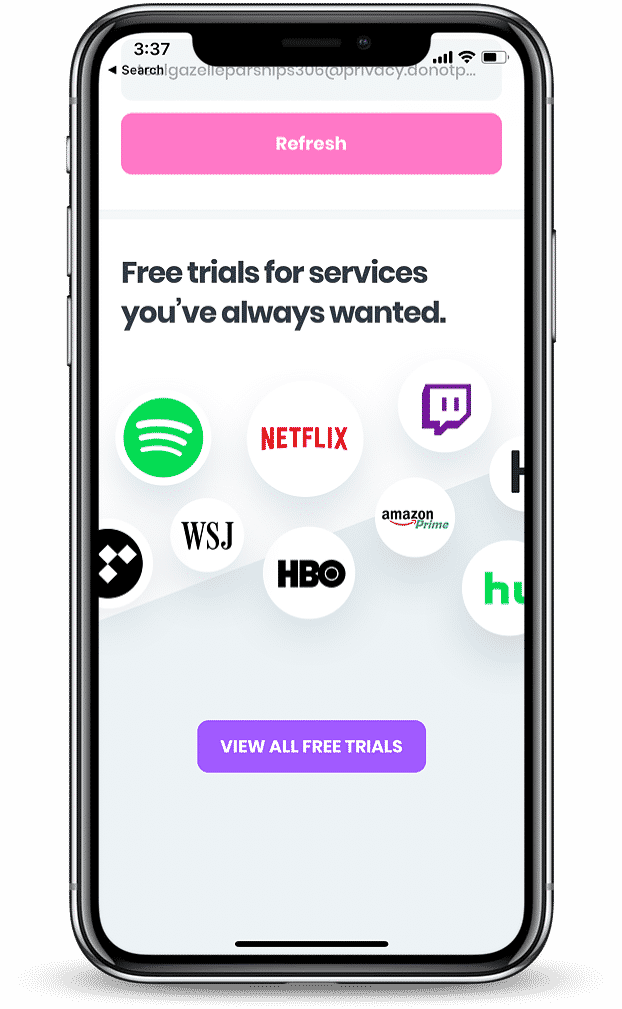 The problem many of us run into when canceling subscriptions is remembering when it needs to be done to avoid being charged for another billing cycle. DoNotPay can assist you in canceling your subscription by giving you a free virtual card. You simply replace your credit card information on the account with virtual card information. The virtual card will pass authentication but will not process payments, meaning you will not be charged for an additional billing cycle, even if you forget to cancel the subscription.
It should be noted, however, that the card should only be used for a Wolfram free trial offer or to stop a recurring monthly bill, not to sign up for the service, as the card can only be used once and is not available for purchases.
Get Your Virtual Card Through DoNotPay
To obtain a virtual card that you can use for free trials or avoid automatic renewals of subscriptions, simply follow these three steps:
Search free trial card on DoNotPay and enter the company you want a free trial for.
We'll automatically generate a virtual credit card that you can use for that merchant. Copy the card details shown on your screen.
Use the card to sign up for your free trial and sit back to relax and enjoy!
How Can I Get a Free Trial and Avoid Getting Charged on My Own? 
It is easier to forget to cancel your free trial and end up paying for a subscription service you don't enjoy. Here are a few ways you can cancel a free trial and avoid getting charged:
Cancel payment once you sign up for the free trial.
If you cancel a free trial after signing up, you will still use it for the entire trial period without getting charged. It is one of the best and easiest ways to ensure you don't get billed.

However, remember that not all free trials operate in the same manner. Some services will stop your trial immediately you unsubscribe, e.g., Hulu and Apple Music.

Set a reminder a few days before your trial period ends.
Don't wait until your free trial ends to cancel your subscription. That's because you may take forever to find instructions on how to unsubscribe, and this could push you past your deadline.

Another reason why you shouldn't wait till the last minute is that most services will still charge you if you cancel less than 24 hrs before your free trial period ends.

Go virtual.
If you signed up with a free virtual credit card and forgot to cancel your subscription before your trial period ended, you can never get charged.

DoNotPay's Virtual Credit Card works by generating temporary credit cards that expire when you please. Some advantages of virtual credit cards include:

Reducing costs
Increasing security
Managing cash flow better
More convenient than physical credit cards
Protecting you from fraudulent activities
Helping you manage subscriptions

Speak with Customer Support.
Do not disregard how powerful personal appeal can be. If you thought you canceled your subscription before your free trial ended or your request was unsuccessful, you can contact Customer Support to help you out. Just ensure you remain humble and courteous in your request.
Another Way DoNotPay Can Help You Cancel Your Wolfram Alpha Subscription
If you don't wish to obtain a virtual trial card, you can also cancel your Wolfram Alpha subscription through DoNotPay's Find Hidden Money product by following these steps:
Log in to your DoNotPay account
Select Find Hidden Money
Type Wolfram Alpha in the search bar
We'll take care of the entire process, and once it is finished, we will send you a confirmation email to let you know that the subscription has been canceled.
What Else Can You Do Through DoNotPay?

There are dozens of routine tasks throughout a person's day that take too much time, too much effort, or result in the needless spending of money that can be put to better use. DoNotPay aims to help make those tasks quicker, easier, and more affordable by providing powerful tools and simple instructions that can be followed with minimal effort. In addition to helping you obtain free trials without being charged, to protect your credit card information by avoiding using it on websites where it can be compromised, or to avoid paying for unwanted subscription renewals, some of our other products can help with:
Fighting speeding tickets
Disputing traffic tickets
Want to enjoy the benefits of free trials without worrying about unwanted charges? Contact DoNotPay.