Sign Up for WileyPlus Free Trial With a Virtual Credit Card

Obtaining the proper education should be more than absorbing the lectures in class or literature from the library.
However, with technology taking center stage in numerous aspects, including education, it's logical to have a digital education platform like WileyPLUS.
This platform provides a digital platform and resources for productive teaching and educating. By boosting the users' confidence and giving clear guidelines, the platform affordably provides the ultimate educational experience for all parties.
Does WileyPLUS Offer a Free Trial?
Yes, they do. The lasts for 14 days, after which you can choose to continue with the paid subscription. The trial run is only available to new users.
Under the free trial, you get access to your full course for the entire period.
You cannot pause or extend once you begin the free trial period. won't send an official notification when your trial run has expired, you can be able to see how many days are left from your page.
How to Access Your WileyPLUS Free Trial?

To access your WileyPLUS free trial, you must start a new registration as follows:
Visit WileyPLUS and click Login
Once in, click on New WileyPLUS Platform
From the WileyPLUS Login screen, click 'Create Account' to create an account
Complete the form and click Submit
Once you submit the above form, you will receive an email from noreply@wileyplus.com titled Welcome to WileyPLUS. Follow the 'click here' link to set a password and log in.
Locate and select your course and head on to check out where you choose the 14-day free trial to continue with your course
Does the WileyPLUS Free Trial Automatically Renew Into a Paid Subscription?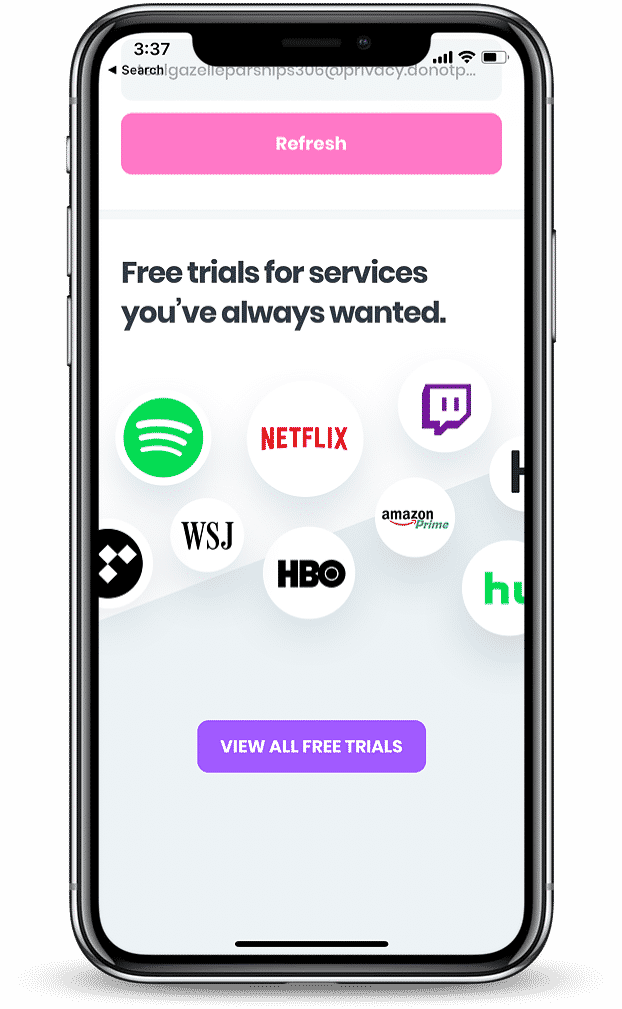 Yeah, it does. Once the WileyPLUS free trial expires and you fail to terminate the service, it will renew into a paid subscription resulting in unwanted charges.
When you sign up and log into your free trial account, there's a ribbon on top of the page that shows how far you are into the trial period. It's a great way to stay on top of things and prevent a renewal. So, to avoid the auto-renewal into a paid subscription, ensure you cancel the service a day before it expires.
Since WileyPLUS won't send you an official reminder of the impending free trial expiration, it's up to you to terminate on time.
Avoid Automatic Renewal With DoNotPay Virtual Credit Card
In most cases, when signing up for free trials, there's a chance you'll be required to provide your credit card info.
WileyPLUS free trial is no different.
It's common to forget to cancel the free trial, which might automatically roll over into a paid subscription, and the pesky charges start rolling in.
You might also decide to terminate your paid subscription midway billing cycle but put it off until the end of the cycle to terminate it. Yet, you still forget, and the charges keep rolling in.
That's where the awesomeness of DoNotPay's free virtual credit card flies in to save you from those unwanted subscription renewal costs. Most importantly, the card guards you against fraudulent purchases and data breaches.
DoNotPay has a virtual credit code generator that creates a unique credit card number you can use in all your online transactions, such as paying for subscriptions.
Better still, the virtual credit card can be charged only once. Once the billing cycle expires, the subscription service won't renew the service leading to automatic termination. That's how you see off those unwanted costs with DoNotPay.
How Much Does WileyPLUS Cost After the Trial?
When your 14-day WileyPLUS free trial expires, you can choose to terminate using the education resource, or you can continue with the paid subscription.
If you choose the paid subscription, you can choose between the following subscription packages and features:
Subscription
Cost
Features
Single Semester
$69 - $99
6-month courseware with access to auto-graded practice questions, study tools, and mobile-ready eTextbook

Selected titles

Multiple Semesters
$129.00

$149

$169.00

12-month access to WileyPLUS with features including auto-graded practice questions, study tools, and mobile-ready eTextbook

12-month access to WileyPLUS plus a permanent copy of the eTextbook

12-month access to WileyPLUS in addition to print book rental (130 days)

12-month access to WileyPLUS plus loose-leaf version of the textbook
What Are the Most Popular Alternatives to WileyPLUS?
Perhaps you feel the need to try out other alternatives when you are through with your WileyPLUS free trial.
If so, no worries. Here are some alternatives you can consider:
1. Pearson. After the 14-day trial is over, you can subscribe to either:
Single tier at $9.99/ month with a 4-month minimum term for $39.96
Multi-tier at $14.99 with a 4-month minimum term for $59.96
2. Thinkific with a 30-day free trial, then subscribe to any of the following tiers:
Basic – monthly: $49 and annually: $39/ month
Pro – monthly: $99 and annually: $79/ month
Premier – monthly: $499 and annually: $399/month
3. Tovuti has a single subscription service after the free trial period is over. The pricing and features depend on the number of users, with the lowest (0-50 users) starting from $700/ month to $7,000/ year.
4. Synap has a 14-day free trial run. You can subscribe to any of their three tiers:
Standard – monthly: $420 and annually: $1,400/ month
Pro – monthly: $360 and annually: $1,190/ month
Enterprise: contact sales rep
What Else Can DoNotPay Do?
With all the difficulties in life, you might lack the time, resources or know-how to solve some pressing issues.
We understand this fact, and that's why we designed a super versatile platform to assist you. Once you are successful with your WileyPLUS free trial, navigate your web browser and solve numerous challenges, including:
Contesting your traffic tickets
Challenging your speeding tickets