Get WhiteSmoke Free Trial Without Using Credit Card Easily

It's hard to decide whether to purchase a service without testing it first. This is especially true for a service like WhiteSmoke that has competing services. WhiteSmoke is an online grammar tool that detects grammar, spelling, punctuation, and style issues in your writing. But does it give you the quality you need for the price? Learn how to get a  to help answer these questions.
Does WhiteSmoke Offer a Free Trial?
WhiteSmoke does not advertise a . It does, however, offer a seven-day money back guarantee. While this is not technically a free trial, it will give you a chance to cancel your subscription or product if you aren't satisfied with the quality of the service in the first seven days.
How Can I Get a WhiteSmoke Free Trial?
The only way to trial the WhiteSmoke service is to purchase either the Desktop Premium product or the WhiteSmoke Web service and cancel or request a return within the first seven days for your money back.
Select your preferred product – either Desktop Premium or WhiteSmoke Web.
For the Desktop Premium product:
Enter an email address
Choose your billing cadence and select your product package (Web, Premium, or Business)
Enter payment information
Download and install the desktop application
For the Web service:
Choose whether to pay with PayPal or a credit card
Select your preferred billing cadence and package (Web, Premium, or Business)
Enter payment information
Follow instructions for accessing the service
Since this is not an explicit free trial, you will need to be sure to contact WhiteSmoke by emailing payments@whitesmoke.com to cancel within the first seven days if you do not want to continue the service.
While not advertised, you can also try contacting WhiteSmoke directly to request a free trial by:
Navigating to the Contact Us page on the WhiteSmoke website
Selecting "Please click here to contact our support and billing teams"
Submitting a ticket to the "Trial" department including your First and Last Name, email address, and a message with the Subject Line "Free Trial Request" and a body message stating "I would like a free trial of the WhiteSmoke [insert preferred product] prior to purchasing. Please provide the next steps for securing a free trial."
Because WhiteSmoke does not proactively offer a free trial, there is no guarantee that submitting a request will result in a free trial offer.
Does the WhiteSmoke Free Trial Automatically Renew Into a Paid Subscription?
WhiteSmoke does not offer a traditional free trial. If you choose to purchase the product or service to test it during the seven-day money back guaranteed window, it will become a paid subscription if you fail to cancel the service during the first seven days. To cancel, you must send an email to payments@whitesmoke.com with notice of your intent to terminate.
Once the term of your initial purchase expires, WhiteSmoke will auto-renew unless you have purchased the six-year license which will automatically terminate at the end of the term. If you do not wish to have your subscription renewed, you must email payments@whitesmoke.com notifying them of your intent to cancel.
Avoid Automatic Trial Renewals With DoNotPay's Free Virtual Credit Card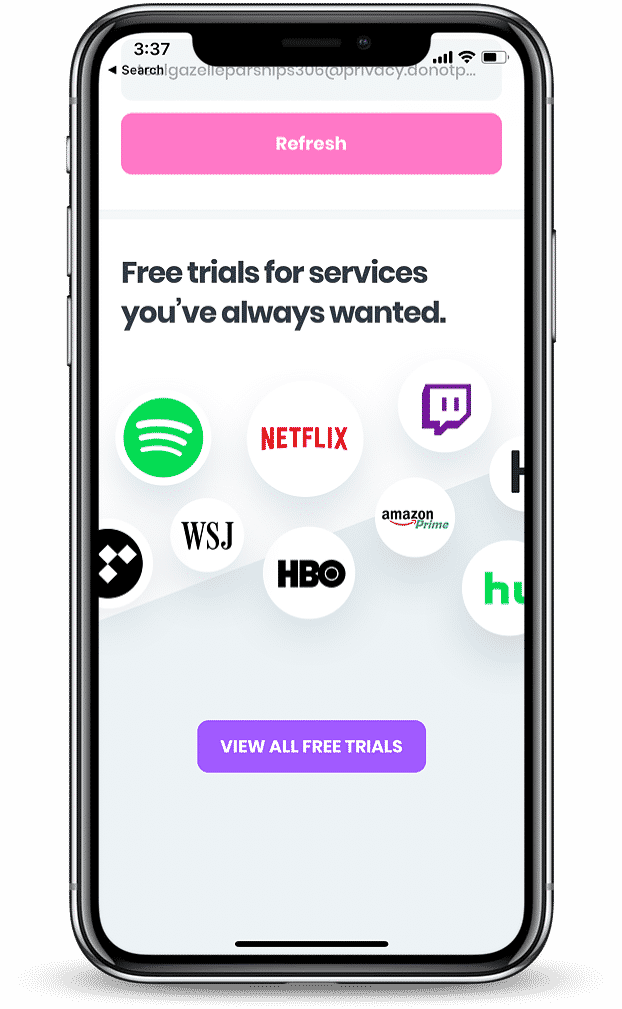 All too often, people forget to cancel free trials, and they end up on the hook paying for a service they don't need or use. A free trial is only a helpful tool if you remember to cancel the free trial if you do not have further use for the service.
DoNotPay's virtual credit card solution takes away the hassle of canceling free trials. A virtual credit card is a unique, randomly generated credit card number that you can use to sign up for a free trial. The virtual credit card is connected to your actual credit card but has its own randomly generated credit card number, expiration date, and CVV.
A DoNotPay virtual credit card will help you sign up for a free trial without managing the hassle of cancellation:
Hit "purchase" on a free trial.
The DoNotPay system will check the code to ensure it is for a free trial and approve the purchase.
If it is not a free trial, it will decline the transaction.
Using the DoNotPay virtual credit card protects you from unexpected auto-renewal charges and the hassle of canceling the subscription.
How Much Does WhiteSmoke Cost After the Trial
WhiteSmoke offers a variety of plans, and the pricing depends on the billing cadence you select.
Yearly Billing Cadence
| | |
| --- | --- |
| Plan | Cost |
| Web | $5.00 per month |
| Premium | $6.66 per month |
| Business | $11.50 per month |
3-Year Billing Cadence
| | |
| --- | --- |
| Plan | Cost |
| Web | $3.47 per month |
| Premium | $5.55 per month |
| Business | $8.82 per month |
What Else Can DoNotPay Do to Help You Solve Daily Problems?

DoNotPay is here to streamline many different aspects of your life. Once you have set up your DoNotPay virtual credit card service, check out some of the other ways DoNotPay can make your life easier, including:
DoNotPay is the one-stop-shop to find ways to make life a little easier.