What Is Steam Refund Abuse?
Owned by the video game developer company Valve, Steam is one of the world's most popular online video game distribution services and PC gaming retailers.
Originally released in 2003, the platform is now available on Linux and macOS operating systems, too. The company forayed into mobile gaming apps more than ten years ago, so users can now dive into Steam video games on their iOS, Android, and Windows smartphones.
Other than video games, Steam's other services include:
Digital rights management (DRM)

Video streaming

Social networking services
Steam's popularity brought in some issues for the company, such as gamers trying to find loopholes in the system and play as many games as they can without paying. As stated on their website, refunds are intended to remove the risk of purchasing games the users end up not liking—not as a way to get free games.
What Is Steam's Refund Policy?

You can request a refund for nearly any purchase on Steam, and for any reason, too. Whether you didn't warm up to the game or your system doesn't fit the product requirements, it doesn't matter.
If you make the request within the required return period of two weeks, or if you haven't played a game for more than two hours, you'll be eligible to receive your money back. Even if you fall outside of the standard rules for obtaining a refund, Steam encourages you to ask for one anyway. The decision will then be left to their discretion.
Find out more about how to refund a game on Steam or how to refund a gift on the same platform with the help of DoNotPay.
What Is Steam's Policy on Refund Abuse?
While Steam has a rather generous refund policy, they keep a firm stance on customers abusing refunds on purpose.
If the company notices you may be exploiting their refunds system, they may exercise the right to stop offering them to you. For example, if you play a game for less than two hours, then demand a refund, then play it for just under two hours again, and so forth, it will be seen as an attempt to misuse their refund policy.
Luckily, requesting a refund on a title that was bought just before a sale, then immediately rebought for the discounted price, is not seen as refund abuse.
How To Refund a Bundle on Steam
Steam allows full refunds for any bundle purchased in the Steam Store, provided that:
None of the items in the bundle have been transferred

All items in the bundle haven't been used for a combined time of more than two hours
If the bundle includes a non-refundable in-game item or DLC, Steam will specify if the whole bundle is refundable during the check-out process.
The process to request a Steam bundle refund is the same as with any other Steam product or service, so keep reading to find out how to apply for one.
How To Get a Refund for a Steam Bundle on Your Own
Here is how you can get your money back from Steam, whether you purchased a bundle or a product sold individually:
| | |
| --- | --- |
| Can You Request a Refund Via | Yes/No |
| DoNotPay | Yes |
| Email | No |
| Phone | No |
| Letter | No |
| Website | Yes |
| In Person | No |
Request a Refund on the Steam Website
The only way you can apply for a Steam refund by yourself is through the company's website.
Follow these easy steps:
Sign in on the

Steam Support

page

Click on

Games and Software

Choose the item in question from the list

Select

I purchased this by accident

Click on

I'd Like to Request a Refund

Provide your preferred payment method

Submit your request
You should soon receive a confirmation email from Steam that your request has been received.
An Even Easier Way To Get Your Steam Bundle Refund

When it comes to the ease and speediness of requesting a refund, DoNotPay is an unbeatable choice. Our AI-powerhouse app can tackle the whole process for you in a few simple steps.
Here's how to retrieve your Steam bundle money with DoNotPay:
Open DoNotPay in your

Press

Get Protected

under

File a Chargeback

Answer our chatbot's questions

Sign the request digitally

Click on

Submit
As the next step, DoNotPay will get in touch with your bank and ask for a refund. As mandated by the Fair Credit Billing Act, we'll add all applicable relevant VISA and Mastercard codes and regulations to the request.
How Long Do You Need To Wait for a Steam Refund?
The processing of your Steam refund request can take up to two weeks, and then it could be another week for the money to appear in your bank account.
You might have to be more patient for any refund issued to international payment methods. If the funds don't show up in your bank account after seven days since your request has been processed, contact your bank or payment provider and ask if there are any pending returns on your account.
Sign Up for Limitless Free Online Trials Without Risk With DoNotPay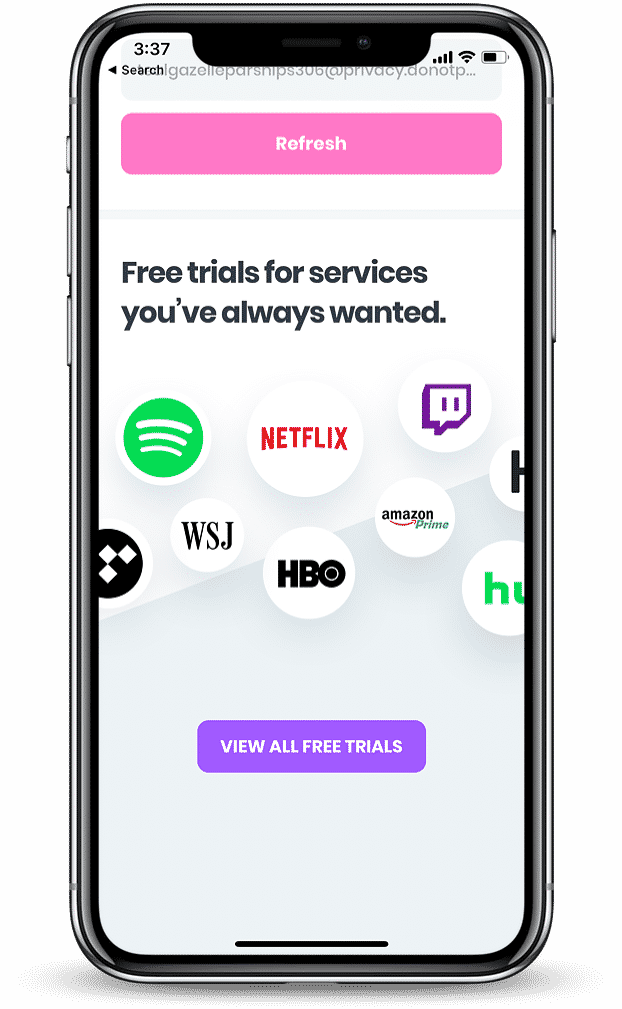 If you're into online gaming, you're likely well-acquainted with the allure of free online video game trials. You're then presumably no stranger to the feeling when the free trial—which you since forgot about—converts into a paid subscription automatically and results in a bank account charge. And you had every intention of canceling the free trial before it expired!
There is an antidote to this common financial ailment. Our Free Trial Card is a must-have for anyone who wants to sign up for online trials without the risk of incurring any unwanted charges.
DoNotPay's virtual credit card generates single-use and random information that will appear like real credit card details to the vendor.
The DoNotPay Free Trial Card works on these three simple principles:
Creates random credit card information

Gets approved on free trial pages

Gets denied on subscription pages that require payment upfront
Since the virtual credit card isn't linked to your bank account, the subscription service will not be able to charge you a single dollar—even if you forgot to cancel the free trial on time.
DoNotPay—The Virtual Assistant That Takes Charge

Is your to-do list packed with chores like the proverbial sardines in a can? Are you looking for a hassle-free way to save some cash, or perhaps to outsource a tedious task to someone else?
Whatever your wish, a multitalented aide that is DoNotPay can jump right in and tackle the issue in your stead. Leave your Minecraft refund, PlayStation subscription cancellation, or WoW Classic free trial sign-up to us. Our app can do all of these for you and free up a bunch of your time—time that you would otherwise have to spend on admin and bureaucracy!
DoNotPay can also give you a hand with:
Disputing speeding tickets

Overturning traffic tickets
Access our app from your to learn more about the ways we can make your daily life easier.