Sign Up For WeTransfer Free Trial In A Flash

WeTransfer is a digital-based computer file transfer founded in 2009 and located in the Netherlands. It is currently one of the simplest ways to send files of any size across the world, from documents to images and videos.
This article explores everything you need to know about .
Does WeTransfer Have a Free Trial? 
Yes, WeTransfer has a free trial that runs for seven days.  allows you to send up to 2GB maximum of files.
In addition, the  has limited features present in a premium account. Features absent in a WeTransfer pro free trial include:
Client branding- you cannot add your company logo and title
No portal to organize your work for every project and client
You can't invite clients to leave reviews
No personalized WeTransfer emails
Limited team features, such as the ability to invite team members.
How Can I Get WeTranfer Free Trial?
To sign up for WeTransfer's free trial, head over to the website's pricing page where all the available plans are listed as well as their limited features. Ensure you go over the features listed for every pricing plan.
To access the free trial, choose the 'Free' plan and scroll down the page to the 'Create account' button. Follow the sign-up process until you are prompted to enter your payment details. WeTransfer accepts charges via all major credit and debit cards.
Does the WeTransfer Free Trial Automatically Renew Into a Paid Subscription?
Yes, it does. At the end of the 7-day free trial, WeTransfer's free trial subscription automatically charges the monthly fee from your credit card. Therefore, you may need to cancel the free trial at least 24 hours before the end of the seven days if you want to avoid getting charged.
However, in the slightest chance that you forget to cancel the free trial and get charged, you may plead your case with the service provider and request a refund. To do so effectively, reach out to DoNotPay to help you get a WeTransfer refund.
Avoid Automatic Renewal with DoNotPay's Virtual Credit Card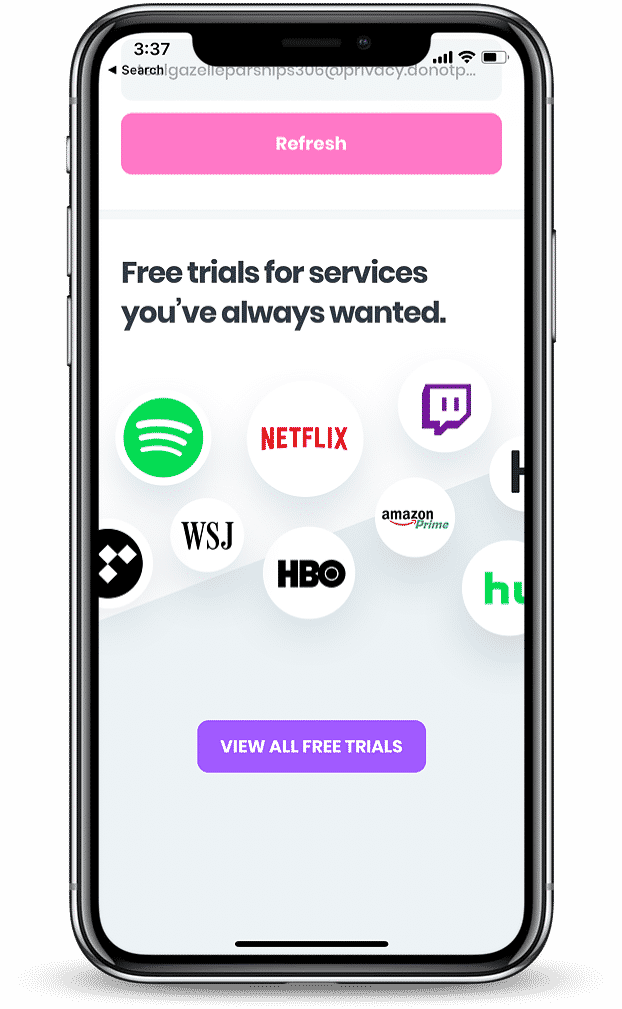 Unfortunately, it is easy for most service users to forget to cancel their subscriptions and realize when it is too late, and they have been charged. As such, users are charged for services they no longer require. Canceling your WeTransfer pro free trial on time helps you avoid automatic charges. 
To be effective at canceling your free trials, reach out to DoNotPay to help you. DoNotPay helps you cancel your free trials on time with the help of free virtual credit cards. DNP generates random credit card details and a number that you will use to sign up for the WeTransfer pro free trial.
Once you have exhausted the free trial using DNP's free virtual credit card, WeTransfer can't charge you the subscription fee since the free virtual credit card doesn't have any money.
WeTransfer then unsubscribes you automatically. with DoNotPay to access WeTransfer free trial seamlessly and hassle-free.
How Much Does WeTransfer Cost After the Trial?
Below is a tabled summary of WeTransfer's pricing and payment plans.
| | | |
| --- | --- | --- |
| | Monthly | |
| Free | 0 | 0 |
| Pro | $12 monthly per person | $120 yearly per person |
| Premium | $23 monthly per person | $228 yearly per person |
Most of the limited features on 'free' and 'pro' plans are unlimited in a 'premium' subscription.
What Are the Most Popular Alternative to WeTransfer?
The best WeTransfer alternatives can make it easy to transfer files safely online between different users. Currently, there are several alternative ways to share large files, such as options specifically for utilizing file transfer software. Here is a compiled comparison of WeTransfer's popular alternatives.
Product
Pricing
Features and Benefits
Microsoft OneDrive

$1.99 per month (100GB only)

$69.99 per year (personal)

$99.99 per year (family)

It can handle files as large as 100GB

Massive 1TB premium storage

Tight integration with Windows

Google Drive

Free tier

$2 monthly/ $20 annually- 100GB

$3 monthly/ $30 annually- 200GB

$10 monthly/ $100 annually- 2TB

$100 monthly – 10TB

$200 monthly – 20TB

$300 monthly – 30TB

It allows easy collaborative work with G Suite tools

It has a generous allowance

Dropbox

'Plus' plan - $9.99 per month

'Family' plan- $16.99 per month

You can use it on the web or through a desktop software

It allows for easy sharing

Smash

Pro - $5 per month

Team - $25 per month

Enterprise - Custom

Smash has no file size limit

Registration is not mandatory

It has a generous free trial.

Hightail

Pro - $12 per month

Teams- $24 per user per month

Business- $36 per user per month

It has unlimited storing options

It has a convenient sharing feature

It also allows you to consolidate and share files from alternative cloud services such as OneDrive, Google Drive, and Dropbox.

Terashare
Free to Use.
It focuses on a BitTorrent approach, making it ideal for sharing large files.
What Else Can DoNotPay Do?
DoNotPay is a leading digital Robo lawyer with experience solving a wide range of issues. Therefore, apart from signing you up for a , DoNotPay can also help you with:
Try it today!