How to Start a Westlaw Free Trial With a Virtual Credit Card

For the sake of speed and convenience, many are relying more than ever on digitized legal materials to affect positive legal outcomes. With access to their compilation of digitized legal records is offered under the simplest of terms… at first glance. Many users ultimately report having an extremely hard time dealing with the company, especially regarding their notification and contract-termination standards, progressive fee schedule and billing practices, account auto-renewal presumptions, and even just which mediums of communication are to be used for any given account management task.
Though their policies, in practice, seem to change about as often as the laws, codes, rules, regulations, and policies of Washington, D.C., DoNotPay has dug deep to provide more clarity about what users should know when considering a meeting of the minds with Westlaw. Read on to the end to demystify Westlaw's policies, explore the alternatives, and then find out the  to start a risk-free trial (sans the black robes) if a Westlaw trial is right for you.
Does Westlaw Offer a Free Trial?
There are two versions of  that have some form of a free trial. Westlaw Classic provides full access to content and attorney editors, while Westlaw Edge gives a free 7-day trial with access to features such as Quick Check and Litigation Analytics (but not its full suite of analytics tools). For both, no credit card is required to sign up – but don't be surprised if sales reps encourage you to give them payment information for seemingly small upcharges or innocuous-seeming upgrades and incentives.
Further, Westlaw has a free trial service with Westlaw with Practical Law that runs for 14 days and also does not require a credit card to sign up and is more automatically initiated.
How Can I Get a Free Trial From Westlaw?
For free trials with Westlaw Edge and Westlaw Classic, simply fill out the form on either of the free trial sites linked above, and send it in. You will have to wait for the company to contact you, but they suggest calling them at 1-888-728-7677 for immediate assistance.
Seeking Personal Permission
Some may not be contacted at all. It's unclear how Westlaw is selective, but it is clear that they are. Who they reach out to is at their discretion, although nowhere on their site is this made expressly clear. You might increase the chance of getting their response by sending the request multiple times, from different email platforms, with different contact info, and from different networks (with an emphasis on the word and, as multiple requests that could be correlated together could instead hurt your chances and mark your requests as spam.
Free and Immediate
On the other hand, the free trial for Westlaw with Practical Law does not require waiting around for them to contact you. Users simply fill out the same information (including a section for adding colleagues to share trial access with), review your information, and the site gives you the start and end date. Check the box in the lower-left corner, and press the "submit" button.
Next, Westlaw will have you create a profile on a service called "OnePass," and you can then start using the free trial immediately. At no point do they require a credit card, and when you are finished signing up you will see helpful getting started guides and training videos to acquaint you with the service.
Alternative Ways (With Minimum Contacts)
Note that some libraries, crediting public health issues as the reason, give members an easier way to obtain free trial access. This could even give you the ability to begin a separate, new free trial service through the library – though it would be tied to their IT network. Inquire with your own to learn if they offer this and if their network services are useable off-site (i.e., through your own computer outside of the library building).
Even better, local libraries and courthouses sometimes have publicly accessible versions of Westlaw – especially law libraries and universities with law programs – that you don't need to sign up for. Try these options if it is not too inconvenient for you, and you need free access for longer than the trial period.
Do Westlaw Free Trials Automatically Renew Into Paid Subscriptions?
Because they don't require a credit card at first, you are safe as long as you keep it that way. However, they may (and usually do) encourage you to upgrade during your trial period. Since there is no use of billing info specifically for gaining access to the trials, it will be up to users to be as clear as possible about (frequently changing) cancellation policies that apply to any upgrades on the free trial. There might be attempts to give a small incentive for signing up for paid services in the middle of the trial, tempting some to give the billing info then. If this is the case, get all cancellation, renewal, and other account details upfront, because that is the point where many report that their difficulties with Westlaw had begun.
In particular, be as clear as possible about what account usage could even possibly auto-enroll you into new services without your knowing it in advance. Some have reported clicking on something innocuous in appearance, but which set in motion an out-of-control account "upgrade" that they didn't intend to do – nor did they realize it until after they saw it on their bank statement.
Assumptions, Presumptions, and Color of... Cancellation Policy
Westlaw's (publicly) stated cancellation policy plays its cards close: "Subscriptions can have different cancellation guidelines and rules," it begins. "Please contact us […] to request cancellation […]." ...and that's about it. Unsurprisingly, subscribers to Westlaw are dependent on hearsay evidence to determine the kinds of cancellation procedures one is typically faced with.
One user reported that Westlaw refused to honor a request to cancel because they didn't see it as a "request to terminate." For some users, the accepted window of time can be extremely narrow, while other users report being told that they need to send their request earlier than 60 days before it ends. Sometimes, they only honor cancellation termination requests via a physical letter sent through the mail – it's an interesting preference, considering that their business model depends on constantly digitizing printed material.
Charges of a Secret Nature
Even when all goes well and the intention is to continue subscribing to Westlaw, their contracts tend to auto-renew at a major price increase, which is increasingly surprising even for BAR association insiders who are branching out to find new ways (more on these alternate options below). Essentially, it appears that they have certain financial constraint schemes that they use to ensure that ongoing services are kept out of the hands of the general population, despite inviting any and all with common access to free trials.
Avoid Automatic Renewal With the DoNotPay Virtual Credit Card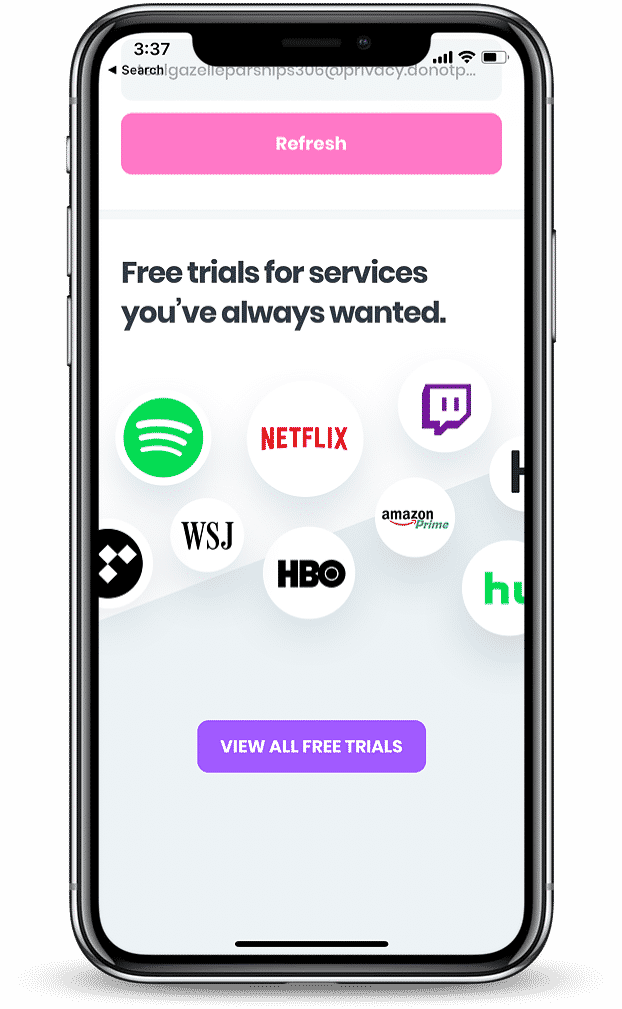 Even under the best of circumstances, people forget to cancel subscriptions (or believe that they already did) and automatically keep paying for the service they verifiably haven't even used. To the companies, it doesn't matter, and that's one of the costs of dealing with digital services. If the honeyed words of a Westlaw sales rep convince you to give them your credit card number – but you most certainly do not want it charged, in order to hold them to any promises not to – consider using a Virtual Credit Card.
A Virtual Credit Card from DoNotPay will generate random credit card information that a subscription company will accept, but cannot charge, because there is no money on it.
The purpose of this is to hold them to their word; it's common to hear that your word is your bond – but we all know some who need a little incentive to keep it.
If a company says they won't charge you unless some outstanding event happens, then a Virtual Credit Card makes sure of it. Consider that if someone has a financial incentive for people to lapse into another presumed contractual arrangement, then it's not hard to believe that they might operate on the idea that it's profitable to simply neglect cancellation requests – or make sure they are labyrinthine at best. Why wouldn't they, if perpetuity of commercial adhesion contracts wasn't the name of the game?
With a Virtual Credit Card, the subscription game-playing stops: the trial period ends, they get a declined card, and they terminate the account – the way you expect when you see the words "free" or no "charge" in any and all commercial presentments.
How Much Does Westlaw Cost After the Trial?
Westlaw is known for its robust secondary sources as much as its out-of-reach prices. Recently, they've adjusted their prices due to the competition of new, good old-fashioned competition (more on this below); but they are inherently priced with large law firms in mind.
Westlaw's paid plans begin at:
Service
Cost
Benefits
Westlaw Essentials
$78 / mo.
Access case law, statutes, court rules

KeyCite case verification

Editorials and indexing

Westlaw Plus
$150 / mo.
Additional caselaw, statutes, regulations

More research from your own state

Form and drafting tools

Analytics

Current legal news alerts

Westlaw Edge
$263 / mo.
Caselaw, statutes, regulations for all states

Quick Check (match authorities to briefs)

Litigation analytics (re: judges and firms)

KeyCite Overruling Plus search engine

Statutes and Regulations Compare – showing changes over time
These prices are as of early 2022; to get more exact pricing, depending on how many people need access credentials, you must submit further data. You can contact their sales department at 1-888-728-7677, or fill out their online form to start the process.
What Are the Best Alternatives to West Law and Its Parent Companies?
With the help of Goldman Sachs, West Publishing was purchased in 1996 by Thompson Reuters – a Canadian company founded by Reuters Group, a British multinational corporation with a long history. Reuters was originally a news agency, but news reporting now accounts for less than 10% of their earnings. When Reuters acquired Thompson, the vast majority of its owners' earnings came from financial market data.
However, West Publishing rose from humble beginnings. It was a popular choice ever since John B. West began unofficially compiling and translating legal treatises, forms, and case law for attorneys in his home state, Minnesota, where West Publishing's headquarters is to this day. Helpful though their trademarked annotations and indexing systems are, West Publishing's original material has almost never been from officially sanctioned court reporters.
For that, legal researchers are best off going to source material such as:
Verifiable source materials and official archival records are, and always will be, the only way to ensure that there are never any digital omissions, errors, or oversights – as many legal researchers are finding out.
For less serious matters, though, it nevertheless pays to also have exceptional digital records of law and legal documents. While it's easy for law students to get hooked on the free Westlaw access commonly provided by law schools, private practice lawyers increasingly realize that dealing with West Publishing is no walk in the park. More attorneys and independent law students are turning to other great options that accomplish the same end goal: providing accurate, reliable information to help one navigate murky, ever-changing legal industry waters.
Here are some helpful alternatives with either free trials or more affordable and transparent services:
Service
Cost
Features
Free Trial?
Casetext
$90-$225 / mo.
+ Case alert service

+ Tools integrate smoothly

- Limited records (public & secondary sources)

- $90 plan limited to 25 searches / mo.

14 days
Fastcase (part of Casemaker)
$65-$95+ / mo.
+ Search case dockets

+ Includes tribal courts

+ BAR association deals

- Limited sources

7 days
ROSS Intelligence
$69-$89 / mo.
+ Includes pre-Supreme Court case law

+ Includes unpublished case law

+ Includes specialty court & tribunal research

- Only oriented to research

14 days
LexisNexis+
$85-$ / mo.
+ Comprehensive

- Some omissions

- Extremely expensive

- Excludes solo researchers

7 days
Practical Law (Thomson Reuters)
$73–$305 / mo.
+ Legal, administrative practice support

- Not oriented to research

7 days
National Law Library
$25-86 / mo. or $3-5 / search
+ Highly affordable

- Very basic

- Recent (50 years) case law only

No
Rocket Lawyer
$40 / mo. or $40 / document (non-member)
+ Easily create legal documents

+ advice & document review

- Not oriented to research

7 days
(This data is as of early 2022.)
As attempts to privatize and block access to court records escalate, it is also worth mentioning useful free sites attempting to provide comprehensive access to law records for the general public (and whose interests are at least a little easier to determine):
There are also many long-established and successful independent schools, courses, and groups (from small to medium and large) whose exhaustive legal research is sometimes even more thorough than the usual suspects. Some people are drawn into endless legal research when the issue they are contending with is relatively simple – and they might be better off spending their time pursuing damage collection services on a personal injury matter.
Methods Are Many; Principles Are Few
Although the resources DoNotPay has compiled for you here are quite reliable in their own ways, they do not equal the veracity and completeness of official, archived records (or at least digital records whose custodians are under the strictest legal controls to maintain the records accurately). Not all legal research sites using second or even third-hand resources tend to admit this – and that goes for digital research sites big and small, however official it might come across to the general public.
The choice is yours; just be aware of the myriad choices out there – and as with any research, one must take full responsibility for ensuring that they themselves are capable of effectively using and verifying the material they rely on. As we've seen, that's not necessarily the case with almost any digital legal resource, no matter how expensive or free it is.
What Else Can DoNotPay Do?
It's not just  that we do; any free-subscription service can utilize our Virtual Credit Card to protect your commercial interests. With DoNotPay, you can open up our robot lawyer's playbook wide open and find assistance with almost any legal-administrative matter, including:
Disputing traffic tickets
Fighting speeding tickets
Subscribe to DoNotPay today for only $36 a month – and get started lowering the tide of life-diminishing paperwork once and for all!